CogniShield Review – A Cure For Alzheimer's Disease?
By:
Rob Miller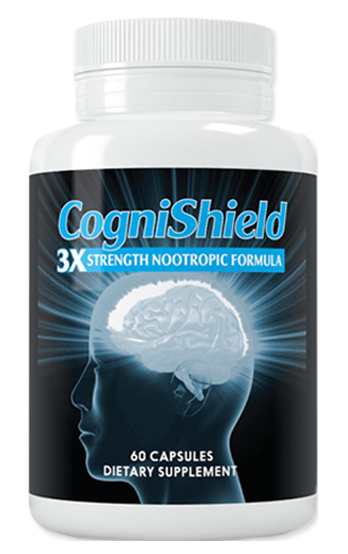 ---
---
Home
»
Nootropics
» CogniShield Review – A Cure For Alzheimer's Disease?
Contents
Ingredients
How To Use
Where to Buy
Who Makes CogniShield
Pros and Cons
Conclusion
User Reviews
There are two very good reasons why sales of Cognitive Enhancers (otherwise known as Nootropics) have been skyrocketing for the past few years.

One is that competition these days is rough.

Whether it's straight A's you're after, or that big promotion, it takes everything you've got to stay on top.The other is the fact that Baby Boomers are aging, and with that comes the fear of Alzheimer's Disease.

With both of those factors closing in on us, it's no wonder this market has exploded like it has.
CogniShield is a nootropic supplement that focuses on the second reason for the explosion.In fact, CogniShield's spokesperson Adam Rand, actually formulated the supplement to help his father with his Alzheimer's Disease.

Diagnosed in 2012, he quickly declined while using the medications his doctor prescribed.

Rand used the internet to research brain supplements, or nootropics, and came up with 4 nootropic supplements that he put together and gave to his dad.

After a few weeks, Rand says his dad started to become his old self again.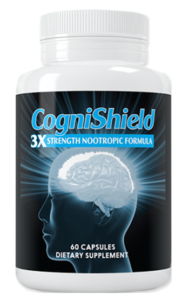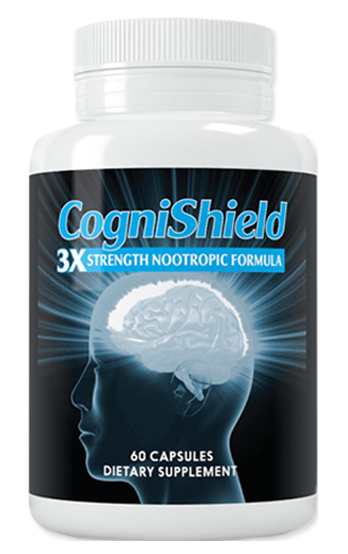 Rand then started to take these ingredients himself, and says he learns things 10 times faster than he used to, and has quick and complete recall of the things he's learned.

He became determined to
This is the story they tell to sell CogniShield, but I tend to take the story with a huge grain of salt.

Medical scientists and pharmaceutical companies are working extremely hard to come up with a cure or at least something that would slow down the onset of Alzheimer's.

And while I'm no big fan of pharmaceutical companies, I'm positive that if there were something out there curing Alzheimer's, they'd be on it.
In any case, CogniShield claims to be the formula to clear brain fog and actually reverse the effects of Alzheimer's Disease, so let's take a closer look at that formula.

CogniShield Ingredients
There are only 4 ingredients in CogniShield.

The website and a video on the CogniShield website explain just how they work their magic.

There's:
Phenyl Piracetam which has been clinically studied and shown to improve memory at high doses.

It's been tested in both people with and without cognitive impairment and there were improvements in both groups.

It was developed by Russian scientists in the early 1980s by adding the Phenyl atom to the already potent piracetam.
Noopept which is believed to be 1000 times more powerful than Piracetam.

It was developed by Russian scientists in the 1960s, and is available only with a prescription in that country.

Studies show that cognitive improvement is possible with Noopept in patients both with and without cognitive decline.

This may be due to its neuroprotective properties.

It's being considered for further study in regards to delaying Alzheimer's effects.
Choline which is a nutrient found in foods that provides the building blocks for memory and the ability to learn.

Choline converts to acetylcholine which is the "learning neurotransmitter".

It improves coordination and reaction times, and keeps the communication lines between neurons wide open for business.
L-Theanine which comes from tea and neutralizes the effect of caffeine.

It reduces anxiety and promotes a relaxed effect without drowsiness.

When taken regularly, it also stimulates the brains ability to learn and remember.

Studies are also being conducted to determine if it provide protection against neuron cell death, leading to a prevention of cognitive decline.
These are all important nootropic substances, and they claim they're present in clinical effective doses, but they don't reveal what those doses are, so we just have to take their word for it.

I also want to mention that the claims of reversing the symptoms of Alzheimer's seem exaggerated at worst, and irresponsible at worst.

How To Use CogniShield
The recommended dose is 2 CogniShield pills per day, preferably taken with a meal.

Where to Buy
You can purchase CogniShield online through one of their official websites, www.cognidefender.com. A single bottle with a one month supply costs $69 and comes with a CogniShield Memory Playbook to help you get your memory even more on track naturally.
One nice thing about purchasing CogniShield is that they make it very clear you're not going to get involved in any ongoing automatic billing or shipping.It's laid out very clearly right on the order page:
There's also a 60 day money back guarantee that doesn't require you to return your bottle, and it doesn't involve any automatic or ongoing payments.

Who Makes CogniShield?
No company name is given for the makers of CogniShield.

They only refer to the name CogniShield itself.

They provide a contact phone number and email form, so it's likely you can reach them if necessary, but without a company to back up the product, there's less accountability than we would like.
CogniShield has no presence with the Better Business Bureau, which is probably a good thing.

It means there haven't been the complaints necessary to generate a presence.

CogniShield Pros and Cons
Advantages of CogniShield
The formula contains some of the best nootropic substances available.
There's a solid money back guarantee.
It comes with a book to help improve your memory naturally.
There's no automatic billing.
Disadvantages of CogniShield
It claims to cure Alzheimer's disease, which if it were true, would change the face of the treatment of age-related cognitive decline., It wouldn't be a fact you would stumble upon while searching the internet for a brain boosting supplement.
Ingredient amounts are not revealed.
Conclusion
As nootropic supplement stacks become more and more popular, CogniShield shows some promise.

The ingredients are strong and solid, but it's a real drawback not knowing how much of each is used in the formula.

The other real red flag is the story of how the ingredients in CogniShield cured Adam Rand's father of Alzheimer's disease.

Several clinical trials are being conducted as we speak aimed at doing just that.

To tell this story implying that CogniShield will do this for your parent, you loved one, or yourself, is just tugging too hard on the heartstrings of people going through some of the hardest times of their lives.
But what if the story is true?

Well, if it were, I'm sure there would be studies, articles, and an awful lot of buzz about this kind of success.

I conducted a whole bunch of Google searches looking for any information about Adam Rand's father and his Alzheimer's cure, but came up with nothing. CogniShield is worth a try for improving normal cognitive function and possibly even preventing against decline, but don't expect it to cure Alzheimer's Disease.

Have You Used CogniShield?

Leave Your Review Below!
Top 3 NootropicsAffiliate Disclosure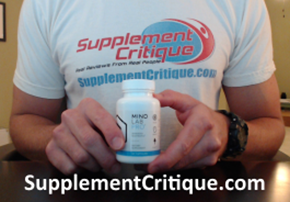 Mind Lab Pro is a VERY effective nootropic for focus, concentration, short / long term memory, and more.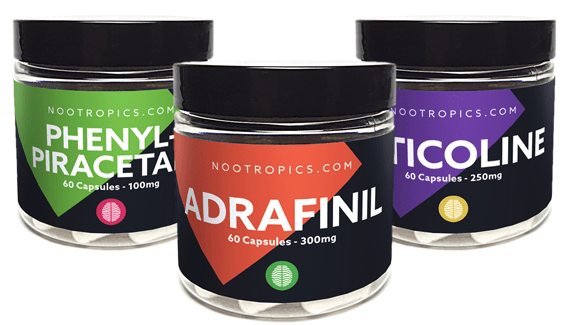 The Ultimate Nootropics Stack by Nootropics.com is one of the most effective stacks I've taken.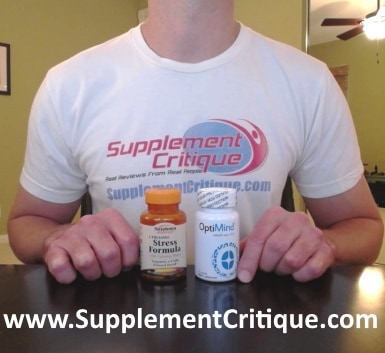 The combo of L-Theanine and Caffeine is a well known nootropic stack that really works.
5 Star User Reviews

5.0 out of 5 Stars (1 Reviews)
Have you used this supplement?
YES I have actually taken CogniShield
By
Janis Rose

,
Nov 19, 2017
I am now a 66yr old female who came across Cognishield several years ago. It did wonders for me. But I realized after researching each ingredient separately, that although the ingredients were just what our brains could use, I did want to know the dosage. But as it has been stated, the bottle labeling does not say the dose to take. After several orders, I suddenly could not get information from the site to re-order. It worked for me because my memory greatly improved and learning new education was again easy like when I was younger. Like any other body part, our brain could use a little help and for me Cognishield provided that help. I just hope I have finally found a site that will reconnect me with Cognishield.

Was this review helpful to you?
2 out of 3 people found this review helpful.
---
Want To See What Supplements
Work Like Adderall?

Click Here To Find Out!
Ask A Question
User Questions and Answers
---

purchased your product ad need phone number because I have many questions to ask you about your product! -helen

SupplementCritique.com is a review website. You can call CogniShield directly to get your questions answered. The number on their website is 1-844-862-6464.- Rob
Was this question helpful to you?
5 out of 5 people found this question helpful.
ASK A NEW QUESTION
---

Are any of the products you reviewed recognized by FDA? COGNISHIELD MADE THAT CLAIM... -Francisco

Nope. Supplements are not subject to FDA review or approval. The FDA tests and approves drugs, but not supplements.- Rob
Was this question helpful to you?
1 out of 1 people found this question helpful.
ASK A NEW QUESTION
---

Does cognishield have gluten in it? -Roseann

They don't mention it on the label. You'd have to contact them directly to find out for sure. The contact number listed on their website is: 1-844-862-6464.- Rob
Was this question helpful to you?

ASK A NEW QUESTION