Fit Father Project Review – 2 BIG Reasons to Sign Up
By:
Rob Miller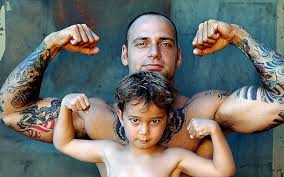 Contents
What Is The Fit Father Project
Who Is Anthony Balduzzi
What Exactly Comes with the Program
Week By Week Progress
What Does It Cost
Fit Father Project Reviews
The Bottom Line
Most of the time here at SupplementCritique.com, when we talk about products to help you get in your best shape, we're talking about supplements.

Occasionally, if I come across something interesting or find out there's something my readers want to know about, I'll venture out. That's why I decided to review the Fit Father Project.
What Is The Fit Father Project?
This is a comprehensive program designed to help busy dads in their 40s, 50s, and 60s who've decided to lose the extra weight they've noticed creeping on over the past number of years and get healthy for themselves and the ones they love.
Looking To

REALLY

Get Ripped?
Click Here to download my FREE "How To Get Ripped Quickly" eBook!!
With the understanding that life gets busy, especially once you've got a career and family to focus on, The Fit Father Project provides the HOW and perhaps more importantly the WHY that can get you on your way to a longer, healthy, happier life.
Who Is Anthony Balduzzi?
The Fit Father Project was created by Anthony Balduzzi, a men's health doctor trained in Naturopathic Medicine, whose personal experience of losing his father to cancer at a young age compelled him to commit his life to his own health and the health of fathers, so other children would have to suffer the way he, his mother, and his brother had.
Anthony became focused on health and fitness at the age of ten, and went on to be a nationally recognized bodybuilder as a teenager.

As an undergraduate at the University of Pennsylvania, he studied Psychology, Nutrition, and Neuroscience, participating in research with some of his professors, while continuing his bodybuilding career.
He received his Doctor of Naturopathy degree from Southwest College of Naturopathic Medicine and Health Sciences, and then founded the Fit Father Project, fulfilling his commitment to support the health of fathers and their families.
And that exemplifies the "Why" of the program, defined by its core mission, stated as: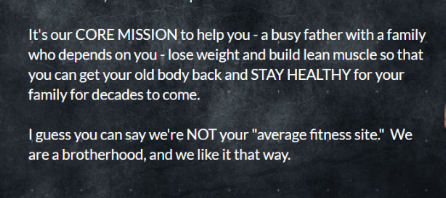 It's for busy dads who want to stay healthy and fit and/or regain their health and fitness so they can provide for and enjoy their families for years to come.
Okay, Just Lay Out the Basics For Me
I hear you.

You didn't come to this review to get a rehashing of the whole sales pitch. Interesting or not, it's too long. Who has time for that?

Besides, you can get all that from the Fit Father Project website if that's what you want.

But for now, you want the nuts and bolts, the specific edge that the Fit Father Project offers that makes it unique.
Well here you go.

The Fit Father Project provides you with:
A clear cut guide, removing the guesswork, so you're not wasting time choosing between this or that food or this or that workout.

Once you commit and gather your resources, it just tells you what to do and you do it.

Of course, there are value added blogs and community support as add ons, but the core of the program lays it all out for you step by step, day by day.
Appropriate exercise levels for your age and fitness.

This is the Fit Father Project, designed for guys over 40. It's not gonna have you trying to work out like a twenty-something.

The workout is age-appropriate so you won't get hurt trying to keep up.
A simple plan that doesn't have you spending 4 hours on a shopping list after calculating exactly how many calories you need to eat each day, and then hours in the kitchen on top of that.
A comprehensive plan that covers all aspects of your program, including food, exercise, sleep schedule, and even your life.

The truth is if a plan doesn't take all this into account, you will get tripped up.
A sustainable action plan.

This is lifestyle stuff, not temporary quick fixes that you abandon once you reach a short term goal.
Accountability in the form of community support.

We all falter and need a help and encouragement at times.

The Fit Father Project includes frequent communications from Dr. Anthony Balduzzi as well as the community message boards where you can get the support of your peers, as well as give it right back to them when they need it.
What Exactly Comes with the Program?
When you sign up for the Fit Father Project, the primary product you're getting – the meat of the program – is the Fit Father 30X Program, or FF30X for short.
This is a 30 day program complete with everything you need as a busy father in your 40s or beyond to get back to the health and fitness you've lost over the past decade or more.
Included with FF30X is:
The Fit Father Meal Plan
Complete with make ahead meal plan tips and advice to help you form healthy eating habits and keep you on track.

When your meals are already planned out and prepared, you're far less likely to succumb to moments of weakness that can be caused by finding yourself hungry with limited healthy choices.
You get grocery lists, recipes, meal preparations guides, and quick go-to charts to make the eating portion of your program simple to follow and stick with.
The FF30X Workout
Puts you in the position to build muscle and boost your metabolism in under 90 minutes per week.

The more muscle you have, the faster your metabolism. The FF30X workout combines resistance training with cardio using a whole body circuit training method that burns fat and builds muscle at the same time.
With 3 to 4 workouts per week you'll be burning fat all day every day.

There's the dumbell workout designed to be done at home, there's the gym workout, the Big 5 Strength workout, and fat burning cardio workouts, as well as templates to log your goals and progress.
Daily email coaching and support from Anthony and his team.

One of the biggest reasons people fail is they don't set up a system of accountability and/or support.

Anthony and his team send coaching emails daily to guide you along the way as you navigate through the program.
Many of his emails request responses from you, which can actually go a long way in supporting your accountability.

If you know someone is there, paying attention to your progress while rooting for your success, you are more inclined to stay on top of your game.Additionally, the team is there to answer questions and clear up any confusion you may encounter along the way.
And the Bonuses
Like other similar programs, there seem to be just as many "bonuses" as there are basic components, including ebooks and guides:
Enjoying Drinks and Staying Lean – essential techniques to allow you to have the occasional drink without sabotaging your efforts, including both what to do and what to avoid.
7 Necessary Supplements Every Man Needs to Be Taking – including the essential list and where to get them most affordably.
How To Build Unbreakable Habits – tips taking from both neuroscience and psychology to help you commit to your goals and stick to your routines.
The Ultimate Health Tools, Toys, and Tech – from workouts and exercise videos online to healthy food apps, this guide will help keep you focused and informed at home and on the go.
Week By Week Progress
The program is broken down into weekly sections, each week with a different focus and goal, building on the progress of the week before.
Week #1 – Metabolism Kick Start
During the first week, you'll start on the new meal plan and 2 hours of total exercise you can do at home with dumbbells or at the gym if you prefer.

Both are designed to jump start your metabolism so you're burning fat and calories 24/7.
The quick initial weight loss of a few pounds right away, without having to count calories or work yourself to death on top of your busy work and family schedule, will get you motivated and pumped up for the rest of the program.
Week #2 – Fat Loss Amplification
During the second week, you'll begin to focus more on building muscle and the testosterone boost that comes along with the increased muscle mass.

By adding a 30 minute muscle building workout routine (again that you can do at home or at the gym) and eating more carbs post workout, you'll grow more muscle, adding to your body's fat burning capability.
Week #3 – Lean Muscle Building
By continuing your meal and workout plans, and adding in some small meal timing tricks, you'll increase your testosterone even more, setting up your body to build new muscle while continuing to lose fat, especially belly fat.
Increasing Human Growth Hormone is also a goal of this week's additions to the program.
Week #4 – Sustain Results
During this week, the program includes several key habits you need to embrace to keep the progress you've made.

You also don't have to stop at this point.

You can continue to use the full program for as long as you want to keep losing more weight and gaining more muscle, or to fine tune your body.
What Does It Cost?

For a lot of guys, cost is one of the very first things you want to know, right?

Even if a program looks good, if you're facing hundreds of dollars in upfront or recurring payments, you're not going to be interested.
This is a frustrating thing about the Fit Father Project website.

It actually takes quite a bit of digging to get to the bottom line, which is a one time fee of $97.
When you consider what you may have paid already in monthly gym membership fees (which you may or may not have made good use of), the one time fee isn't bad.But it is significant enough that you probably want to make sure you're ready to get started when you pull the trigger and sign up.
To some, the one time payment may seem like a nice change from other health programs as it requires a higher level of commitment, but I can see why that may be discouraging to others.
This is another positive aspect of the accountability piece of the program.

Once you sign up, Anthony starts sending emails, encouraging you to get started and directing you step by step through the best way to navigate the system.
And once you're in, you never have to pay anything again
Fit Father Project Reviews
Since it's only sold through the Fit Father Project website, there aren't a bunch of retail websites displaying independent customer feedback, but there are several testimonials posted to the program website.
These testimonials are hand picked by the project itself, so of course they're going to choose to display the feedback that puts them in the most positive light.That said, I don't doubt that there are guys having real success with this program.
Here's one example from the Facebook page: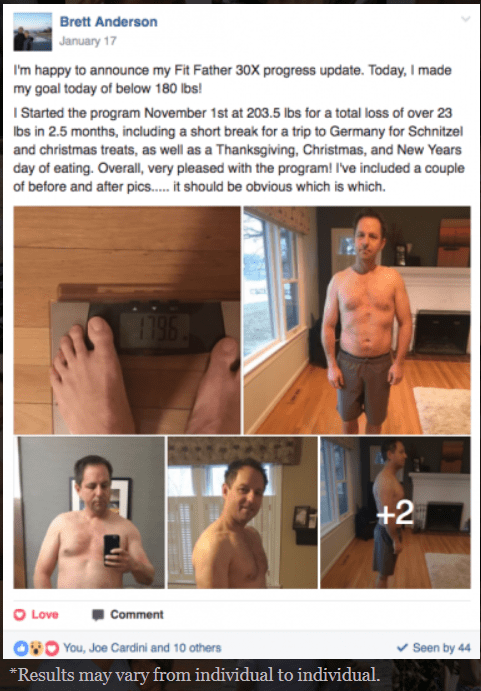 There are more just like this one.

While I don't usually like relying on testimonials provided by a product itself, I have to admit, the Fit Father Project testimonials definitely look realistic.

They're not trying to show you guys who lost 25 pounds of fat while putting on just as many in muscle, all in a month's time.

These images show believable progress made by seemingly pretty average guys.
The Bottom Line
The biggest thing to remember about weight loss and fitness programs is that in general, if you stick with the program and use it correctly, you will see results.
So the two main questions to ask when you're deciding on a program are:
Is it a good program based on sound, solid principles?
Will I be able to stick with it?
For the first question, the answer is yes.

The Fit Father Project meal plan has you eating clean healthy foods in proper amounts, and the workout program is designed to improve your cardiovascular fitness as well as your muscle to fat body composition ratios.

If you follow these guidelines, you will end up in better shape than you started.
The second question is the tougher one, and the one that trips most people up.

For a program to work, you have to commit to full participation.

The best programs are the ones that increase the odds of that happening.
The Fit Father Project strikes a good balance between sound principles and easy workability.The meal plan and make ahead meal prep are solid guidelines that help a lot of guys stick with programs longer.

Making meals ahead of time is the method I most often use when I need to put myself on a strict dietary regimen. I find that by taking the guesswork and uncertainty out of meal and snack time, there's less opportunity to stray from the path.

If the right food is ready and available, you won't find yourself reaching for the not so healthy but much more convenient junk.
Of course, everyone is wired a little differently, and different programs speak to different people.

The real trick is finding the one that speaks to you, and that continues to speak to you even when the novelty wears off and the progress slows down.
If simplicity and accountability are aspects you look for in a fitness program, The Fit Father Project is definitely a program you should look into.
Have You Used The Fit Father Project?

Leave Your Review Below!
Top 3 Weight LossAffiliate Disclosure
Instant Knockout is actually a new fat burning supplement I just came across, and got great results.
LeanBean Female Fat Burner is the BEST fat burner for women we\'ve ever tested.

Read our review here.
Biohacks your body into instant ketosis to burn fat instead of carbs.

Weight loss, energy, focus, anti-inflammatory, anti-aging.
User Reviews

3.0 out of 5 Stars (2 Reviews)
Have you used this supplement?
Big Ad
By
Mike

,
Apr 19, 2019


In Short:

I would NOT recommend this to a friend.
I spent 99$ to get nothing but hipe and more ads.
I could not get through all the BS to actually do the work.
Customer service non-existent

Was this review helpful to you?
30 out of 33 people found this review helpful.
---
FF30X works.
By
Nick

,
Feb 9, 2020


In Short:

I would recommend this to a friend.
Been plagued with emails from their site for years after clear clicking on some link or other. To be fair, the info in the emails was usually interesting and mostly useful but I'd held off doing anything further.
Fast forward to Xmas 2019. My "big" jeans were getting tight, I was struggling to tie my shoe laces because of my belly, short term extreme keto diets no longer seemed to help, or if they did, I always wound up putting the fat back on again with more besides. I noticed the Fit Father Project were offering their 30 day programme for half price so I thought, why not... After about 5 days reading up on the preliminary stuff (you can't just jump straight in - you have to print off recipe guides, workout schedules, buy food etc. You need to basically get yourself ready so you can hit the ground running. This takes a few days) the sale was still on and I had a really good feeling about the whole concept behind the Fit Father Project so I just jumped in feet first, went the whole hog and paid for a lifetime membership as well. After all, anyone can follow a diet/exercise programme for a set period but then end up back at square one. I was proof enough of that. The Fit Father Project is about changing your eating habits for good (whilst educating you about exercise etc) and the diet plan is actually so damn tasty and simple, I could see no problem in carrying this on long term.
I agree, there seems to be very little out there in the way of impartial reviews on this so it was a bit of a gamble, and sure, they want your money. It's certainly not free.
My experience? I'm coming up to the end of the first 30 days and I've lost about 14 lb weight. I've hardly ever felt hungry between meals on this programme and the exercises haven't quite killed me yet! My belly is still big but it's gradually shrinking, my body's more muscular and I feel pretty damn good. Plus my "big" jeans are getting loose again. I took photos at the start and I'm due to take some more in a couple of days when phase 2 starts. In time I might upload these but I'm a reserved Brit so they might not make it onto the net. However, I did trawl around searching for before/after photos myself before I signed up so perhaps it's only fair I upload them at some stage. No point yet though since you'd be hard pressed to spot the this weight loss in my photos so far. Perhaps when the belly does start to shrink properly in the next month or so...
Have a go. Like I say, it's not cheap but you can easily waste that sort of money on other crap so why not invest it in a New You?

Was this review helpful to you?
19 out of 21 people found this review helpful.
---
Ask A Question
User Questions and Answers
---

I need a contact number to make a change on my order -Samuel

I don't see a contact number. They want you to email them from the contact page.- Rob
Was this question helpful to you?
2 out of 3 people found this question helpful.
ASK A NEW QUESTION
---

I don't understand how to order. Can someone call me or email me to provide guidance. -Antone

Visit their website at fitfatherproject.com, and sign up there.- Rob
Was this question helpful to you?
1 out of 3 people found this question helpful.
ASK A NEW QUESTION