Folsac Review
By:
Rob Miller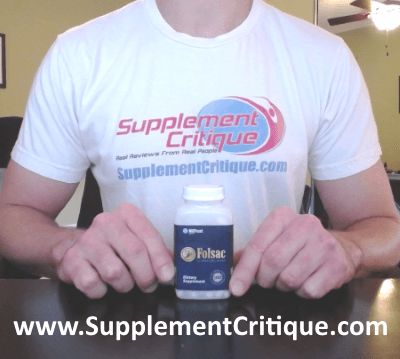 ---
There's an endless variety of male enhancement products being touted on the internet.
You'll find things like: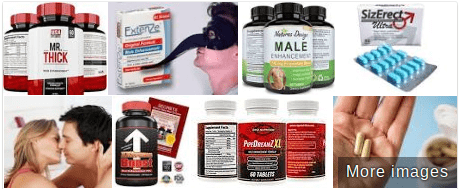 One often ignored category of products in this niche is volume enhancers.
Volume enhancers work to improve the quantity (and quality) of your sperm volume.
The theory behind them is that, the bigger the load, the more explosive the orgasm.
This may not seem like it is conducive to a stronger orgasm or that the two are correlated, but in my experience, they are.
I can tell you from experience that that actually DO work.

Well, some of them…
One recent one I came across is called Folsac when a representative from their company reached out to me.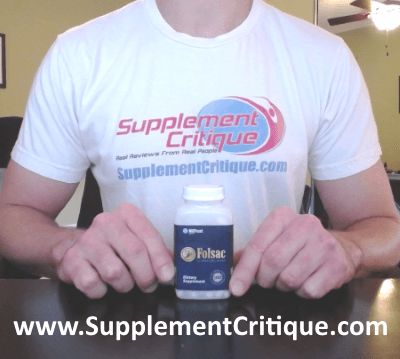 About the Company
There's not a whole lot of info about the company on the web.

On their official website 'About' page, they don't share much about who they are or where they're located.
This can raise a red flag, BUT, unlike many supplement companies, at least Folsac lists a contact email and customer service phone number.

Also, their site is a simple Shopify.com built website, so perhaps the name of the company is just Folsac Climax Enhancers.

Or. . . perhaps not.

I did a little more digging through their web pages and found that Folsac is a product of HillTrust Health.

But really, there is zero info on the web about HillTrust Health, other than a YouTube Channel that houses three videos. A little more sleuthing and I found instructions on return shipping, to a Raleigh, NC address.
What is Folsac?
Well, in so many words, Folsac gives you massive semen loads and enables you to shoot for the stars and feel like a young buck again.

It's also said to improve the quality of semen, upping sperm count to almost double.

The company markets the product as something that will give you:
Intense, toe-curling orgasms.
Enhanced semen production.
With no side effects.
Well, that sounds like quite the promise.

But how can you be sure you're stepping into "the future of orgasms?
Here's how.

The company hails a clinical study that was conducted on the "cocktail" of ingredients contained in Folsac back in 2002.

And yes, I looked into it, and the study does in fact prove that men experience a "significant" 74% increase in total normal sperm count. Source

While it might give you more substantial loads and increase semen amount, you'll see that Folsac, and other products like it, cannot promise a "beneficial effect on fertility." According to the study, that "remains to be established." So if you're looking to get your lady pregnant, I'm sorry but this isn't the product for you.
What are the ingredients in Folsac?
According to the product label (click here to see it), Folsac contains the following "special blend of vitamin and herbal" ingredients:
Folic acid: 2000 mcg DFE
Vitamin B6: 2 mg
Vitamin D2: 30 mcg
Zinc: 50 mg
It also should be noted that it is NOT vegan friendly, as the capsules are made of gelatin.
Here's how Folsac Climax Enhancer markets the ingredients. . .

Frequently Asked Questions
How do I take it?
According to the directions on the label, you should take 1 capsule of Folsac daily, preferably with or after a meal.
In my experience, supplements like this take a few weeks to kick in.

So don't expect an overnight miracle.
Also, it's worth mentioning that the makers of the product say it's best to take it on a regular basis for optimal results.
How long does it take to start working?
Again, I've found that it can take up to three weeks to notice real results with products like Folsac.

However, since many of these volume enhancers have slightly different ingredients and potency, and since everyone responds differently to supplements, your mileage may vary.

The Folsac website says this about uptake. . .
Results in 24 hours?

That'd be nice, but don't count on it 100%. Instead, give it time.

Patience is the name of the game, young grasshopper.
Are there any side effects with Folsac?
Honest question.

And I get it, you just wanna know how to increase your semen volume and sperm count, without having to deal with any pesky side effects.
Since Folsac is not sold on Amazon (yet), we can't read through all stories — good or bad — of what it's like taking the supplement and the accompanying side effects.

Bummer, right?
OK but seriously. . . considering the formula (it's vitamin-based with no synthetic additives), you shouldn't expect to experience any gnarly side effects like headaches, insomnia, vomiting, ears growing on your chest, or the like.
With that said, a quick Google search will show that some people do have difficulty taking Folic Acid and Zinc, two of the main ingredients of Folsac.
Here's what the makers say:

Finally, the makers of the product try to instill a bit of trust by stating: "Produced in a GMP Certified Facility, Folsac supplements are produced under strict, regulatory conditions, ensuring that all products are made in a safe, sterile environment." So there's that.
Can I take Folsac with Alcohol?
For the most part, the ingredients in Folsac do not react negatively with consumption of alcohol.

But there is the folic acid to look out for.

Remember, Folsac has 2,000 mcg (micrograms) of folic acid, and it's said that you can drink alcohol while taking a modest amount of folic acid. Source

So how much is 1 mg of folic acid?

The answer is 2, which is double the recommended amount of folic acid that you should consume alcohol with. Is it a HUGE deal and will you die?

No.

Well, most likely not. 😉 But if you're really concerned about taking the product with alcohol, it might be best to consult a medical professional.
The other ingredients shouldn't concern you if you want a few drinks.

In fact, if you happen to be a heavy drinker, taking a bit of zinc could probably help. . .

Will I get bigger from taking it?
Nope. Sorry.

This product is only for increasing semen volume and sperm count, and enhancing orgasms.
If you're looking for something that'll give you size, you'll need either a pump device like the Bathmate, or an extender like the Phallosan Forte.
The fact of the matter is that unfortunately pills themselves simply cannot increase penis size, even though a shocking amount of them make that claim.
On the flip side, if you're battling erectile dysfunction, check out Hardon Helper.

It's easily one of the best, fast-acting sexual enhancers I have ever tried (and I've tried close to 100 different products!).
Folsac Reviews
What are the users saying? Do they feel like Folsac is worth it?

Does it really increase ejaculate and enhance climax?
It's nice when I can scour the web and find all the juicy reviews for you guys.

But in the case of Folsac, there really isn't much out there.

It's not sold on Amazon or really any place besides their official website.

This could be because it's a newer company/product.

At any rate, here's what I did find.
On the product site, they display LOADS (pun intended) of positive testimonials.

Take this for what it's worth, as there's no way of establishing these are legitimate reviews.

So I'll just share this one with you. . .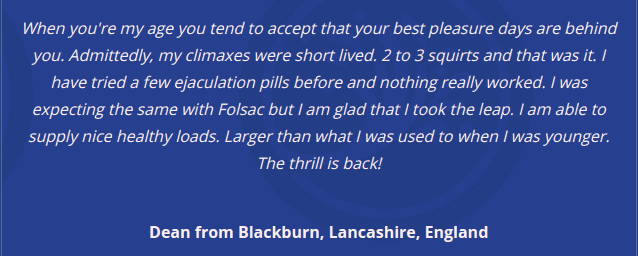 Also, there are a few YouTube videos about Folsac, but it's pretty obvious they're promotional content made by the company.

Remember, HillTrust Health is the company that makes the product.

My Personal Results
As I mentioned earlier in the review, the makers of Folsac reached out to me in early May asking if I would be interested in trying it out.
Since I already had several other products in the pipeline for testing and research, it took me a few weeks to really dive in and learn what it was all about.
I decided to take Folsac for 2 weeks to see what the results would be, and I have to say I'm actually REALLY impressed.
My load size could be described as "average" at best, but it's never been something I've been overly concerned about.
Really I just wanted to try it out to see it's impact on orgasm intensity.
Within a few days of taking it, I could already feel a surge in my orgasms.
I wouldn't characterize it as "toe curling", but feel like if I took it for another couple of weeks that could certainly be the case!
My orgasms were DEFINITELY more intense and longer-lasting, and I noticed my loads were DEFINITELY bigger.
In short, Folsac works! (no side effects either)
Where To Buy Folsac?
At this point in time, you can only buy Folsac through the official Folsac Climax Enhancer site.

They offer different sizes — 5, 10, 20, 30, 50, and 100 capsule counts.

And the prices range from $7.49 for the 5-pack, to $124.35 for the 100-pack.
The company does offer worldwide, international shipping on Folsac.And they also promise discreet packaging.
While they do offer a "100% money-back guarantee" if you're unhappy with the pills, I'm not sure if they grant this guarantee on products that have been opened.

If they did, you'd think they'd promote this guarantee on the website's Home page, but they don't.

It's hidden at the bottom of the site in a small link called "Refund policy."
Recommendations
If you're looking to increase your semen volume load, Folsac is hands-down one of the best I've ever tried.
While I haven't tried a TON of these, the vast majority of the ones I have tested simply don't work.
This is not the case with Folsac.
It works EXACTLY as described, and I would highly recommend it.
If you're looking to spice things up in the bedroom, give it a shot!
Have you Tried Folsac Climax Enhancer?

If so, leave a review in the comments below!
User Reviews

5.0 out of 5 Stars (1 Reviews)
Have you used this supplement?
Pleasantly Surprised
I first tried Folsac back in March of this year. I originally tried it because of the promise of increasing the intensity of orgasm. I personally found the claim of increasing semen volume a bit far-fetched so I wasn't expecting that benefit. The order site had a sale so I purchased the 20 pill count which I figured would be enough of a test to try it out and see if it lived up to the hype. I am pleased to announce that in terms of orgasm intensity it claims is true. I've always been satisfied with my quality of orgasm, but taking Folsac brings the quality from 100% to 110%.

When it comes volume I will admit I really only bothered to observe this once during my 20-day stint. I've never been a "shooter" so to speak but I became one the first try. Could it be a coincidence? Possibly, but not likely, I will say there was a small increase in volume after two days in. The quality of orgasm alone was what made me decide I'd absolutely get this supplement again. I just received my second order of the product as I write this review. This time I got an order of 20 and 50 pills to see how two months on this supplement does for my sexual health.

Also if you are struggling with thinning hair, Folsac actually may be a benefit for you since it gives you 50mg of zinc. Zinc is vital for healthy hair, nails, and skin. Unfortunately, men lose a moderate amount of zinc during ejaculation. Folsac will keep those zinc reserves high and I highly recommend the product.

Was this review helpful to you?
18 out of 18 people found this review helpful.
---
Ask A Question
User Questions and Answers
No Questions Have Been Answered For This Article.