Force Factor 2 Video Review
By:
Rob Miller
Fact Checked On: 5-31-2018
Thinking about trying Force Factor 2? I've personally tested it.

Watch my video review here and learn more about the ingredients, side effects, where to buy, and more.
If you would prefer to read out written Force Factor 2 review, click here.
Video Transcription
Hey guys.

Rob here again with supplementcritique.com.

In today's review, we're gonna be talking about the force factor 2. I got a chance to try this a few weeks ago, and I just want to give you a little review of my personal results.

But if you click on the link in the video here it'll take you right to my page on my website supplementcritique.com.

It talks a little bit more about the details of the supplement and a little bit more about my personal results, so if you want to not sit here and wait for about 3-4 minutes to find out what my personal results are, you can click on the link and that will tell you all about it right away.

Anyway, this is force factors follow-up supplement to their highly, well I guess, we'll call it really popular force factor the original. the difference, the main difference with Force Factor 2 is they added it a couple of different ingredients to it.

It's supposed to make it work a little bit more effectively.

If you're not already aware, this is a pre-workout supplement.

It's designed to help you get the most out of your workouts, help amplify strength, power, and stamina, and give you kind of like explosive energy for the gym.

So you would maximize the effectiveness of your workouts. Anyway, this bottle is free.

I just want to start off, I'm not a paid actor for the company, I don't work for force factor. This is just my personal review of it.

So that being said, I started taking the product about a month and a half ago, and I finished taking about three weeks ago.

So this is a little late on the review side, but I did notice a couple of different changes.

I've tried a lot of different pre-workout supplements out before, and most of them have stimulants, and the stimulants are what give you the actual boost for the gym, and a little bit of motivation.Force Factor 2 doesn't contain any.

Usually, those things are caffeine, Yohimbe, in some cases they put DMAA, which is kind of a controversial ingredient, that you'll find in a lot of other pre-workout supplements.

But anyway, my results, specifically I would say that it gave me a little bit more of a boost, as far as like my workouts, maybe pushing out more reps, at the end of a heavy lift. But I didn't feel like it worked as far as giving me any kind of like lasting energy, it was more of like a short burst, and in my opinion might be all mental.Force Factor 2 did help a little bit with my strength and power games.

I was lifting a little bit heavier, I don't know if I can attribute that directly to force factor 2, but it definitely helped in that regard.

But I would say overall it's a fairly decent supplement, at least I didn't get any side effects from Force Factor 2, so that's a good thing.

Amazon, eBay, and there's a lot of other places where you can find reviews from other guys, that have also taken it, and they've all pretty much said the same thing, that it works okay but it's nothing spectacular.

I believe you can find this in GNC, I'm not positive, but I know as far as how its compared to other pre-workout supplements, it's very very expensive.

So, you know, if you're ready to pay seventy or eighty dollars for a bottle, for a one month supply, you know, feel free to go ahead and do that.

But I think that there's other alternatives that are out there that are a little bit more suitable.

But anyway, that's all I pretty much have.

Like I said, if you click on the link in the video here, it'll take you to my official review, my written review on supplementcritique.com, where I have personally tested over 60 different pre-workout supplements.

And it'll give you a little bit more information about this one, how this one works. I'll see you guys again soon.

Take care.
Top 3 Pre WorkoutAffiliate Disclosure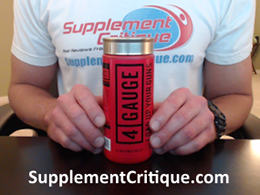 4 Gauge is a brand new pre workout that kicks in FAST and will rev up your workouts.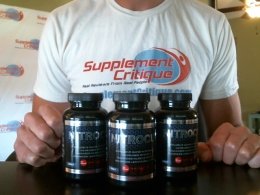 Nitrocut is a VERY effective pre workout supplement for a variety of reasons, see why here.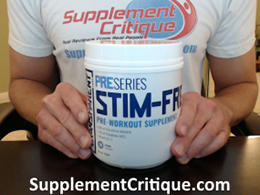 If you're looking for a stim-free pre workout, add Transparent stim-free to your list!
Ask A Question
User Questions and Answers
No Questions Have Been Answered For This Article.