Gaspari Nutrition SuperDrive Review – Does It Work?
By:
Rob Miller
Fact Checked On: 4-18-2015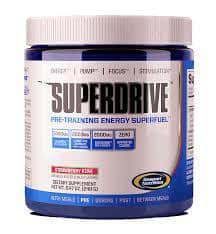 Gaspari Nutrition SuperDrive Overview
Gaspari Nutrition is a very popular fitness and workout supplement company.

They have a wide range of products available to help you reach your goal, whether it's to drop 30 pounds of fat, put on massive muscle weight, or both.

Today, we're looking at one of their preworkout supplements, called Gaspari Nutrition SuperDrive.

The marketing angle is that the preworkout market is saturated with copycat formulas, all using the same few ingredients and getting the same old results.

But that Gaspari Nutrition SuperDrive is different, introducing new ingredients with great results.
Customer reviews of the stuff are pretty mixed, with some guys loving it and others complaining how it clumps or just doesn't work.

So we broke it down and took a look to see if, new or not, it's worth your time and money.
Gaspari Nutrition SuperDrive Ingredients and How They Work
The primary ingredients in Gaspari Nutrition SuperDrive are MitoDrive, GlycoSpan, and Carnipure.
MitoDrive (ornithine malate) supports endurance and enhances nitric oxide release as well as recovery and power.

By reducing ammonia levels in your muscle tissue, it combats muscle fatigue.
GlycoSpan is the combination of Glycerol which volumizes muscle cells and Acetic Acid which buffers against lactic acid buildup in muscles, allowing you to workout harder and longer.
Carnipure provides post workout support including less tissue damage and reduced soreness.
Supporting ingredients include:
N-Acetyl-L-Tyrosine which is a precursor to several feel good neurotransmitters like dopamine and norepinephrine.
DMAE Bitartrate which also improves mood.
Citrus Aurantium which is also known as Bitter Orange, and is commonly used in fat burners as a thermogenic compound.
Caffeine which gives you that energy boost you want from a pre workout.
The recommended dose is 1 scoop with 8 ounces of water taken about 20-30 minutes before working out.
Gaspari Nutrition SuperDrive Pros and Cons
Advantages of Gaspari Nutrition SuperDrive
It's not your run of the mill pre workout.
It contains ingredients for energy, pump, and mood.
It's affordable.
It's made by a trusted company.
Most Gaspari Nutrition SuperDrive reviews from customers are positive about how it works.
They say if you can get past the clumpiness, the taste is good.
Disadvantages of Gaspari Nutrition SuperDrive
Many reviewers say it clumps and/or it's one solid block in the jar, and has to be chipped away at to use.
It contains a lot of caffeine if you take a second dose, which is encouraged once you hit a tolerance.
Where to Buy
You can purchase Gaspari Nutrition SuperDriveat the Gaspari Nutrition website or other online retailers.

The 20 serving tub sells for $22.99, and you can get 40 servings for about $35.
Conclusion
Given the price and the reviews, Gaspari Nutrition SuperDrive is definitely worth giving a try.Start with a single scoop to make sure you don't overdo it on the caffeine.

And if your product gets clumpy, you can toss it in the blender to break it up.
Have You Used Gaspari Nutrition SuperDrive?

Leave Your Review Below!
Top 3 Pre WorkoutAffiliate Disclosure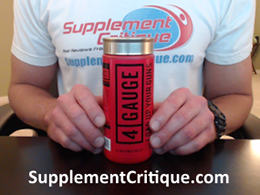 4 Gauge is a brand new pre workout that kicks in FAST and will rev up your workouts.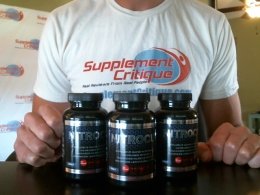 Nitrocut is a VERY effective pre workout supplement for a variety of reasons, see why here.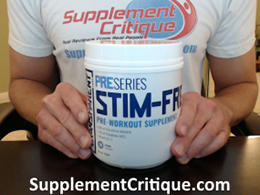 If you're looking for a stim-free pre workout, add Transparent stim-free to your list!
Want To Really Get Ripped?

Click Here To Download My FREE "Get Ripped" Ebook!
Ask A Question
User Questions and Answers
No Questions Have Been Answered For This Article.