Novaplex Review – Should You Use It?
By:
Rob Miller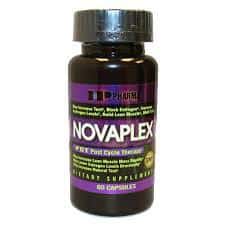 Novaplex Overview
I get asked a lot about whether or not guys should use Post Cycle Therapy (PCT) after taking natural testosterone boosters like for instance Testofuel.
The answer is no.
However, PCT is necessary when you come off a steroid cycle.
Steroids tend to shut down your body's natural processes for producing male hormones, ie testosterone.
So when you're done with your cycle, you go on a PCT product to help and allow your systems to get back to normal.
That's what Novaplex, made by IP Pharma, is designed to do, though you can also take it on its own even if you're not coming off a steroid cycle.
By increasing natural testosterone and decreasing estrogen, you'll find yourself with more lean muscle mass, boosted libido, less fat, and even a better, more calm mood.
Novaplex Ingredients and How They Work
There's one ingredient in Novaplex.
It's 3-(4-Aminophenyl)-cyclohexyl-2,6-piperidinedione.
This compound blocks aromatase, which is when testosterone gets converted to estrogen in the body.
When you do this, there are two beneficial results.
One is that you have less estrogen to make you feel sluggish and bloated.
Two is that you keep more of the testosterone you have so you gain lean muscle and lose fat more easily, and you increase your libido.
Another company claims to have conducted studies on this ingredient, where the evidence is clear in the blood tests of the participants, but they don't share the study or the specific results.
We did, however, find a peer reviewed study that determined that indeed 3-(4-Aminophenyl)-cyclohexyl-2,6-piperidinedione is an effective aromatase inhibitor.
Instructions are to take 2 Novaplex capsules with water before going to bed.
Novaplex Pros and Cons
Advantages of Novaplex
You can use it post cycle or any time.
The active ingredient has been clinically tested and shown to be effective.
It's works in two ways, by increasing testosterone and decreasing estrogen.
Disadvantages of Novaplex
We did not find any Novaplex reviews from real customers who've used it with success.
It's a bit on the expensive side.
Where to Buy
You can purchase Novaplex online. The 60 capsules bottle lasts about a month and costs about $50.
Conclusion
Novaplex is a proven anti-aromatase supplement that can be used to support your testosterone levels post cycle or increase your testosterone levels anytime.
It might be better if the one ingredient were combined with some additional herbal testosterone boosters, but it's still worth a go as is.
Have You Used Novaplex?
Leave Your Review Below!
Top 3 Testosterone BoostersAffiliate Disclosure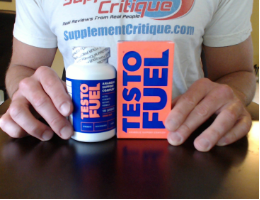 Testofuel is the most effective testosterone boosting supplement on the market that i've tested.
It uses a unique blend of effective testosterone boosting ingredients that will help transform your life.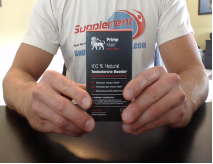 Prime Male is a VERY close 2nd to Testofuel, but contains ingredients to help older men. See why we recommend Prime Male for guys aged 40+, as well as my personal results.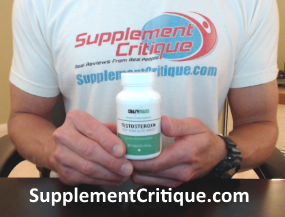 Testoroxyn uses DHEA and other ingredients to help boost free testosterone. See how Testoroxyn is different from Testofuel and Prime Male, as well as my personal results.
User Reviews

4.0 out of 5 Stars (1 Reviews)
Have you used this supplement?
Can't complain
Alright so I'll start by saying that this was my first "steroid" cycle (a shot of 2cc of Cypionate/wk) and I was recommended
Novaplex by a guy working at One Stop Nutrition. It's advertised as a PCT (Post-Cycle Therapy)
Supplement, but the guy at One Stop told me you can also use it as an estrogen-blocker while on a steroid cycle, as the active ingredients have been proven to block aromatase.

I picked it up and began taking them a little less than two weeks into my cycle.

So fast-forward 30 days - I just finished the bottle yesterday, and again, since this was my first steroid cycle, I didn't know what to expect to feel from the Testosterone, let alone the Novaplex. However, while using this product, I never once felt any sensitivity anywhere in my body, didn't get any acne, didn't have any sexual side effects...etc (the common side effects of taking Testosterone).

Could this be the Novaplex? Maybe.

But could it have been that I wouldn't have had any side effects from the Test, anyway? I'll never know, but I can tell you that while taking this product, I got excellent results from my 2cc of Cypionate a week (gained 10 pounds of muscle in 6 weeks).

I DID, however, finish the bottle of Novaplex BEFORE finishing my 8 week cycle of the Cypionate.

I still have 2 weeks to go on my cycle, and I went to a different One Stop Nutrition today to pick up another bottle, but they did not have it. (The guy explained that different franchises have different products). But he recommended I take a product called H.A.F.

Black, which he said works really well while on a cycle.

The bottom line is that Novaplex likely works - I had a positive experience. There are 60 pills, and taking two pills a day (recommended dose) you will obviously run out in 30 days, and nobody recommends only doing a 4 or even 6 week cycle, so be prepared to have to pick up another bottle.

It's your body, and IMO you should never take the chance of going on a cycle without an estrogen blocker. I give this 4 stars because I didn't exactly feel like Superman while taking it like the advertisements would have you believe, but overall it does what it was made to do - block estrogen.



Was this review helpful to you?
6 out of 7 people found this review helpful.
---
Check Out My Top Choice For T Boosters - Testofuel

Click Here To Read My Review
Ask A Question
User Questions and Answers
No Questions Have Been Answered For This Article.