Here We Go Again…
By:
Rob Miller
---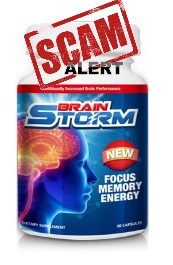 A couple of months ago we wrote about a product called Neuro 3X, which was illegally using Will Smith's name and likeness to promote their nootropic supplement online. Well, it seems like the company that makes Neuro 3X decided to change up the name to a product called Brainstorm Elite, and now they're using Leonardo Dicaprios name to promote it!
I reached out to Leo's agent, but unfortunately didn't get a reply back. If you look at my review of Brainstorm Elite and compare it to the Neuro 3X review, you will see NUMEROUS similarities. In this case, apparently their was an interview with Leo where he raved about Brainstorm Elite and how it worked so great at helping him concentrate and focus on his acting.
Just like the Will Smith case, it apparently doubled his IQ in minutes, and put his energy levels through the ROOF. Well, I watched the video…and there is absolutely NO reference to Brainstorm Elite (you can watch it here too).
This time, the article is also "featured" in Discovery magazine, but there's no more James Rickman as the editor…now it's Alan Frasier. Mind you I reached out to Discover Magazine and they have no editors at those publications in their employment, but that's a whole other story.
Check out my review and learn more about this latest scam.
Ask A Question
User Questions and Answers
---

What is your opinion of CogniForce? -D. Robins

I haven't checked it out yet, and I'm not sure when or if I'll be able to get to it as we've got a pretty long waiting list right now.- Rob
Was this question helpful to you?

ASK A NEW QUESTION