Note:  This is just a review.  Click Here to visit their official website.
What if there were a way your brain could perform better?

What if you could count on your ability to retain and recall information quickly and efficiently every day?

What if you could harness the energy and motivation you know is in you somewhere, but seems to let you down more often than not?

There's a relatively new category of all natural supplements available that promises to provide you with all those benefits. They're called nootropics, and they have exploded onto the scene unlike anything I've seen before.
IQ² is a nootropic supplement I've decided to test out.

The formula and ingredients look promising, and I'll post my results here in a few weeks.

But for now, I'll tell you what we know about this product and what kind of value it can potentially have in your life.
Click Here
to jump to my personal results.
IQ² Benefits
According to the IQ² website, IQ² works by naturally boosting your brain power.

When taken daily, you can expect to see improvements in alertness, focus, memory, and overall cognitive performance.

With this kind of competitive advantage, you can just imagine what kind of success you can achieve.

And with all natural ingredients, you don't have to concern yourself with worries over side effects, now or down the road.
Of course, these are the promises made by the company that makes IQ².

Let's take a look at the formula ourselves, and find out if there's any merits to the claims.
IQ² Ingredients
IQ² chose ingredients backed by scientific research. That's a good thing, but more goes into it than that.

Lots of supplements use tried and true ingredients, but they use only a dusting – just enough to say its in there.

They can get away with it by listing their ingredients in a "proprietary blend".

They don't have to list how much of each ingredient they use, instead they just lump them all together into one "secret formula". IQ² actually lists how much of each ingredient is used, which is a big plus – and if they're using clinical amounts, even better.
The IQ² formula includes:
Vitamin B6 (10 mg)
Follic Acid (400 mcg)
Vitamin B12 (400 mcg)
Choline Bitartrate (400 mg)
Raw Cacao Bean Powder (400 mg)
Guarana (200 mg)
Acetyl L-Varnitiate (150 mg)
DMAE Bitartrate (100 mg)
Vinpocetine (10 mg)
Huperzine A (100mcg)
Cacao in its raw form has antioxidant benefits and it improves memory and cognition.

It's thought of as a superfood along the lines of blueberries and green tea.

It also containst caffeine and theobromine for alertness.

The recommended dose is 500-1000 mg a day, so the 400 mg in IQ² comes short but close.
Choline can convert in your brain to acetylcholine, one of the most crucial neurotransmitters to higher brain functioning.

The more acetylcholine the better, and choline helps get you to that point.

With the typical dose of 250-500 mg, the 400 mg in IQ² should be sufficient.
DMAE Bitartrate boosts both mental and physical stamina as well as memory recall.

It's found in fish, which may be why fish is considered to be "brain food".

By providing you with a calm concentration, it improves focus and retention.

The typical dose is 50mg-150mg, putting the 100mg dose in IQ² right where it should be.
Vinpocetine improves blood flow to the brain, delivering oxygen and nutrients to benefit both long term health and short term functioning.

The most commonly recommended dose is 15-60 mg so the 10 in IQ² is a little on the low side.
Huperzine A improves brain health as well as overall cognitive functioning.

It helps improve memory and is being studied as a potential aid for people suffering with Alzheimer's Disease.

IQ² contains 100 mcg which is within the recommended range of 50-200mcg.

The recommended dose is 2 capsules taken in the morning, about 15 minutes before eating breakfast.

If needed, you can take another 1 or 2 capsules mid-afternoon or so, but you'll want to be careful of taking it too close to bedtime because it does contain caffeine.

My Personal Results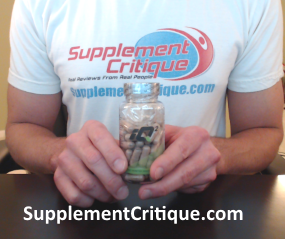 The makers of IQ squared were kind enough to send me a bottle to personally test, and I got a chance to do so over this past weekend.
Since I'm pretty experienced in taking nootropic supplements such as these, I decided to take the max. dose of 2 capsules first thing in the morning on a completely empty stomach.
At first it felt like I took a caffeine pill, but I did notice over a period of 3 – 4 hours I felt a bit more "focused" and engaged on what I was doing.
I was actually in the middle of typing out a pretty lengthy article, and before I knew it I had hit the 1,000 word mark.  This is not typical for me with most of the Nootropic supplements I've tested in the past.
I didn't notice any effects on my short or long term memory, but my guess is those benefits come along after a few weeks of dosing.
Visit the Official IQ² website here:  www.iq2labs.com

IQ² Pros and Cons
Advantages of IQ²
The formula is made up of all natural ingredients.
There's a money back guarantee.
The ingredients are backed by scientific research.
It's got some caffeine, but at 80 mg, it won't have you bouncing off the walls.
Rather than force you into monthly billing using a free trial scam, IQ² offers the option clearly and gives you alternatives if you're not interested.
Disadvantages of IQ²
We didn't find any independent feedback yet from customers who've used it.
Where to Buy
At this time, the only way to purchase IQ² is through their official website.

A single one month supply bottle (60 capsules) goes for $59.95. Alternatively, you can save $10 a month by signing up for automatic monthly shipments, bringing your price per bottle down to $49.95.
There is a 30-day money back guarantee on your first purchase.You don't have to return the bottle.

Simple call their number or contact them through email, and they'll refund your money.
There is talk of IQ² becoming available at Amazon.com and local retail stores, but so far, it's just available on the website.
Here's their official site:  https://iq2labs.com/
Conclusion
IQ² looks promising with a good formula based on mainly clinical and recommended doses of its effective ingredients.

After having finally tested it out, I can say with relative certainty that they have produced a very good supplement.
Better than 95% of nootropic supplements I've tested in the past, to be honest.
I can also see that with continual dosing, it definitely has long term potential at helping both short AND long term memory.  If you have the dough, I highly recommend giving it a shot!
Have You Used IQ²?

Leave Your Review Below!
Top 3 NootropicsAffiliate Disclosure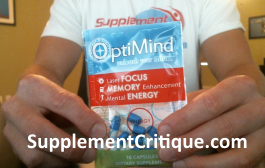 Optimind is the closest thing to Aderall that Ive tested, and Ive tested ALOT of Nootropics.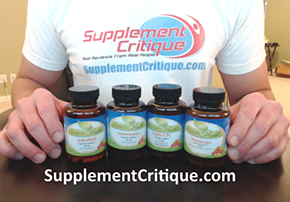 The Nootropics All Star Pack is a GREAT combo of supplements that will improve focus, concentration, and mood.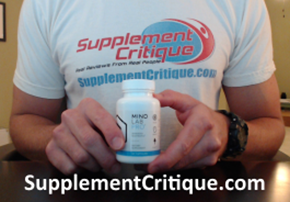 Mind Lab Pro takes a longer, but equally as effective, approach to increasing focus.
User Reviews
Ava 's Review

I just started taking this supplement yesterday, I am already impressed with the results. I will definitely use this product as a base for my future stack experimentation, and am looking forward to seeing even better results in the future.

As I know it works better over time. I was immediately interested in the product because of that reason, because so many others as I have read and experienced don't have that going for them.

You eventually build a tolerance or have to take a few days off to still get the full benefits. I was happy to hear that IQ2 works the way it does.

Thank you for your product, I see myself enjoying it for the foreseeable future.


Was this review helpful to you?

---
Want To See What Supplements
Work Like Adderall?

Click Here To Find Out!
Ask A Question
User Questions and Answers
No Questions Have Been Answered For This Article.