Longbido Overview
To date, I have written about close to 563 supplements involving a free trial.
99.99999% of them are scams, but every once in awhile, a legit one comes across my desk.
One recent one I had a chance to test out is called Longbido.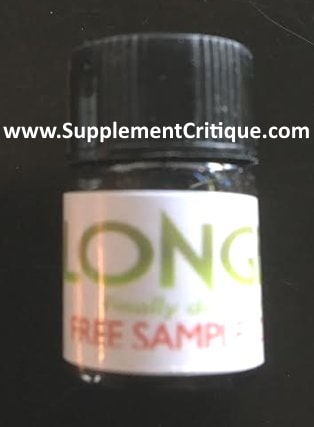 Longbido claims that it may help you "last all night" and can work for up to 4 hours.
Pretty bold claim, I would say, and not unlike the bold claims of many similar products.
But does it really work?
Well, I personally tested it. Read more to find out what this premature ejaculation remedy is all about.
What is Longbido?
According to the manufacturer, Longbido is an herbal remedy for premature ejaculation.
This Caribbean-born remedy was developed to "give you peace of mind" that you'll be able to perform, and continue to perform, when the time is right.
To understand how Longbido works, you must first understand what premature ejaculation is (and isn't).
What is Premature Ejaculation?
Premature ejaculation is defined by WebMD as "a male sexual dysfunction characterized by ejaculation which always or nearly always occurs prior to or within about one minute of vaginal penetration".
In a poll conducted by us, nearly 27% of all men surveyed reported suffering from premature ejaculation issues.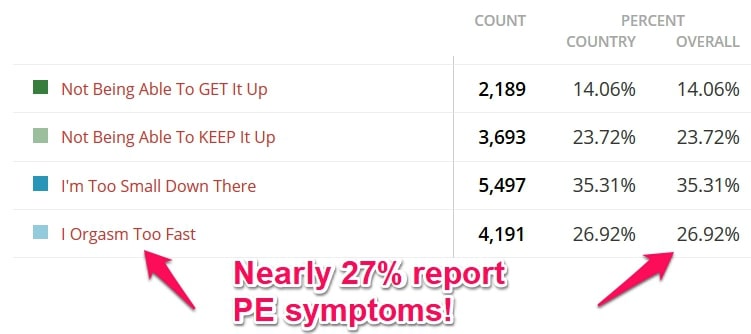 There are several treatments for premature ejaculation, including:
Behavioral techniques: These involve masturbation an hour before sex, and even avoiding intercourse for a prolonged period of time.
Exercises: These involve specific exercises called Kegels, which essentially "workout" the PC muscle. We'll talk more about this below.
Condoms: Since they decrease penile sensetivty, condoms are a great tool to combat PE symptoms.
Topical Anestherics: This is what Longbido is. Several other topical anesthetics we've personally used include Vigrx Delay Spray and Promescent.
Premature ejaculation is NOT erectile dysfunction.
The 2 are completely different issues that are treated in completely different ways.
By all accounts, Longbido is not made for those specifically suffering from erectile dysfunction issues.
A Clinical Look At The Longbido Ingredients
Unlike most of the other premature ejaculation oils and gels we've reviewed in the past, Longbido does not contain topical anesthetics like lidocaine or benzocaine.
Instead, it contains the following:
Aqua
Alcohol Denat
Laurteh-9
Capryl Glycol
Menthyl PCA
Avena Sativa
Hypericum Perforatum
There's a bit of a discrepancy between what they say on the label, and what they say on their website.
While they don't list the full ingredients list on their site, they do specifically mention an ingredient called "Uncaria Tree Extract."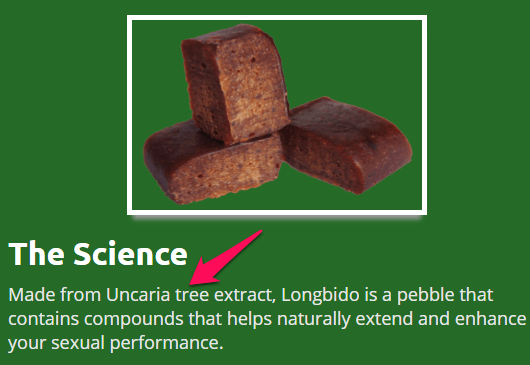 Yet, if you look at the label, it's nowhere to be found.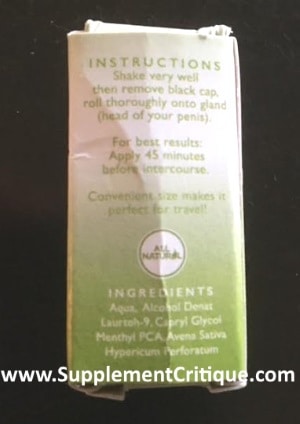 Apart from Avena Sativa, I've actually never heard of any of these ingredients.
So I started digging…
Aqua is essentially a solvent that is a chemical word for water.
Alcohol Denat is a term for ethanol, or simply alcohol. What are it's PE remedying properties?
Well, it doesn't have any that I'm aware of.
There's actually a typo on the label…they initially put "Laurteh-9", but when I entered the name into google it kept bringing back an ingredient called Laureth-9.
I'm guessing this is what Longbido meant, so we're gonna go with that one.
Traditionally, Laureth-9 has been used as a sclerosing agent.
Sclerosing agents are used in the sclerosing of varicose veins, which is essentially a fancy way of saying that they treat varicose veins.
How does this help with premature ejaculation?
At this point it's a bit unclear, but a leaflet which outlines the chemical compounds in a competing product called Rhino Long Power Cream lists it as an inactive ingredient.
My Personal Results
As I mentioned earlier in the review, I actually got a free bottle of Longbido to test out myself.
Unlike other products that promise a free trial of their product, only to bill your credit card the full price of the product 2 weeks later, this one was different….
It was a legit free sample.
I paid $10 for it, which was rather expensive for the amount I received.
However, it was actually a sample, and not some scammy trial.
The first thing I want to note is that it was NOT delivered discreetly.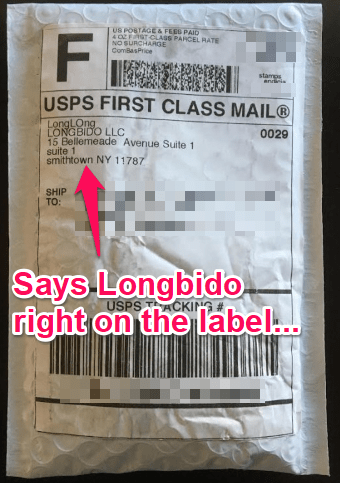 This is a bit unfortunate, because I can guarantee a lot of guys have NOT ordered it simply because this is the case.
Most people ordering such a, let's say sensitive product, are looking for a certain amount of discretion and that is often one of the appeals of being able to purchase such supplements over the internet instead of a counter at a store.
I don't typically suffer from premature ejaculation, but I've had my moments.
I decided to test this out using the old fashioned, time-tested method…masturbating.
The first thing I did was pump out a couple of drops of Longbido onto the tip of my penis.
Unlike some of the other oils and creams I've used in the past, this one actually didn't smell that bad.
As a matter of fact, it actually smelled kind of good.
I rubbed it in and was a bit surprised at how fast it started to work.
I could literally start feeling the initial effects in about 5 min. and the full effects seemed to kick in after about 20 min.
After putting on one of my favorite porn videos, I got to work.
Normally this particular video can get me going pretty quick. So quick, in fact, that in most cases I'll have to do the "stop-start" method of rubbing one out.
This basically means stroking it until about 10 seconds before you're about to bust a nut, and suddenly stopping.
I didn't have to do this with Longbido.
It seemed to essentially "take care of that for me".
How To Use Longbido
The instructions on the Longbido box indicate that you should do the following:
Shake the bottle well and then remove the black cap.
Apply to the head of the penis (glans) and rub onto the penis.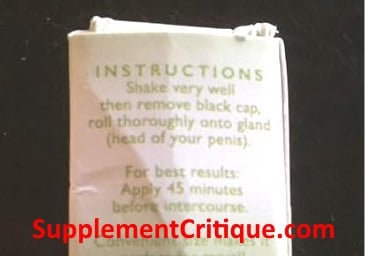 You should allow up to 45 min. for the full effects to kick in, although I personally noticed it worked way faster.
Where To Buy
From what I can tell, the only place you can buy Longbido is on their official website, www.bearaddiction.com.
As I mentioned in my review, you can get a sample for as little as $10.
The sample is good for about 3 – 4 sexual encounters, depending completely on how much you need for each specific one.
You can get 2 bottles at a discounted rate of $39.99, which should last you about a month.
If you really like the stuff, you can go all out and order a 4 bottle supply. The listed price for 4 bottles is $79.99, which is a $40 discount.
I couldn't seem to find their customer service phone number, so if anyone has it I would appreciate it if you left it in the comments section below.
Recommendation
I've never been a huge fan of male enhancement oils like this for a couple of reasons:
They usually really messy, and don't make for an "easy" sexual encounter
They usually stink real bad, like Himcolin Gel
Most of the time they don't work
When they do work, they usually work "too well"
This was not the case with Longbido.
While it can be a little messy, it does seem to absorb very well as opposed to other creams.
And in my personal experience, it actually works!
If you don't believe me, just try out the sample. It's only $10, and will give you the opportunity to try it out relatively "risk-free".
I still think that Vigrx Delay Spray is the best, but Longbido is definitely worth a shot!
Have You Used Longbido? Leave Your Review Below!
Top 3 Male EnhancementAffiliate Disclosure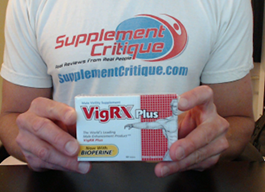 Out of the 100+ male enhancement products Ive tried, Vigrx Plus was the best.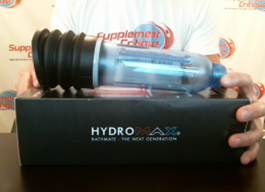 The Bathmate is a proven water-based vacuum pump that can help dramatically increase your size.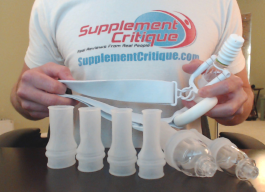 Phallosan Forte is a GREAT option for those looking to grow both length AND girth, permanently.
Honorable Mention/Inexpensive Alternative:Magnum Rings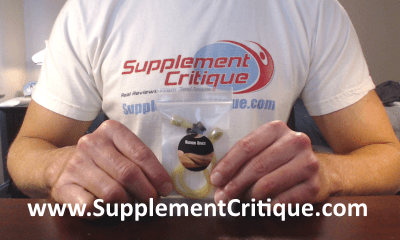 Magnum Rings are a VERY affordable option to getting both girth and length gains, at a fraction of the price of the Bathmate or Phallosan Forte.
Click Here to see our full Magnum Rings review.
4 Star User Reviews

3.3 out of 5 Stars (4 Reviews)
Have you used this supplement?
There Are no 4 Star User Reviews
Ask A Question
User Questions and Answers
No Questions Have Been Answered For This Article.