MascuGen Review – Should You Use It?
By:
Rob Miller
Fact Checked On: 9-10-2015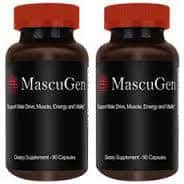 MascuGen Overview
One of the best stacks for getting lean and strong, and putting on lean muscle mass is a pre workout stacked with a natural testosterone booster. It's simple, yet effective.

And it doesn't involve dicey ingredients and substances that you'd be better off avoiding.

MascuGen puts itself out there as a two-in-one combination supplement that takes care of both jobs.

By boosting natural testosterone as well as increasing nitric oxide, you basically get two of the most effective workout supplements in one.

That's the claim, but all too often, we find out that supplements don't always live up to their claims. Does MascuGen?

Let's find out.
MascuGen Benefits
The makers of MascuGen understand that after a man has lived a certain number of years, things start to change.

Hopefully, he's got the wisdom that time and experience bring, because when it comes to his body, the changes due to age are rarely pleasant.

As you age, your body just doesn't produce testosterone and nitric oxide like it used to.

As a result, you can feel sluggish, you find it more difficult to work out as hard as you used to, you get tired more easily, you start growing one of those spare tires you've always heard about, and you just don't have it in the bedroom like you used to.

You might be familiar with a few of these symptoms. Or you might have them all.

In either case, it's a normal part of getting older, but it doesn't mean you have to take it lying down.
MascuGen isn't a steroid.

There's nothing banned or illegal in it.

Instead, it works with your body's own natural processes to boost production of the hormones you no longer have in the abundance you used to.

Once those systems get back on track, you start feeling better, stronger, more athletic, and more virile.

You'll burn more fat, grow more muscle, repair more quickly, and perform like your old self in the bedroom.
MascuGen Ingredients
Enough about what MascuGen is supposed to do.

In order to figure out what it really can do, we need to take a close look at the formula.

We did, and what we found is that the formula consists entirely of amino acids, 4 to be precise.

Here's a breakdown of what they are and what you can reasonably expect them to do for you in a supplement:
L-Arginine Alpha Ketoglutarate (A-AKG).

L-Arginine is an amino acid with several benefits.

It's one of several amino acids that can help increase the release of HGH in your system.

It's also a pre-cursor to nitric oxide. Nitric oxide is a vasodilator.

It opens up your blood vessels, allowing blood to flow more freely throughout your body.

Increasing NO helps you get better erections because of the increased blood flow to your genitals.

It also helps you get better workouts because more blood flowing to your muscles means more of the oxygen and nutrients to help you push harder and recover faster.

L-Arginine AKG is more easily stored in the body than other forms of L-Argnine, so it is particularly effective at increasing endurance.
L-Arginine Ketoisocaproate (A-KIC) is a branched chain amino acid that in addition to increasing nitric oxide also helps your body recover more quickly and completely than without.

It helps fight off workout fatigue.
L-Ornithine Alpha Ketoglutarate (O-AKG) is used by the body to help with cell growth and repair.

Its mechanism of action is increasing the release of anabolic hormones (ie testosterone and HGH).

In fact, it has been used with severe burn victims and to help with post surgery recovery.
L-Glutamine Alpha Ketoglutarate (G-AKG).Glutamine and Alpha Ketoglutarate are both precursors to Glutamate which boosts your muscles' potential for growth, and prevents muscle loss.
All 4 ingredients are part of a proprietary blend totaling 2400 mg per 3 capsule serving.

Because it's proprietary, we don't know how much of each ingredient there is, but we know the total is 2400 mg. This is pretty low when you consider a pretty common dose of L-Arginine AKG alone is 1,500 to 3,500 mg per day.
How to Use MascuGen
The recommended dose is 3 MascuGencapsules taken once per day, preferably with a meal.

The time you take it doesn't matter.

You'll just want to make sure it's around the same time each day to maintain consistency.
MascuGen Side Effects and Interactions
While we found no indication of side effects specifically with MascuGen, there are a few associated with L-Arginine.

L-Arginine is generally considered quite safe, but at high doses it can cause a few uncomfortable side effects, like abdominal pain, bloating, and diarrhea.
If you have certain conditions, it's advised that you consult with your doctor before taking supplements containing L-Arginine. A partial list includes pregnancy or nursing, allergies or asthma, low blood pressure, recent heart attack, and recent surgery.
Who Makes MascuGen?
MascuGen is made by a company called M2 Products Group.

They have a manufacturing facility in Georgia, and their distribution center and customer service department are located in Florida.

They have a very complete and informative website that includes full contact information including phone numbers, physical addresses, and email contact form.
Where to Buy
The only way to purchase MascuGen is through their official website, but there are several different options when you get there.

If you want to order just one bottle (a one month supply), it costs $64.99. 2 bottles costs $99.99, saving you about $15 per bottle.MascuGen also offers an auto-ship program that will deliver you a new bottle each month at a cost of $39.99. This might sound a lot like those "free trial" scams we're always talking about, but it's actually very different.The options are clearly laid out on the order page, there's no "free trial" to lure in unsuspecting customers, and the default option is a one-time purchase.
There is a guarantee, but you won't be getting your money back if you're not satisfied.

Here's how it's stated on the website:


It's actually kind of funny.

If you find our product doesn't work for you, we'll send you some more!
MascuGen Pros and Cons
Advantages of MascuGen
The ingredients are all natural.
The website is clear and informational, with full disclosure about the company, where they are located, and how to reach them.
The ordering process is clear and concise.
Disadvantages of MascuGen
The ingredients are probably dosed too low to have any real effect.
There are no MascuGen reviews from customers other than a few testimonials on the website.

There's nothing from independent sources.
There's effectively no money back guarantee.
Conclusion
MascuGen is made by a reputable company with no black marks we could find to drag them down.

The formula contains some good components that really could provide help with both muscle building and sexual performance.

But MascuGen still leaves us with a couple of obstacles to our recommendation. Firstly, the formula is just too weak.

There would have to be a much higher concentration of ingredients to have any real effect.

Secondly, the guarantee is just weak as well.

In the end, MascuGen does not get high marks from us.
Have You Used MascuGen?

Leave Your Review Below!
Top 3 Pre WorkoutAffiliate Disclosure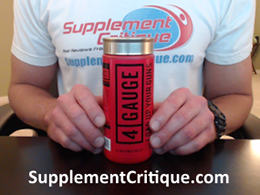 4 Gauge is a brand new pre workout that kicks in FAST and will rev up your workouts.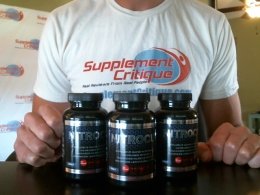 Nitrocut is a VERY effective pre workout supplement for a variety of reasons, see why here.
How People Found This Review:
and mascugen
Want To Really Get Ripped?

Click Here To Download My FREE "Get Ripped" Ebook!
Ask A Question
User Questions and Answers
---

Will this product make my 4 inch penis double in size? -Jason Voegele

It's designed to help you get better erections, but it won't increase the size of your penis.- Rob
Was this question helpful to you?

ASK A NEW QUESTION