MuscleTech Nano Vapor Review – Does It Really Work?
Rob Miller | May 2, 2018
---
Product Reviewed:
The MuscleTech Nano Vapor
|
OUT OF 5 | Review by:
Rob Miller
Last Fact Checked On:
---
REVIEWS
QUESTIONS
COMMENTS
---
Home » Pre Workout » MuscleTech Nano Vapor Review – Does It Really Work?


MuscleTech Nano Vapor Overview
If it seems like supplement makers are always coming out with new and better ways to get you pumped and ready for your workout, it's because they are. They have to.

The competition is so steep and the market is so hungry, they have no choice but to keep trying to outdo each other in the race to come up with the ultimate pre workout supplement.
MuscleTech Nano Vapor is the contender we're focusing on today.

They say it's the one you need if you want superior muscle pumps and crazy gains in strength.

And their edge is in their high, clinically studied doses of key ingredients.

So let's dive right in and see what those ingredients are.
MuscleTech Nano Vapor Ingredients and How They Work
Once you build up to the max dose of 3 MuscleTech Nano Vapor scoops, you'll be taking in:
8g of L-Citrulline Malate
200mg of Quercetin
3.2g of Beta Alanine
5g of Creatine
These are not your typical "just enough to say it's in there" doses.

These are clinically studied amounts of powerful ingredients.

The L-Citrulline Malate increases strength and pumps.

The Quercetin boosts nitric oxide levels also for better pumps and recovery.

They Beta Alanine reduces the build up of lactic acid so you can push your muscles for a longer period of time before getting fatigued.

The Creatine gives your muscles the power to push harder with every rep.
There's also Caffeine and Yohimbe for the energy and focus you want to get and keep you motivated.
It's recommended that you start out with 1 scoop to assess your tolerance.

Then you can slowly build to 2 and then 3 scoops if that's what you need.
MuscleTech Nano Vapor Pros and Cons
Advantages of MuscleTech Nano Vapor
There are lots of favorable MuscleTech Nano Vapor reviews from customers, most focusing on the energy and pump.
The formula uses the mechanism of full dosing to provide full benefits.
It comes in 3 flavors: Blue Raspberry, Fruit Punch, and Sour Apple.
Full ingredient information is disclosed.
Disadvantages of MuscleTech Nano Vapor
There are some who say the taste is pretty awful.
If you take 3 scoops per serving, MuscleTech Nano Vapor can get pretty expensive.
Where to Buy
You can find MuscleTech Nano Vaporalmost anywhere.

There are tons of online sources, and it's also carried at GNC.

The 40 serving tub sells for anywhere from $37 to $45, so you may want to shop around.
Conclusion
The formula is solid and the reviews are for the most part favorable.You'll want to make sure you start off easy, though, since the stimulants in MuscleTech Nano Vapor can be pretty intense.
Have You Used MuscleTech Nano Vapor?

Leave Your Review Below!
Check Out One Of My Top Pre / Post Workout Supplements – Crazy Mass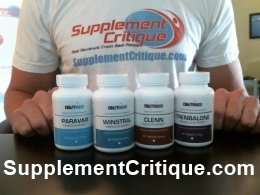 I've been researching pre and post workout products for years now, and recently came across a great combo of supplements called the Crazy Mass Cutting Stack.

This stack combines 4 different supplements that are used in conjunction to provide great results.
I recently got a chance to test it out and post my feedback, click here to read my official review.
Want To Really Get Ripped?

Click Here To Download My FREE
Ask A Question
User Questions and Answers
No Questions Have Been Answered For This Article.