Noxivol Review – Should You Use It?
By:
Rob Miller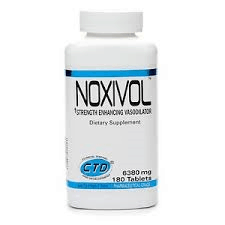 Noxivol Overview
Noxivol identifies itself on the bottle as a "Strength Enhancing Vasodilator". In other words, it's a pre-workout supplement. It claims to help with muscle fullness and vascularity, lean muscle growth, strength increases, joint health, and muscle energy due to the reduction of lactic acid.

There are plenty of positive Noxivol reviews and discussions online, so we wanted to take a closer look at this one.
How Noxivol Works
Noxivol is made by CTD Labs, a company founded to help athletes of all calibers reach their peak physical performances. Noxivol works by opening up blood vessels to bring more blood into the muscles. This of course makes the muscles work better and recover faster. It also causes the ever-sought-after "pumps", those sensations you get after really working your muscles, like they're huge and engorged.
Noxivol Ingredients
The Noxivol formula is a proprietary blend that contains:
L-Arginine is a precursor to the nitric oxide that you're looking for, so it increases its level.
Alpha Ketoglutarate can help you recover faster from workouts.
Beta Alanine is an amino acid that thickens muscle fibers.
L-Ornithine Ethyl Ester DiHCL helps support muscle growth.
Cissus Quadrangularis helps support joint and tendon health and strength.
L-Histidine protects muscle fibers from lactic acid infiltration.
L-Novaline promotes lean muscle generation and tissue regeneration.
Alpha-GPC is used to improve memory and mood
Rutaecarpine is a vasodilator.
Vanadyl Sulfate improves weight training performance.
The recommended dose is 4 tablets twice daily. One of those servings should be taken 30-60 minutes before exercise. The other should be spaced about 6-8 hours away from the first. They say that in order to see the best results, you should continue using Noxivol for 30 to 90 days.
Noxivol Pros and Cons
Advantages of Noxivol
It contains some good vasodilating ingredients.
The

Noxivol

reviews and discussions we saw lead us to believe that lots of guys get good results with this.
Disadvantages of Noxivol
8 pills a day is a lot to take.
There is no money back guarantee mentioned.
Where to Buy
You can purchase Noxivol through any number of online retailers. The 180-count bottle, which will only last 3 weeks if taken as directed, costs anywhere from $30 to $60 so make sure you look around before you buy.
Conclusion
What we've found with pre-workout supplements is that everything is somebody's favorite and nothing is everybody's favorite. One thing that stands out about Noxivol is that it contains no stimulants. We think you should let that be a deciding factor in your choice whether or not to use it. If you need or want a stimulant in your pre-workout supplement, choose something else. If you'd rather avoid that, use Noxivol.
This one is great for those that need a pre-workout supplement that are not thrilled with the "jitters" that many of them produce, particularly in those that are not accustomed to the effects of stimulants.
All in all, I think that Noxivol is well worth trying out even if just to see how it affects your own body, but I think it is a safe bet and one that is low risk.
Have You Used Noxivol? Leave Your Review Below!
Top 3 Pre WorkoutAffiliate Disclosure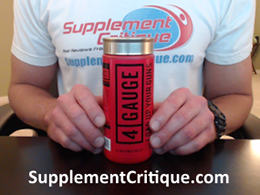 4 Gauge is a brand new pre workout that kicks in FAST and will rev up your workouts.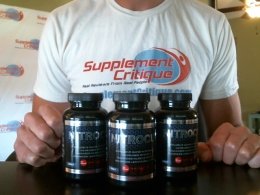 Nitrocut is a VERY effective pre workout supplement for a variety of reasons, see why here.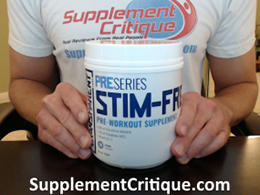 If you're looking for a stim-free pre workout, add Transparent stim-free to your list!
User Reviews

4.5 out of 5 Stars (2 Reviews)
Have you used this supplement?
Noxivol follow up
Ok I had to come back and update on my last review. With some research and rest I realized that the symptoms I noted in my last review came on from me over training and lack of food intake. My appetite was suppressed from dieting, training and the creatine. I was really digging into my workouts and was not eating enough, once I slept and stuffed my face with anything and everything I was back up and running immediately, within a few hours of eating all the symptoms have gone. I started using the Noxivol and creatine again and as of now no negative symptoms at all! As a matter of fact loads of energy focus and pumpin again! crazy how the body, if not fueled right will deteriorate quickly. Will keep you guys and gals updated on my progress with the use of this product Noxivol and my training. As of now I LOVE THE PUMPS!!! Even has me feeling a bit more sexual for some reason, not sure if its the exercise or the Noxivol PUMP?;)

Was this review helpful to you?
6 out of 7 people found this review helpful.
---
Noxivol
I am a male who is 49 years of age who has been using Noxivol for about three weeks. I have also been taking creatine before and after my workouts. I noticed about two weeks in severe anxiety and shakes very nervous body shaking, stomach pains, diarrhea and dizziness. The worst is the nervous anxiety as if I were on coming down off a hard drug. I am not sure if it was the creatine, noxivol, or both causing the physical reactions I am having. With that being said I can say this, one or both of them is working cause I shed pounds and gained muscle and strength very quickly. I was able to work harder in the gym and the pump is off the charts. Just wish I didn't have to suffer with the anxiety and nervousness. I was laid up in bed all day today nervous with anxiety shaking like a crack head. I gave the use of these products 4 stars cause of the results. I would have gave it 5 stars if it was not for the physical side effects I am having. .

Was this review helpful to you?
3 out of 3 people found this review helpful.
---
Want To Really Get Ripped?

Click Here To Download My FREE
Ask A Question
User Questions and Answers
---

Is there any problem with me stacking Noxivol powder with Nitraflex pre-workout powder, or Would it be better for me to mix the noxivol with my post workout protein shake? -JV

Yeah, you don't need both pre workout. Mix the Noxivol with your post workout protein for the extra amino acids.- Rob
Was this question helpful to you?
1 out of 1 people found this question helpful.
ASK A NEW QUESTION
---

Is Noxivol really good for middle distance runner? -Agnes

It's not specifically formulated for runners, but the beta alanine will help with endurance.- Rob
Was this question helpful to you?

ASK A NEW QUESTION