Nutrex Outlift Review – Should You Use It?
By:
Rob Miller
Fact Checked On: 5-8-2015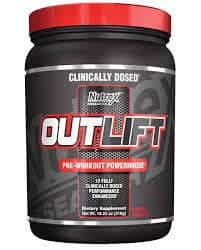 Nutrex Outlift Overview
What happens with a lot of supplements is they pack their formulas with every hot ingredient they can think of, hoping to get the attention of guys who know a little about what they should look for.

The trouble is, they use so little of these ingredients that they're basically useless.

But as long as there's even a pinch in there, they get to claim it.

That's why you'll see some supplements now pushing back with claims of "clinical doses." It's an indication that there's more than just a showing of the important ingredients.

They're used clinically effective doses.
Nutrex Outlift is a pre workout supplement that claims to use 10 clinically dosed ingredients to make you reach maximum performance levels by enhancing power and strength, increasing energy and focus, and amplifying muscle pumps.

They kept the important stuff, and left out the fluff.
Nutrex Outlift Ingredients and How They Work
The Nutrex Outlift formula includes:
Citrulline Malate (8g) for increasing arginine and nitric oxide levels.

This is where you get your great pumps.
Carnosyn Beta Alanine (3.2g) for increasing carnosine levels, which buffers lactic acid, which is what causes muscle fatigue.

With less muscle fatigue, you're workout out harder and longer.
Creatine (3g) which is the most clinically studied bodybuilding supplement there is.

It's been proven to help muscles push harder for better results.
L-Leucine (3g), L-Isoleucine (1.5g), and L-Valine (1.5g) which are the BCAAs you want to improve post workout recovery.
Taurine (2g) which promotes endurance and enhances recovery.
Caffeine (350mg) for improved energy, focus, and concentration.
N-Acetyl-L-Tyrosine (150mg) which supports brain function and mental focus as well as energy and mood.
Bioperine (5mg) which is used to improve the absorption rate for the rest of the ingredients.
Instructions are to mix one scoop with 8-12 ounces of water and drink within about half an hour of starting your workout.
Nutrex Outlift Pros and Cons
Advantages of Nutrex Outlift
The formula uses clinical doses so you know you're not just getting dribs and drabs.

You're getting effective doses.
It contains caffeine, but it's not a stimulant-focused supplement.
There are lots of positive Nutrex Outlift reviews from customers who've had great success using it.
There's nothing proprietary about the formula.

All ingredient amounts are disclosed.
Disadvantages of Nutrex Outlift
Some reviewers say it's not the best tasting pre workout there is.
There are only 20 servings in a tub which makes it a little expensive.
Where to Buy
You can pick Nutrex Outliftup at Amazon or Bodybuilding.com.

The 20 serving tub costs about $30.
Conclusion
If you're looking for a new pre workout (and who isn't?), Nutrex Outlift is a great one to try.You've got stimulants as well as pumps, and everything is clinically dosed.
Have You Used Nutrex Outlift?

Leave Your Review Below!
Top 3 Pre WorkoutAffiliate Disclosure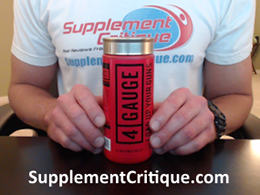 4 Gauge is a brand new pre workout that kicks in FAST and will rev up your workouts.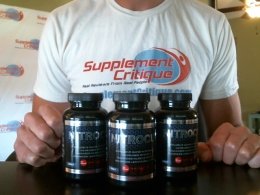 Nitrocut is a VERY effective pre workout supplement for a variety of reasons, see why here.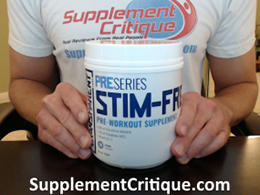 If you're looking for a stim-free pre workout, add Transparent stim-free to your list!
Want To Really Get Ripped?

Click Here To Download My FREE "Get Ripped" Ebook!
Ask A Question
User Questions and Answers
No Questions Have Been Answered For This Article.