Peruvian Brew System Review
By:
Rob Miller
Fact Checked On: 12-9-2018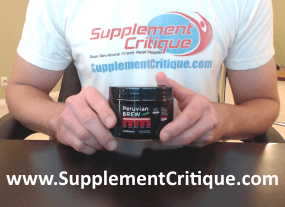 Contents
What Is The Peruvian Brew
How Does It Work
How Is It Marketed
So Who Is Josh Harding
Who Makes It
The Ingredients In Peruvian Brew
My Personal Results
How Much Does The Peruvian Brew Cost
User Reviews On The Peruvian Brew
Conclusion
Getting it up and keeping it up pretty much defines what it means to be a man.
When it is difficult to sustain a boner, our manhood comes into question, at least in our own mind.
While sex may not be everything, (wait, yes it is) it is certainly a cornerstone of an enjoyable life.
Related Article: Erect At Will Review
This is why so many men who aren't able to get an erection and keep their woman satisfied search for a solution to the problem no matter what it costs, while accepting any side effects that may result.
From Viagra to herbal remedies, everyone wants a piece of the lucrative ED market.
However, as in most things in life, you should be cautious about what you're reading on the internet.
There are plenty of scam artists out there that are willing to tell you practically ANYTHING to try and get you to buy their product.
It's truly sad that this problem exists, likely due to the faults of society, lifestyle choices, and endocrine mimicking substances common in our environment.
When it comes down to it, there may not be much we can really do to prevent this large scale problem at this point, only treat the symptoms.
Today we are going to look at one of the herbal ED remedies, known as the Peruvian Brew.
The Peruvian Brew was spawned out of a digital product called the Erect on Demand system, that of which I have a full review of here.
Should you spend your hard earned money on this mysterious mix that claims to be the cure to ED?
Let's find out.
Click Here
to jump to my personal results.
Watch Our Video Review Below Or Scroll Down To Read More
What Is The Peruvian Brew?
We've all seen the ads at one point or another.
It usually starts off with a attention grabbing headline like "1 Weird Trick Destroys Erectile Dysfunction"
Yeah, something like that…
When you click on the ad, it takes you to a website like "Health Tips Weekly" that talks about some miracle trick that helps to cure ED.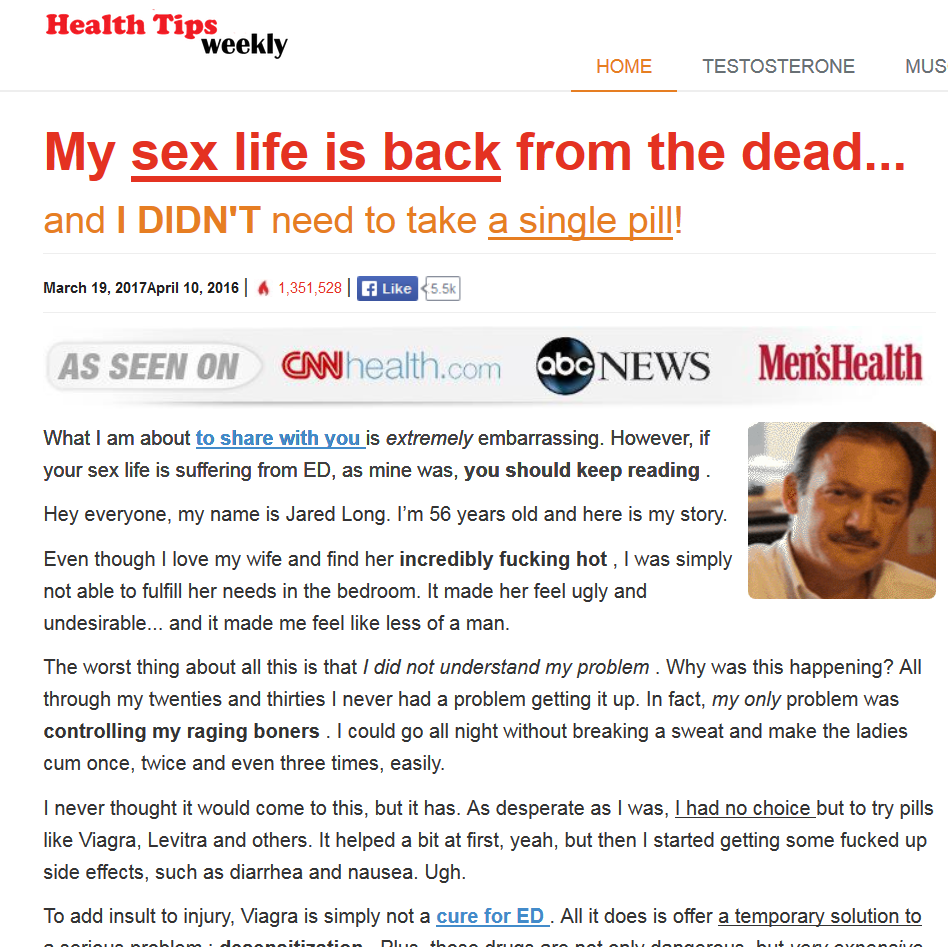 Right, something like that…
Finally, you click through from that page at it takes you to the Peruvian Brew site, where you're presented with a ridiculously long video: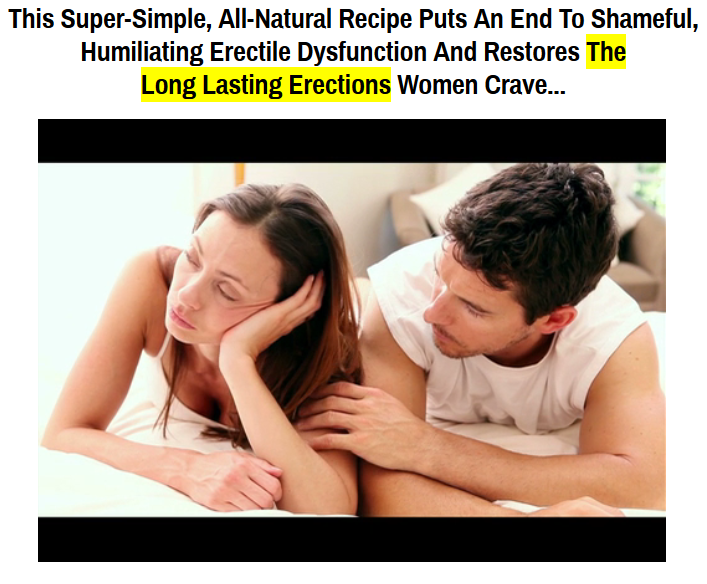 Warning: If you're at work when you visit their site, you may want to turn off your speakers!
The very first thing that is blurted out is "If you suffer from embarrassing erectile dysfunction…"
Might be a bit embarrassing to have that blasting from your speakers with your co-workers nearby.
Another thing I noticed that was pretty annoying was every time I tried to leave the site, I was automatically forwarded to a last ditch effort to get me to buy it.
Watch below:
[vimeo 218185977 w=540 h=480]
Basically, there was no way to get out of it, short of closing the window and opening a new one.
Also, you can't stop the video while it's playing, rewind it, fast forward it, or pause it.
It just plays and plays and plays.
Annoying, right?
I'll spare you the 35 minutes and give you a brief overview of the vid below.
According to the story from the company website, a man and his wife go on vacation to Peru and are introduced to a mysterious brew that allows him to finally sustain an erection.
Apparently, the indigenous people have been using this brew, a mix of five herbs and two plant stems, for centuries in order to treat ED.
After drinking it, the best sex of his life ensues and he finally satisfies his wife.
He then goes on a hunt to identify the ingredients that are in this formula.
Apparently, according to the video and website, these Peruvian herbs are widely available and can allegedly be found at local health food stores.
However, there is no mention of what they are, as that would ultimately give away the secret.
How Does It Work?
According to the vendor, the Peruvian Brew increases penile sensitivity, the number one cause of ED.
The company website goes on to say that men who are circumcised are four times more likely to be diagnosed with ED, due to fewer nerve endings in the penis.
So while you cannot go back in time to stop the scalpel that took your foreskin, you can apparently restore penile sensitivity by drinking the Peruvian Brew.
Do You Think You May Have ED? Click Here To Take Our Quiz!
How Is It Marketed?
One word…Annoyingly
The website that is selling the Peruvian Brew uses classic marketing tactics designed to get people to purchase this product quickly, based on emotion.
First, there is an intro video about how great sex is now (which we discussed above), with the Peruvian Brew.
Then, there is a banner across the top of the page that says that this website may be taken down in 24 hours because the owner doesn't want to be known as the "boner guy".

However, I bet that if I come back to this website in a week it will still be there and the boner guy will now be a richer boner guy.
The next line states that I have been selected to try Erect On Demand risk-free.
If only I was this lucky when I played the Powerball.
Anything "free" on the Internet is always scary, as I always seem to end up paying for these types of programs or potions in the end.
Usually, this process involves trying to get a hold of the company that gave me the "free trial" to cancel it and when that fails, calling my credit card company to cancel the charge, all in all, just one gigantic headache.
According to the website, Peruvian Brew was seen on Men's Health, Golf Digest, and even in Playboy magazine.

Let's look a little bit further into that and see if this is actually true.
So I went to the Men's Health website and searched for Peruvian Brew, but zero results turned up.
That's not a good sign, but certainly not surprising.
This appears to be just another one of those websites that are making up fictitious information in order to peddle their product.
Anyone who has to resort to these tactics in order to market their product aren't worth doing business with.
Automatically Forwarded To The Order Page
Without even clicking on anything, the website redirected me to the order page.
Talk about making assumptions.
(During the course of reading through the marketing copy and trying to find what ingredients are in Peruvian Brew, I was automatically sent to the order page three times!)
Since I wanted to read the original marketing page, I went back and was greeted with a prompt asking me if I really want to leave, more black hat marketing techniques.
Going back to the original page, the rest of the ad copy is focused on instilling shame in men who are unable to satisfy their women because they suffer from "humiliating erectile dysfunction".
Further down the page, the owner of this website again makes it clear that he doesn't want to be known as the "boner guy", as he is getting too many request for TV interviews.
Right…
What a modest guy, huh?
So Who Is Josh Harding?
Well, for starters, he is not Josh Harding. Instead, the domain for the company website is owned by Alex Williams.
Alex Williams does business under Fairlight Scientific, LLC. (Source) He owns a number of other websites too, like Edge Bioactives, and some others as seen below.
Wow, the Peruvian Brew company website is receiving almost 10,000 visitors a day.
Well, Alex Williams, I believe YOU are the boner guy!
Don't let it get you down, there are worse things to be known as.
Back To The Website
At the middle of this enormously long marketing copy, the focus is on fear, the greatest known motivator to mankind.
This is emphasized by a quote that says, "4 out of 5 women would cheat on a man who can't get an erection."
What could be scarier than that?
The website goes on to say that your "flaccid erections" may give your wife or girlfriend a reason to cheat on you.
So now we enter fight mode.
Get out that credit card now!
After that, the website shifts to how the owner found the Peruvian Brew, deep in the jungle of Peru.
The way this website is talking up the Peruvian Brew, this better be nothing short of Ayahuasca.
Quit Leaving Me In The Dark, WTF Is It?

Well, this is where the website gets vague, apparently the Peruvian Brew has four different herbs, one amino acid, and two fruits.
OK, but what herbs, amino acids, and fruits are contained in this formula so I can just make my own?
No, it's just not that simple.
While this site is simply awful, third party sites selling the Peruvian Brew are even worse.
Be Wary Of Third Parties Selling The Peruvian Brew
Other websites aiming to sell the Peruvian Brew also make claims that this product was discussed on CNN, ABC News, and again, Men's Health.
Let me assure you, it was not.
I am pretty sure that even Alex Jones didn't talk about the Peruvian Brew.
Basically, these websites are simply trying to trick you into giving credibility and ultimately, clicking on any of their links that redirect to other offers.
Who Makes It?
According to the company, the Peruvian Brew is made in a GMP certified laboratory from a company known as Edge Bioactives, as discussed earlier, based out of New Jersey, that doesn't have any customer ratings on the BBB.
Edge Bioactives actually sells another product called Spartagen XT, which I've personally tested.
The Ingredients In Peruvian Brew
The company doesn't say and most other reputable websites don't know either. Any company that doesn't list what is in its formula is a giant red flag to me.
Who do you think you are, Coca Cola?
Fortunately, I was able to track down the ingredients in this formula.
The Peruvian Brew contains Gingko biloba, Dong quai, Epimedium, Korean ginseng, Maca root, Yohimbe, L-Arginine, Black pepper, and Pineapple concentrate.
Here's a quick snapshot of the label:
I have to admit, there's really nothing "secret" about this formula. There are literally HUNDREDS of other male enhancement supplements that contain nearly identical ingredients such as these, including Libido Max, Noxitril, and Zyrexin.
The one notable exception would be Bioperine. Bioperine is essentially black pepper extract, and is used as an additional ingredient for it's effectiveness at helping you absorb more of a nutrient or vitamin than you normally would.
There aren't too many supplement companies that add this to their list of ingredients, mainly because it's sort of pricey.
My Personal Results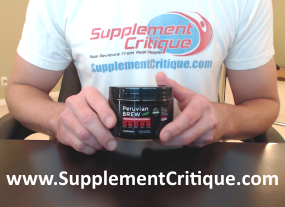 I finally got a chance to try out the Peruvian Brew for a week, and I have to admit, it worked a lot better than I thought it would.
The directions on the label state that you should add 1 level scoop to 8 oz of cold water, and shake thoroughly.
You're supposed to do this about 1 hour prior to sexual activity.
The taste is kind of hard to describe.
It's like a mix of peach and coffee with a sugary aftertaste.
After doing a little bit of research, it looks like the reason why it tastes like coffee is that Maca has a mildly nutty and hint of butterscotch taste.
One thing is for sure, and that is it will hit you pretty quickly.
For me, I had only taken about 3 sips over the course of 15 minutes or so, and I could feel a tingle in my groin area.
Within 30 minutes I had one of the biggest boners I've had in recent memory.
Unfortunately, I didn't have my girlfriend here to "test out its purity", but I will say this, that boner did NOT want to go away for several hours.
I ended up rubbing one out and it was one of the most intense orgasms I think I've ever had.

How Much Does The Peruvian Brew Cost?
The Peruvian Brew is offered in a 1 month supply, 3 month supply, and 6 month supply.
One month of the Peruvian brew cost $69, three months worth is valued at $177, and six months of the Peruvian brew comes in at $294.
Since the website literally states that the four herbs in this product are valued at $0.30 and the amino acid is $10 for a month supply, $69 a month for the Peruvian brew is clearly excessive.
Not only that, but this seems like an awfully large amount of money for a product that doesn't even say exactly what is in it.
You won't find the Peruvian brew in stores like GNC, Walmart, Vitamin Shoppe, or Walgreens, so don't even bother looking.
Related Article: Best Male Enhancement Pills Sold In Stores
User Reviews On The Peruvian Brew
User reviews on the Peruvian Brew haven't been overly optimistic.
While there aren't many available, the only ones that I have seen are 1 star ratings that indicate that this product is not as viable as the vendors claim.
If you have used the Peruvian Brew system, I invite you to leave a review below.
It will REALLY help out guys who are on the fence about trying it.
Conclusion
After finally getting a chance to test it out, I personally think the Peruvian Brew is a GREAT ED remedy.
If you've been having trouble in the bedroom department, I can say with 99% confidence that this will probably bring your boners back to life.
However, I can't stand the marketing.
If they would just shorten their video to like a 5 minute recap of everything, they may get their point across more efficiently.
The price is a little on the high side as well, and I have tested other products that work roughly about the same, at a fraction of the cost.
I give it 5 stars for the effectiveness, but 2 stars for the presentation and marketing.
Have You Used The Peruvian Brew System? Leave Your Review Below!
Top 3 Male EnhancementAffiliate Disclosure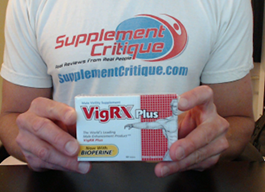 Out of the 100+ male enhancement products Ive tried, Vigrx Plus was the best.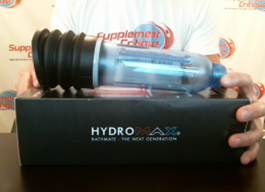 The Bathmate is a proven water-based vacuum pump that can help dramatically increase your size.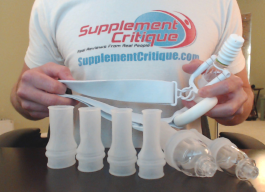 Phallosan Forte is a GREAT option for those looking to grow both length AND girth, permanently.
Honorable Mention/Inexpensive Alternative: Magnum Rings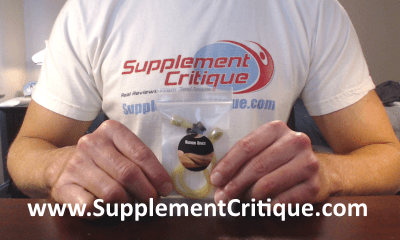 Magnum Rings are a VERY affordable option to getting both girth and length gains, at a fraction of the price of the Bathmate or Phallosan Forte.
Click Here to see our full Magnum Rings review.
Want To REALLY Get Bigger?

Click Here To See Products That WORK!
Ask A Question
User Questions and Answers
---

If I take the Peruvian brew does my lady friend spose 2 take it 2 -mark

It's made for men, but it can be used by women as well. It should help increase libido and sensitivity.- Rob
Was this question helpful to you?
3 out of 3 people found this question helpful.
ASK A NEW QUESTION
---

Wear can I buy the Peruvian Brew product Thank you Please let me know by email. Thank you Donald -Donald

You order it through the Peruvian Brew website, but be forewarned, you have to watch a video before they let you through to place an order.- Rob
Was this question helpful to you?

ASK A NEW QUESTION
---

Can women take peruvian brew -Anne

They sure can. It will increase libido and sensitivity in women.- Rob
Was this question helpful to you?

ASK A NEW QUESTION
---

Is this product suitable for people with diabetes and high blood pressure? -Jim

Because of your medical conditions, you should check with your doctor before starting any supplements. Peruvian Brew does contain Yohimbe and L-Arginine, both of which affect blood pressure, so you'll definitely want to check with your doctor.- Rob
Was this question helpful to you?
0 out of 1 people found this question helpful.
ASK A NEW QUESTION
---

I'm in drug court and drug tested weekly, will this cause any abnormalities in testing? -Jay

There's nothing in the ingredients list that should test positive on a drug test, but you should bring the bottle with you just in case.- Rob
Was this question helpful to you?
0 out of 1 people found this question helpful.
ASK A NEW QUESTION