PhenTrim Review – 5 BIG Reasons to Think Twice
By:
Rob Miller
Fact Checked On: 3-31-2020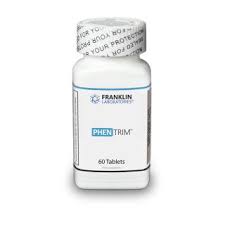 Contents
PhenTrim Ingredients
How Should You Take It
PhenTrim Side Effects
Where to Buy
How Many PhenTrims Are There
PhenTrim Reviews
PhenTrim Pros and Cons
The Bottom Line
Most of us have wanted to lose weight at some point, and fundamentally we know the surest way to do it is to eat less and exercise more.

Of course, this is easier said than done, and many of us choose to rely on a supplement to help us get started and stay on track.
7 Best Fat Burner Pills at GNC
PhenTrim is a product which promises to provide the help you need and ultimately help you reach your weight loss goals.

By focusing on two main facets of weight loss, the formula claims to propel your progress, keeping you motivated and energized, and ultimately setting you up for success.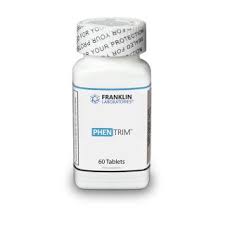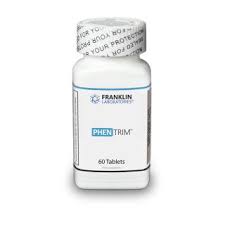 The two main principles on which PhenTrim works are:
Mobilizing fat, preparing it to be used for energy, and
Boosting metabolism so your body uses more calories than it otherwise would.
An additional supportive measure employed by PhenTrim is appetite suppression.

If you feel less hungry and feel fewer cravings, you are more likely to stick to your program, which in turn increases motivation and keeps you on track.
PhenTrim Ingredients
Truthfully, the claims made by PhenTrim are pretty much the same as those made by most weight loss supplements, so the difference – if there is one – would be found in the formula.
PhenTrim provides a list of ingredients along with a very brief description of what benefits each provides, but the disclosure does not include the amounts used.
Here's what's in the formula:
Caffeine which is the bedrock ingredient for many, if not most, weight loss supplements.

It boosts energy, increases motivation, suppresses appetite, and increases metabolism.

It would be helpful to know how much caffeine is used because it can really make a big difference.

If it's 90 mg, that's about as much as is in a cup of coffee and would provide reasonable benefit without much risk of side effects.

If it's much less than that, it probably wouldn't have much effect, and if it's much more than that, you might be getting into side effect territory.

Side effects might include jitters followed by a crash.
Beta-Phenylethylamine HCL which is used to boost mood and motivation while providing energy.

There is some research that it can help alleviate depression, but evidence of help with weight loss doesn't exist.

It's important to note as well that Beta-Phenylethylamine HCL is similar in effect to amphetamine and may carry the same sorts of side effects.
Synephrine HCL (aka Citrus Aurantium, aka Bitter Orange) which has somewhat taken the place of ephedra since its been taken off the market by the FDA. Despite this, there is no evidence that it promotes weight loss, nor is there any evidence that it's actually safer than ephedra.

Additionally, it has been shown that when combined with caffeine (which is the case with PhenTrim), it can cause an increase in both blood pressure and heart rate.
Hordenine HCL which is a stimulant that has not et been shown to help with fat burning or weight loss.
L-Theanine which is an amino acid found in tea that is commonly used alongside caffeine due to the fact that it can increase relaxation without causing fatigue.

It basically takes the rough edges off of the caffeine effect, without negating it.
White Kidney Bean Extract, which may block the absorption of carbohydrates, forcing them to be eliminated as waste instead of being stored in the body as fat.

In order for it to work, effective doses seem to be in the 800 mg range, and must be taken at the same time as you are consuming carbohydrate-rich meals.

How Should You Take It?
PhenTrim does not share this information online, but since there are 60 capsules in a bottle, it seems as though the recommended dose is 2 pills per day, either both at once or one before each of your first two meals.
Of course, this may not be correct.

It could turn out that the 60 count bottle only lasts 2 weeks at a recommended dose of 4 pills per day.

This can be verified when you receive the product and read the label.
Because of all the stimulants in the formula, you won't want to take it too close to bedtime, as it might affect your ability to fall asleep.
PhenTrim Side Effects
Without knowing the amount of each ingredient used, I have a few concerns, mainly around the combination of stimulants.
Stimulants on their own can often times lead to unpleasant side effects, so in combination it stands to reason that one could be a little bit apprehensive without having all of the necessary details.
As we alluded to above, taking synephrine together with caffeine has been shown to increase blood pressure and heart rate in healthy individuals.

The fact that the two are both in PhenTrim could be problematic.
There are additional stimulants as well, which could potentially compound the situation.
Where to Buy
PhenTrim is available through the product's official website of the same name.

Fortunately, there doesn't seem to be a free trial scamto worry about.

They offer three packages, each a straight up sale with no strings attached:
1 bottle with 60 capsules costs $68.00.
2 bottles for a total of 120 capsules costs $120.00
3 bottles for a total of 180 capsules comes in at $156.00
So by purchasing more than one bottle at a time, you can save a good deal of money.This is a good way to go when a company has a good return policy.

You buy in bulk to take advantage of the better price, but if you find it doesn't work for you, you can feel comfortable knowing that your significant outlay will be refunded.
Sadly, this is not the case with PhenTrim.

They have a strict NO RETURNS policy. All sales are final.

Here's how the stipulation reads:

So as soon as you place the order, you're locked in with essentially no chance of recouping any of the money you spend.

So if this would be your first time using PhenTrim, it wouldn't make sense to buy more than one bottle, risking that much more money.
How Many PhenTrims Are There?
It's worth noting that in addition to this version of PhenTrim, there are other products available with the same name, so it could get a little confusing.

One product is sold by a company called Wellbeing Pharmaceuticals.

The bottles look very similar, with the same white and blue theme and with similar font styles as well.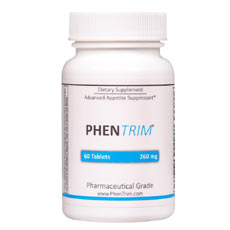 But the ingredients list for this version is slightly different.
Digging a little deeper leads to even more confusion.

If you look closely at the bottle shown on the Wellbeing Pharmaceuticals website, the website referenced on the bottle is www.phentrim.com, the same website where our version of Phentrim is sold.
The best explanation for this (and it's ultimately just a guess) is that they are indeed the same product, but that the formula has been updated.

The current version is presumably the one offered on the product website.

One clue that this is the answer is this image from the website: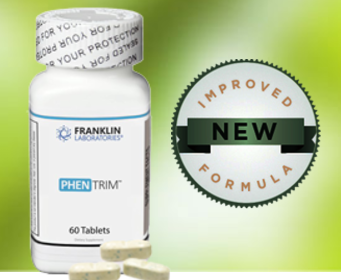 Just to add to the confusion, another website offers a product called FenTrim, which appears to be something completely different. (INSERT IMAGE OF FENTRIM HERE)
PhenTrim Reviews
We found no independent customer reviews of PhenTrim, but there are some testimonials posted to the product website.

We tend to take these with a grain of salt because companies tend to only show favorable reviews, and some even edit or create false ones to bolster their image.
With that said, here's good one fromLawrence: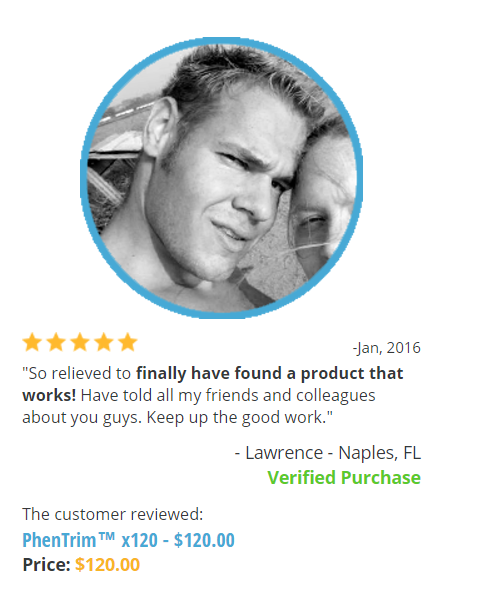 PhenTrim Pros and Cons
Advantages of PhenTrim
The ingredient contains powerful stimulants, so the chances are it will provide some sort of energy boost and appetite suppression.
Disadvantages of PhenTrim
There are no scientific studies to back up the claims made by the product.
There's no money back guarantee.
The formula uses both caffeine and synephrine, a combination known to cause unwanted side effects.
Ingredient amounts are not known, so there's no way to know going in if PhenTrim will be a dud or will have you bouncing off the walls.
No instructions are given so it's not clear how long one bottle will last.
The Bottom Line
PhenTrim has the right idea.

If you combine the right ingredients to provide energy, motivation, a boost in metabolism, along with increased fat burning, you'll have a product that can aid users with their weight loss goals. It's possible that PhenTrim achieves all this.
The problem is we're left with too many unknowns to really get a good handle on whether or not it does.

We know what ingredients they use, and that's a good start, but without knowing how much, it's really impossible to gauge what kind of effects – good or bad – PhenTrim will have.
The more I know about a product the more likely I am to pass it down the line with a raving recommendation, but unfortunately when it is hard to peg down facts that I need, it makes tend to lean towards moving on to the next similar supplement.
Combine this huge unknown with the complete lack of a money back guarantee, and PhenTrim is just to risky of a bet, especially when you consider that there are hundreds, maybe thousands, of weight loss pills to choose from.
Have You Used PhenTrim?

Leave Your Review Below!
Top 3 Weight LossAffiliate Disclosure
Instant Knockout is actually a new fat burning supplement I just came across, and got great results.
LeanBean Female Fat Burner is the BEST fat burner for women we\'ve ever tested.

Read our review here.
Biohacks your body into instant ketosis to burn fat instead of carbs.

Weight loss, energy, focus, anti-inflammatory, anti-aging.
Ask A Question
User Questions and Answers
No Questions Have Been Answered For This Article.