Powder Burn 2.0 Review – Does It Work?
By:
Rob Miller
Fact Checked On: 7-26-2015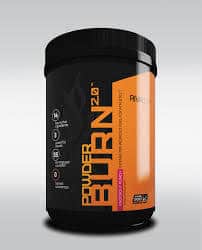 Powder Burn 2.0 Overview
We're seeing a lot more pre workouts these days ditching their "proprietary formulas" and revealing their entire ingredient lists including amounts. This is actually a huge step forward.

When an ingredient is listed in a proprietary blend, it could literally be just a speck.

You and I both know that just a speck of almost anything won't do a damn thing, but as long as that speck was there, the company could claim it's in the formula. Useless sure. But in there nonetheless.

So when we see supplements with their formulas laid out for all to see, we take that as a very good sign.
Powder Burn 2.0 from Rivalus subscribes to the principle of transparency.

Full disclosure of ingredients all the way.

In fact, it's one of the primary changes from the original in this 2LEAN--0. The goal of this revamped version is to start you off with explosive energy, then sustain you through your workout with unrivaled pumps.
Powder Burn 2.0 Ingredients and How They Work
The Powder Burn 2.0formula is broken down into 3 blends:
The Pump Blend which contains Arginine AAKG, L-Arginine, and Agmatine Suflate which all lead to increases is nitric oxide, the most important component for creatine pump.

NO relaxes blood vessels, allowing more blood to flow through and deliver oxygen and nutrients to your muscles when you work out.
The Explosive Strength Blend uses:
Beta Alanine to fight off muscle fatigue by limiting lactic acid buildup.
L-Citrulline Malate which also fights off fatigue.
Betaine Anhydrous which helps contribute to muscle energy.
Taurine which improves exercise performance.
The Powder Burn Energy Blend which contains:
L-Tyrosine which increases motivation
Caffeine for energy and focus.
The PowderBurn 2.0also contains a number of Vitamins like C, B6, and B12, and minerals like Potassium and Sodium to round it out.
The recommended dose is 1 scoop taken with water about half an hour before working out.
Powder Burn 2.0 Pros and Cons
It's important to look at both sides of the issue when you're deciding whether or not to try a new supplement.
Advantages of Powder Burn 2.0
Ingredients and amounts are all listed so you know what you're getting.
There aren't very many Powder Burn 2.0 reviews from customers but what is there tends to be pretty positive, mainly about energy and pumps.
The taste is reportedly pretty decent.
It's not expensive to buy.
Disadvantages of Powder Burn 2.0
Some reviewers don't like the taste.
Where to Buy
Powder Burn 2.0 is available online and it's actually very affordable.

The 35 serving tub sells for $29.49 which puts it at the low end in terms of price.
Conclusion
While Powder Burn 2.0 doesn't grab me as exciting or revolutionary, it's a good pre workout.The only thing is you may want to wait for some more customer reviews as confirmation before you try it yourself.
Have You Used Powder Burn 2.0?

Leave Your Review Below!
Top 3 Pre WorkoutAffiliate Disclosure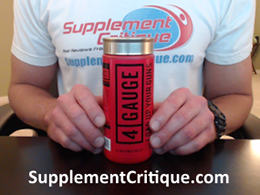 4 Gauge is a brand new pre workout that kicks in FAST and will rev up your workouts.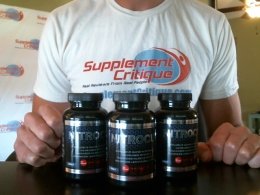 Nitrocut is a VERY effective pre workout supplement for a variety of reasons, see why here.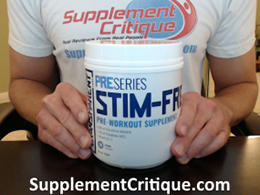 If you're looking for a stim-free pre workout, add Transparent stim-free to your list!
Want To Really Get Ripped?

Click Here To Download My FREE "Get Ripped" Ebook!
Ask A Question
User Questions and Answers
---

Recommended dose is 1 scoop taken with water. How much is one scoop and how much water? I am eighteen and work out hard. I weigh 155lbs. and am about 5' 8 " -Brian Craven

The scoop comes inside the canister. Use a full scoop, mix it with 10 ounces of water, and drink it 30-60 minutes before your workout.- Rob
Was this question helpful to you?
0 out of 1 people found this question helpful.
ASK A NEW QUESTION