MP Hardcore Wreckage Review – Does It Work?
By:
Rob Miller
Fact Checked On: 7-26-2015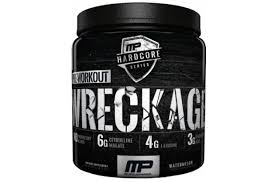 MP Hardcore Wreckage Overview
MP Hardcore Wreckage is a pre workout supplement available exclusively at Bodybuilding.com.

They say it's the hardest hitting, most advanced pre workout with only the best ingredients available. Sure, that's what they all say.

But what exactly is it about MP Hardcore Wreckage that makes it so special?

For one thing, it doesn't use proprietary blends.

All the ingredients and their amounts are listed so there are no secrets.

For another thing, they claim to use clinically backed ingredients in the proper amounts to get you energy, pump, and focus.

Let's take a closer look.
MP Hardcore Wreckage Ingredients and How They Work
As promised, there are no proprietary blends in MP Hardcore Wreckage.

The list of ingredients starts with healthy doses of Vitamins C, D, B3, B6, and B12. What's good about this is energy and improved absorption of the primary active ingredients.

The Vitamin/Mineral blen also includes Calcium and Magnesium.
The Core of the formula is:
L-Citrulline (6g) to increase nitric oxide better even better than l-arginine.
L-Leucine (4g) for post workout muscle recovery.
D-Aspartic Acid (3g) for increasing natural testosterone levels.
Creatine HCL (2g) for increasing muscle energy so you can push more weight harder and get better faster results.
Beta Alanine (1.6g) to delay the onset of muscle fatigue by inhibiting the buildup of lactic acid.

Your muscles can work harder for longer.
L-Tyrosine (1.2g) for protein synthesis.
Agmatine Sulfate (500mg) to increase production of nitric oxide for increased vasodilation, leading to greater oxygen delivery to your muscles during workouts.
Caffeine Anhydrous (350mg) for energy.
Phosphatidylserine (125mg) which has been shown to improve both mental and physical performance.
Bioperine (5mg) to improve the absorption of other ingredients.
Huperzine A (100mcg) to improve mood and concentration.
It's indeed true that most if not all of those ingredients are in clinically studied amounts.

The recommended dose is 1 scoop in 12-14 ounces of water taken about 30 minutes prior to your workout.
MP Hardcore Wreckage Pros and Cons
Advantages of MP Hardcore Wreckage
The label discloses the entire formula, which contains most of the essentials in their clinical doses.
Most MP Hardcore Wreckage reviews lean toward the positive side, though they're not particularly glowing.
Disadvantages of MP Hardcore Wreckage
It's pretty expensive.
The reviews are a little less enthusiastic than you might expect when looking at the formula.
350mg is a lot of caffeine, but it's the only stimulant in the formula so it may get you overloaded, especially if you've got a high caffeine tolerance.
Where to Buy
At this time, MP Hardcore Wreckage is only available at Bodybuilding.com.

With only 20 servings per tub, the $35.49 price tag is more expensive than it seems at first glance.
Conclusion
Listing all the ingredients and their amounts is a great thing about MP Hardcore Wreckage.Coming from Muscle Pharm, it may even be a first.

With that said, it looks like a great formula – effective but not loaded up on stimulants.

Definitely worth a try.
Have You Used MP Hardcore Wreckage?

Leave Your Review Below!
Top 3 Pre WorkoutAffiliate Disclosure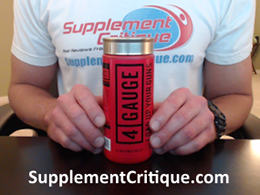 4 Gauge is a brand new pre workout that kicks in FAST and will rev up your workouts.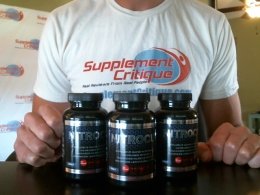 Nitrocut is a VERY effective pre workout supplement for a variety of reasons, see why here.
Want To Really Get Ripped?

Click Here To Download My FREE "Get Ripped" Ebook!
Ask A Question
User Questions and Answers
No Questions Have Been Answered For This Article.