Most of the well known pre workout supplements on the market come packed with tons of stimulants like caffeine, yohimbe, and others to give you that huge boost of energy to get you amped for the gym. I've been seeing alot of ads for SPS Precursor pre workout supplement recently, so I decided to take an in depth look into it to see what all the fuss is about. This supplement claims to be different by offering a completely stimulant-free pre workout mix, but does it really work as well as they say it does? Read more to find out.
What is SPS Precursor?
Developed by a company called Science Powered Supplements, SPS Precursor is a powder based pre workout supplement that is stimulant free. This is a good thing, and a bad thing. Most effective pre workout formulas I've come across contain AT LEAST some sort of stimulant to help get your ass in gear. However, it does contain a number of essential amino acids that may help to give you an overall boost in energy. Those ingredients include:
L-Citrulline Malate – This amino acid is naturally produced in the body, and can also be found in foods like Watermelon, onions, garlic, and chick peas. While there is still insufficient evidence supporting it's use in enhancing exercise performance, some studies suggest that it may actually help improve erection quality in men suffering from erectile dysfunction. (1)
L-Ornithine HCL – L-Ornithine HCL is also an amino acid that has been studied for its anti-fatigue fighting properties. However, there are some downsides to this ingredient, including side effects ranging from gastrointestinal upset to insomnia. (2)
Beta Alanine – This NON ESSENTIAL amino acid actually has been shown to increase physical performance, to a degree. It is specifically shown to help during High Intensity Interval and strength training, and is a very common ingredient found in several other pre workout supplements.
L-Tyrosine – This is another amino acid that is commonly found in meats, fish, eggs, nuts, and beans. (3) Tyrosine is used for a wide variety of ailments, including Narcolepsy, ADHD, as well as PMS, and has also been shown effective at reducing stress levels.
Grape Seed Extract – This derivative of grape seeds is said to have numerous potential benefits, including improved circulation and lowering cholesterol.
Agmatine Sulfate – Both in vitro and in vivo studies of Agmatine Sulfate have shown promise of cardiovascular as well as neurotransmission benefits, although it's not yet conclusive.
A Little Bit About Science Powered Supplements
The company that makes SPS Precusor is located in South Salt Lake, Utah, and according to trademark records is owned by Direct Digital LLC. As far as I can tell, they don't make any other supplements other then Precursor, which they've been selling for a couple of years now.
The Better Business Bureau shows a rating of "C" for the company, which was due to a complaint about their free trial billing procedure. The company did offer a refund to the customer, and the case was resolved.
Where To Buy
You can purchase SPS Precursor both on their official website, as well as in your local GNC, but is not available on Amazon. A one month supply retails at around $65, and there doesn't appear to be any discounts for ordering larger quantities. They also offer a free 14 day "sample", but you should be careful with this one. What ends up happening is you pay the $4.99 shipping charge, and if you don't cancel within 18 days they end up charging you the full price for the product (which again is $65).
They also will enroll you into what's called an auto-rebill, auto-shipment program and will continually send you the product and bill your credit card. Some guys may find this quite convenient, as it keeps them from having to keep ordering it. However, most guys think they are getting a free SAMPLE, when indeed it's just a free TRIAL. Check out a snapshot of their terms and conditions below: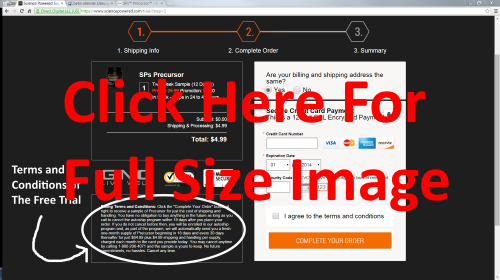 The upside to this is you get to try the product out for a period of time to see if it's right for you. The downside, however, is should you choose to cancel you have to send the unused portion back, at your own expense.
User Reviews and Testimonials of SPS Precursor
The majority of the reviews I came across did not shed SPS Precursor in a very positive light. For example, on GNC's website the phrases "zero increase in productivity" and "garbage" popped up. There was even a guy that said he experienced severe nausea, vomiting, and diarrhea after taking it, although there is no conclusive evidence that the supplement is what caused this.
However, there was a few reviews that did seem to support their claims. One reviewer stated that he felt a difference from the product almost immediately, and felt like it lasted throughout his entire workout. My guess is, just like any other supplement you use, results will indeed vary.
There were no reviews on Youtube or any of the other discussion boards I searched.
Recommendation
While being stimulant free does have it's advantages, there is nothing "award winning" that I see about SPS Precursor. In a forest of pre workout supplements, in my opinion this is just another powder that can give you a bit of an energy boost for your workouts, but nothing spectacular. The price, when compared to similar pre workout powders, is also very expensive. But if it indeed does work the way THEY say it does, then it just might be worth it.
Have You Used SPS Precursor? Leave Your Review Below!
References
1. Oral L-Citrulline supplementation improves erection hardness: http://www.ncbi.nlm.nih.gov/pubmed/21195829
2. Side Effects of L-Ornithine HCL: http://www.livestrong.com/article/538806-l-ornithine-hcl-side-effects/
3. Tyrosine – http://www.webmd.com/vitamins-supplements/ingredientmono-1037-tyrosine.aspx?activeingredientid=1037&activeingredientname=tyrosine
Top 3 Pre WorkoutAffiliate Disclosure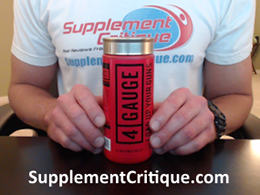 4 Gauge is a brand new pre workout that kicks in FAST and will rev up your workouts.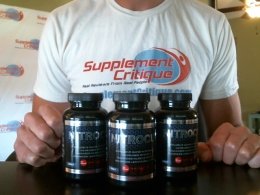 Nitrocut is a VERY effective pre workout supplement for a variety of reasons, see why here.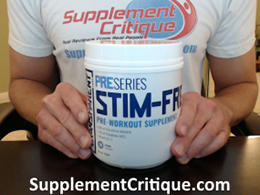 If you're looking for a stim-free pre workout, add Transparent stim-free to your list!
User Reviews

3.8 out of 5 Stars (4 Reviews)
Have you used this supplement?
Good So Far
I have been using Precursor for a week now. I generally switch between amino energy and pre-workouts with beta-alanine every other time. I usually take N.O. Explode by BSN or Ravage from GNC. For my amino energy I take ON's Amino Energy. I don't like Precursor as much as I like Ravage, but more than N.O.Explode. It has delivered to the pump but not so much as focus so it's a good thing I already have focus.

Was this review helpful to you?
2 out of 3 people found this review helpful.
---
Achieving a better pump
By
Ron Cappocchi

,
Mar 8, 2019


In Short:

I would recommend this to a friend.
Im surprised by the negative comments. Ordinarily I dont expect much from this sort of product, but Precursor is the first Ive tried that actually delivered. I went back for more as soon as I ran out, even though it tastes nasty. Unfortunately the local GNC no longer carries it, so Im trying an alternative. It has big shoes to fill as the pumps I experienced were outstanding

Was this review helpful to you?

---
Precursor
By
Rocky Stroud

,
Jun 16, 2015
I've been taking Precursor for over a week and I noticed a definitive difference in my workout when taking one scoop 30-40 minutes prior to workout.
Today, I tried two scoops prior to working out and I've had diarrhea after 15 minutes. It's been over 75 minutes and I still can't leave my house! So, back to one scoop after today. Otherwise, I'd have given 5 stars.

Was this review helpful to you?
0 out of 1 people found this review helpful.
---
Pain
after taking precursor for 7 days ,I had joint pain!!

Was this review helpful to you?
0 out of 2 people found this review helpful.
---
Want To Really Get Ripped?

Click Here To Download My FREE "Get Ripped" Ebook!
Ask A Question
User Questions and Answers
---

how to stop shipment -Jerry

Contact SPS directly at 1-800-206-4071.  Their Call Center hours are  8am-8pm EST Monday - Friday.- Rob
Was this question helpful to you?

ASK A NEW QUESTION