Stiff Nights Review – Does It Really Work?
By:
Rob Miller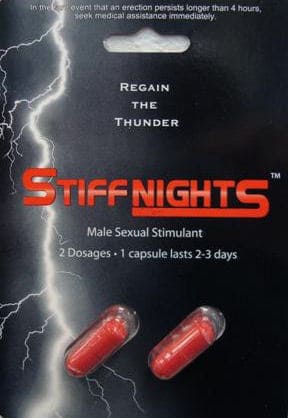 Stiff Nights Overview
In an industry flooded with ineffective supplements, any product that claims to work as fast and reliably as a prescription medication is always going to catch our eye.

This is exactly what the makers of Stiff Nights have promised.

Based on these dramatic claims, we decided that we would take a good look at the ingredients, any available customer feedback, and the general pricing for the product in order to determine whether it should be recommended or not.
Warnings, Ingredients, and How It Works
We should admit that the proverbial "red flag" went up pretty fast when we began researching the ingredients in Stiff Nights.

Actually, the first frightening sign was this quote from the manufacturer's CEO:
"Virtually all men reported that it increased their physical stamina and delayed their ejaculation. Honestly, we don't know how this happens."
It's never good when the maker's of a product resort to claiming ignorance in order to prove how effective their supplement is.
The Food and Drug Administration (FDA), knows exactly how it happens, though.

In fact, the organization has actually issued a warning about the potential dangers from some of the contents.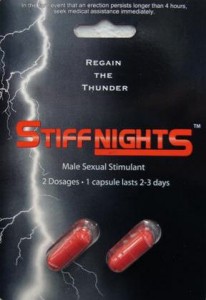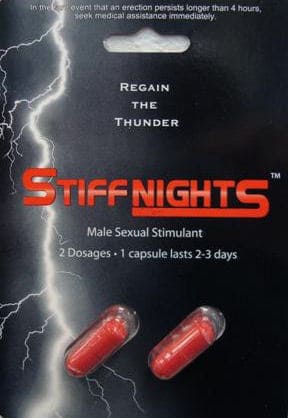 Specifically, the problems for Stiff Nights center around the surprising inclusion of sulfoaildenafil.

This substance is undeclared on the ingredients label for the supplement and was discovered only after FDA-funded testing.

Sulfoaildenafil increases blood flow to achieve the desired effects but, in the process drastically lowers blood pressure.

In fact, the prescription drug Viagra – which contains a related chemical – was originally created as a blood pressure medication.

Since sulfoaildenafil is a regulated substance and was covertly included in Stiff Nights, the supplement is officially illegal.
The case for Stiff Nights only got worse when a Kansas City man died after taking the product.

In addition to the lawsuit, the resultant attention lead the FDA to classify Stiff Nights as a "prescription drug" rather than a "dietary supplement." This isn't just a slight shift in terminology, though.

Officially calling a product a "drug" means that it has to go through clinical studies and follow the application process with the FDA.
It seems as though Stiff Nights opted not to go through that process.
Additionally, there were many complaints about the awful side effects of this formula, including severe headaches, swollen testicles and dangerously low blood pressure.

We also felt that the list of ingredients really was a bit too long and exotic to allow most consumers to feel comfortable.

Then, of course, there's the fact that these ingredients are most likely useless – the real magic is in the above-mentioned controlled substance.
Some of the ingredients are recognizable, sure, but many of them are so obscure and seemingly random that it makes you seriously wonder why on earth they would have been included in the first place beyond simply filling out a list to make it look more effective than it really is.
Though there were some nitric oxide boosters in the list, as well as Ginkgo and other all natural substances, these could not offset the more dubious ingredients.

We did appreciate that the formula relied on the three different types of beneficial Arginine to help with NO production and enhance the vasodilation going on in the body.

This is a process through which Arginine is converted into NO, this then pumps through the muscles and soft tissue of the body to fill it with fluid, blood, and oxygen. If you want to envision how this would help someone trying to overcome ED or some other erection issue, just consider the way that a bodybuilder's arms and chest appear.
Often these are bulging with veins and muscle.

This is usually due to the use of vasodilators, and this is the exact same sort of ingredients in this supplement.

Then again, however, we have to stress the fact that even natural vasodilators lower blood pressure significantly.

When these substances are combined with sulfoaildenafil, it's totally understandable that the company website warns, "Stiff Nights is EXTREMELY POTENT.

Users have reported headaches and some other mild side effects if they take more than one capsule per 24 hours."
In their press release on the supplement, the FDA warned customers of a common trap that users fall in to: Never believe that just because a product is labeled as "all natural" it is completely safe.

Many toxic substances are natural and people tend to be overconfident when a product carries this label.

Trusting that because something is "natural" users will often ignore warnings regarding safe use.
The fact of the matter is that just because something is natural does not make it any safer than any given synthetic alternative per se, but that word has become a bit of a buzz word because in today's day and age people associate natural with meaning that it is harm free and healthy which is far from being the case every single time.
The manufacturer is glad to state that the Stiff Nights product is entirely free of Yohimbe, though, which tends to be a somewhat controversial ingredient.

Then again, many men use yohimbe without any problems.

So, really, it seems like this is just a distraction to stop people from noticing the prescription drugs that they're accidentally taking.
User Reviews of Stiff Nights
We also wanted to see if we could find any user feedback or commentary.

The manufacturer insisted that 90% of those using the Stiff Nights product got the results claimed, but this was something that could not be backed up through testimonials, positive customer feedback, or any other form of evidence.

Unfortunately, there is also a distinct absence of clinical evidence regarding the efficacy of Stiff Nights as well.
For the most part, it does seem as though many users had success with this product – which isn't actually surprising.

People say that Viagra works great too and it's essentially the same thing.

It's also not very surprising that Stiff Nights users reported severe side effects from using this product.

Specifically, people taking blood pressure medication or other vasodilators are most prone to issues when taking Stiff Nights.
Where To Buy and Best Price
Even though Stiff Nights has been officially recalled and replaced, there are a few online dealers still making it available.

A six count bottle will average at around $25, while the 12 count bottles run at roughly $40. We found the product at TFSupplements.com and Little Genie Distributors, though there are several other online suppliers making it available.Since Stiff Nights has been officially discontinued, though, it is gradually becoming more and more difficult to find it available for purchase.

This also means that, by the time you get there, the product may no longer be offered by the merchants we've mentioned above.
The 30 day money back guarantee is confusing at best because there is an additional "free trial period" allowed by the manufacturer too.
As of December 14, we could not find an official manufacturer's website selling Stiff Nights, though.

Since the company appears to have distanced themselves from the product altogether, don't expect much in the way of customer service.
New and (Not Really) Improved
In response to the controversies surrounding Stiff Nights and under the pressure of a government-issued recall, Stiff Nights was taken off the market.

Undaunted, however, the company now produces a supplement called Stiff Days which honestly seems to be the exact same thing.
This "new" version has an equally lengthy and strange list of ingredients which includes everything from traditional Chinese cures to plain ol' spinach.

Most interestingly, however, in March 2013 the FDA revealed that Stiff Days contains sildenafil – the active ingredient in Viagra.

I'm not sure why a company who encountered massive legal trouble for including a substance that is related to a prescription drug would then include that drug itself in their next attempt – but that's exactly what happened.
As of right now, it seems like no action has been taken against Stiff Days and the supplement is still readily available at slightly lower prices than Stiff Nights.

However, the official recommendation from the FDA is for people to immediately stop taking Stiff Days and throw it away.
Apparently the formula has not improved and the company has not really learned anything.
Our Recommendation
All in all, we would not recommend the use of the Stiff Nights product.

The first and most important concern is the legal action taken against the company by both the FDA and specific individuals.

Secretly using a controlled, prescription drug in a product is not only illegal but it is dangerous and immoral.

These types of practices shed a huge amount of doubt on everything that this company produces, including the so-called "replacement" product, Stiff Days.

The fact that they seem to have repeated their mistakes with their second chance further diminishes the manufacturer's credibility.
And things aren't really that much better when you consider the ingredients that the company actually tells you about on the label.

Many of them are obscure remedies from traditional Chinese medicine or things that seem to have absolutely no connection with male sexual performance.

It genuinely seems like the manufacturer's mission in designing this product was to make it look as natural and healthy as possible by including mass amounts of unnecessary ingredients so that people would ignore the potentially deadly drug that actually made it work.
On top of all of these safety concerns, Stiff Nights is downright expensive. Sure, it works.

But for the same price, you could get a supplement that works and doesn't have the potential to kill you.

Of course, death is an extreme case and plenty of men have taken Stiff Nights and lived to tell the tale.

There are still painful side effects associated with this supplement, however, and it simply seems like it's just not worth the risk.
Of course, all of this only matters if you are actually able to track down some Stiff Nights.

Which presents it's own unique set of problems.

If you do manage to find some and discover that it works for you with little or no side effects, there is only a limited supply out there.

You would not be able to continue your usage for long.

While some past Stiff Nights users have tried to solve this problem by migrating to Stiff Days, it seems like that supplement suffers from the same issues.

In all likelihood, Stiff Days won't be on the market much longer either.
Have You Used Stiff Nights? Leave Your Review Below!
Top 3 Male EnhancementAffiliate Disclosure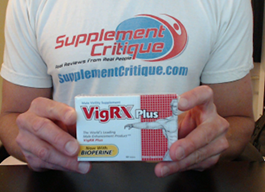 Out of the 100+ male enhancement products Ive tried, Vigrx Plus was the best.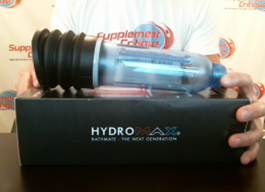 The Bathmate is a proven water-based vacuum pump that can help dramatically increase your size.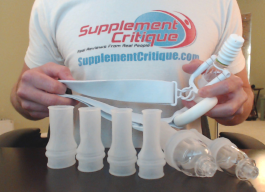 Phallosan Forte is a GREAT option for those looking to grow both length AND girth, permanently.
Honorable Mention/Inexpensive Alternative:Magnum Rings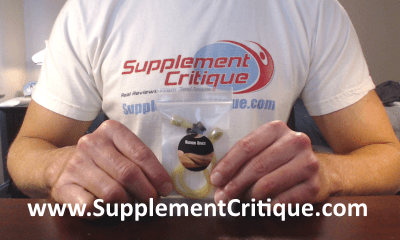 Magnum Rings are a VERY affordable option to getting both girth and length gains, at a fraction of the price of the Bathmate or Phallosan Forte.
Click Here to see our full Magnum Rings review.
User Reviews

4.5 out of 5 Stars (2 Reviews)
Have you used this supplement?
stiff nights
love the pill my sex life goes from 2 to 10 when on the pill

Was this review helpful to you?
2 out of 2 people found this review helpful.
---
Sid's Review
I tried this product. It worked great without any side effects.

Was this review helpful to you?

---
Want To REALLY Get Bigger?

Click Here To See Products That WORK!
Ask A Question
User Questions and Answers
---

Does eating food effect the effectiveness of stiffnights -rahsun

I wouldn't recommend using Stiff Nights at all. It's been deemed dangerous by the FDA.  Taking it with food may mitigate the milder side effects, but it could still be dangerous.- Rob
Was this question helpful to you?
1 out of 2 people found this question helpful.
ASK A NEW QUESTION
---

i used to use stiff night (dark red pills), it was worked very good, i bought new stiff night (red pills) it is not working at all, why? -M

Back in 2015, Stiff Nights was recalled by the FDA for containing an undisclosed prescription ingredient - the active ingredient in Viagra. This was probably the version you used.  Since it's not working for you anymore, the version you have now is probably clean.- Rob
Was this question helpful to you?

ASK A NEW QUESTION