TestoZyte Review – Does It Really Work?
By:
Rob Miller
Fact Checked On: 11-2-2016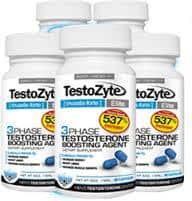 Contents
What is it
Ingredients
How To Use
Side Effects
Where to Buy
Pros and Cons
Conclusion
User Reviews
You probably already know that if you're over the age of 30, your testosterone levels are on the decline.

It may even be why your reading this right now.

As men age, our body's produce less and less of the male sex hormone, and with that decline comes some unwanted symptoms.

The issues usually don't rise to the level of illness or ailment where you have to see a doctor and get a prescription, but if there's a way to boost the levels without side effects, that would be a good thing.
Turns out, there is a way to boost testosterone levels without side effects.

It involves taking a natural testosterone booster, and tons of guys are already doing it.

The effects are not as dramatic as traditional testosterone replacement therapy, but it's plenty for the average guy who's noticing those grating symptoms like:
Lack of energy.
Easily fatigued.
Boredom, depression, and irritability.
Loss of libido.
Decreasing lean muscle.
Increasing fat, especially around your waistline.
With dozens, even hundreds, of natural testosterone boosting supplements to choose from, it's important to put the time in and do the research it takes to find a good one.

Let's face it, there's a lot of crap out there being sold as the next miracle cure.

Our job is to help you spot that crap before you end up paying hundreds of dollars for it.

What Is TestoZyte?
TestoZyteis a natural testosterone booster that promises to alleviate all the symptoms mentioned above, while making you feel more vital, young, and alive.

It was made by Dr. Ryan Stanton, a plastic surgeon and founder of the Men's Health Institute in Beverly Hills, California.

By taking TestoZyte, you'll reverse the symptoms above and:
Increase your sex drive.
Boost your energy and stamina.
Lose fat and build muscle.
Think more clearly and improve your memory.
Reduce pain in your joints.
Live a longer, healthier life.
TestoZyte Ingredients
The TestoZyte website provides a lot of information about how your body is affected by declining testosterone levels and how taking TestoZyte can reverse those effects, but it doesn't provide a full ingredient list for a better understanding of just how it actually works.
There are references to a few of the ingredients on that list, so we'll talk about those:
Tribulus Terrestris is one of the most commonly found ingredients in natural testosterone boosters.

It's believed to increase your body's natural production of testosterone by first increasing the release of Luteinizing Hormone from the pituitary gland.

LH then signals to the testes that they should produce and release more testosterone.

Studies do show that Tribulus can improve erections and erectile function, but so far, they don't prove a plausible connection to testosterone.

TestoZyte claims to be the only product that uses the optimal dose and concentration of Protodioscin, the steroidal saponins found in Tribulus Terrestris.
D-Aspartic Acid is the current standard bearer for boosting testosterone naturally.

It's been shown in clinical studies to actually increase testosterone, at least in the short run.

The most cited study showed that men taking 3.12 grams of DAA daily saw an increase of 40% in free testosterone in 12 days.

Some of the information we found states the TestoZyte uses the same effective dose, but since they don't list ingredients on the website and don't show a label, we aren't able to confirm.
Fenugreek is another ingredient commonly found in natural testosterone boosters.

It actually has less scientific evidence backing up its testosterone claims, but it is showing promise as an herb that may lower blood sugar levels and regulate the insulin response.
How to Use TestoZyte
The recommended dose, according to the website, is 2 capsules taken 3 times a day.

TestoZyte Side Effects
The short term studies performed on D Aspartic Acid showed no side effects at all.

Of course, these were short term studies and don't demonstrate what effects might be present in the long term.

Fenugreek may lower blood sugar, and it can give a "maple syrup"-like odor to your urine.

Tribulus Terrestris may also affect blood sugar levels, though evidence is inconclusive.
Most guys worry about the typical side effects of too much testosterone, such as acne, agression, and irritability.

This doesn't seem to pan out often with natural testosterone boosters, presumably because the way they work doesn't tend to leave you with an imbalance.

Where to Buy
TestoZyte is not sold in stores, and you won't find it at Amazon.com.

It's only available through the official TestoZyte website.

The price for one bottle is $39.95, but you save money if you buy multiple bottles at once.For example, buy 2 bottles for $79.95 and get one free.And the saving grow as your order does.
But there's a discrepancy over how long a bottle will last.

On the order page, they say that each 60-count bottle is a one-month supply.

But the FAQ section of the website states the recommended dosage is 2 pills taken twice a day.

At that rate, you'll blow through the 60 pills in 10 days, which means you'd need 3 bottles for a month.
I suspect the correct dosage is 2 pills a day, but the fact that they provide conflicting information on the subject doesn't instill much confidence in the product or the company.

TestoZyte Pros and Cons
Advantages of TestoZyte
If you really only take 2 pills a day, it's pretty affordable at $39.95 a month.
The ingredients are all natural.
While we don't know the complete formula, we do know it contains some of the effective ingredients we look for in a natural testosterone booster.
There's a money back guarantee.
Disadvantages of TestoZyte
Depending on the real recommended dosage, it may be very expensive at just under $120 per month.
The full ingredient list is not disclosed.
There are no independent TestoZyte reviews from customers who've used it – only testimonials on the website, which you can never be sure are fully real.
Conclusion
TestoZyte has potential, but I'm not convinced it's the best option out there.The formula gets off to a good start, but not knowing the full list makes it hard to fully judge.

The money back guarantee is good, but if the dosage information on the FAQ page is correct, TestoZyte is just too expensive.

All that said, TestoZyte deserves a closer look and possible a try.

Have You Used TestoZyte?

Leave Your Review Below!
Top 3 Testosterone BoostersAffiliate Disclosure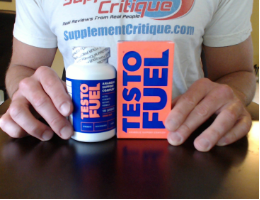 Testofuel is the most effective testosterone boosting supplement on the market that i've tested.

It uses a unique blend of effective testosterone boosting ingredients that will help transform your life.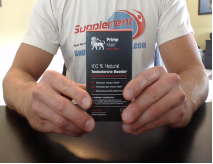 Prime Male is a VERY close 2nd to Testofuel, but contains ingredients to help older men. See why we recommend Prime Male for guys aged 40+, as well as my personal results.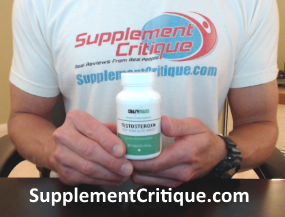 Testoroxyn uses DHEA and other ingredients to help boost free testosterone. See how Testoroxyn is different from Testofuel and Prime Male, as well as my personal results.
How People Found This Review:
and testozyte, and testozyte reviews, and testozyte review
Check Out My Top Choice For T Boosters - Testofuel

Click Here To Read My Review
Ask A Question
User Questions and Answers
---

How many pills to a bottle and recommended pills per day? -cliff

There's 60 capsules per bottle and the recommended daily dose is 2 capsules 3 times per day.- Rob
Was this question helpful to you?
1 out of 1 people found this question helpful.
ASK A NEW QUESTION
---

Is it safe to drink alcohol when taking testozyte. -scott

It should fine as long as you drink in moderation.- Rob
Was this question helpful to you?

ASK A NEW QUESTION
---

Will this cause prostate cancer? -Yusuf

Natural testosteorone boosters are not thought to cause prostate cancer.- Rob
Was this question helpful to you?

ASK A NEW QUESTION