So I just picked up the mail after the gym and came across a rather vulgar brochure for a brand new cream on the market called Vericil-MD.
When I say the brochure is vulgar, I mean as soon as I opened the envelope I'm bombarded with a photo of 2 chicks going down on a relatively hung guy.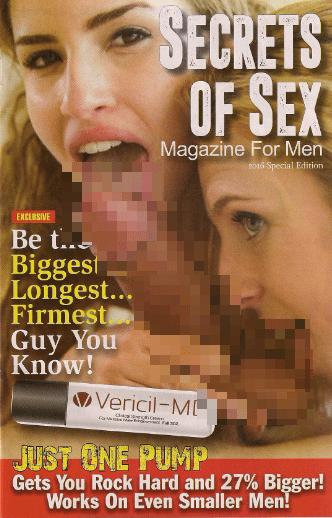 The title screams: "Be the biggest, longest, firmest guy you know", as if guys over the age of 16 sit around comparing each others schlong sizes.
I have no idea how I even got this brochure, but when I did I actually got about 3 other rather vulgar ones as well.
Pretty shocking, I know, and even in the world of male sexual enhancement supplements you are not going to see such vulgar ads normally, bordering on porn.
So what is Vericil-MD, and more importantly, does it REALLY work as wellas this brochure says it does.
Well, I did a little bit of research on this male enhancement cream and this is what I found out.
So What is Vericil-MD?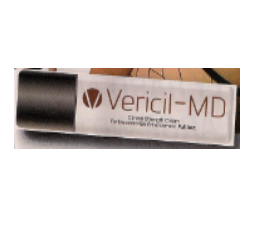 Since there's no official website for Vericil-MD (as far as I can tell), all of the information about this cream will be gleamed from the 30-page ad I have here in front of me.
According to them, they categorically state that you WILL grow 4 inches in length and 2.4 inches in girth within 90 days of using their product.
Not only that, but you'll also:
Last up to 6 hours at a time
Have increased confidence
Get instantly hard on contact
and have the best orgasms of your life
Certainly not the first (and DEFINITELY not the last) time I've heard that claim.
So what's the secret behind this groundbreaking product?
Well, that's actually a HUGE problem.
Not ONCE in their entire 31-page brochure do they mention the ingredients in Vericil-MD.
In fact, the only thing they mention that even comes close to knowing what's in it is that it's 100% all natural, and that it's been clinically tested and approved.
This seems to be a common occurrence with enlargement creams like this. I've reviewed several in the past, including Xtra Man, Big Kahuna, and Mr. Stiff, and NONE of those guys list the active ingredients in their creams.
So it begs the question, do you really want to rub something on to your penis that you have literally NO idea what's in it?
If I had to guess,the answer to that is probably a resounding NO!
I would say it likely contains L-Arginine, Ginseng, maybe some Gingko Biloba, and a few other common male enhancement ingredients.
The brochure shows a half-dozen before and after photos from men who've apparently used Vericil-MD, and the results look pretty promising.
Who Makes It?
That's a great question, and to be honest, I'm a bit unsure. The return address on the label I have here says Maxx Male Labs, which is a company apparently headquartered in Scarborough, Maine.
The address that's listed on the label is P.O.

Box 6827, Scarborough, Maine 04070. When I run a search for this address in Google, I'm given a company called Atlantic Health Naturals LLC.
Whether or not this is the same company responsible for Vericil-MD, I have no idea.
There's basically no information about this company online, as I searched the business records for Maine AND the Better Business Bureau and came up short.
This should definitely be a red flag if you're considering ordering it.
Frequently Asked Questions
Are there any side effects?
We haven't a clue, simply because we don't know what's in it. I can tell you from using male enhancement creams like X-Cream, Enlargo, and Reaqt, typical side effects include things like:
Redness / Soreness at the site of application
Itching / burning sensation
Allergic reactions
Of course since we don't know what's in it we can only speculate, but these are the most common side effects found in male enhancement creams.
Can you buy it in stores?
Unlikely. I checked with all of the major retailers like Walgreens, CVS, Walmart, and GNC, and none of them are selling Vericil-MD.
In fact, I don't even think you can buy it online in stores like Amazon or Ebay.
So where can I buy it?
It looks like the only way you can place an order for Vericil-MD is by filling out their order form or calling their toll-free customer service line at 1-800-962-9953.
A $30 day supply retails at $48, and they do offer a discounted price of $200 for a 6 months supply.
They do apparently offer a 90-day money back guarantee, HOWEVER, you have to send back the unused portion to receive a refund.
Is it shipped discreetly?
Yes. All orders are shipped in a plain, securely wrapped, unmarked box. The only person who will know you placed your order is you.
Conclusion / Recommendation
What's not to like about this product? Simply rub it on and BOOM, within a few short months you'll be 4 inches bigger in length and 2.5 inches bigger in girth.
I hope your'e picking up the sarcasm 😉
The simple truth is there is WAY too little information on Vericil-MD to make a recommendation.
Sure, you can send out a cleverly crafted brochure complete with naked women going down on enormous guys.
The thought of getting bigger is promising, but unfortunately, VERY unlikely with this cream. I don't even say that with any hesitation.
The marketing practices and vulgar language that these guys use alone should clue you in that maybe something is up and it is not exactly being made by the most reputable bunch out there, just look back at that original brochure at the top.
The only thing that will likely grow is the bank accounts of the guys that are selling it.
Until we get a chance to personally test it out, I would recommend against buying it.
Have You Used Vericil-MD? Leave Your Review Below!
Top 3 Male EnhancementAffiliate Disclosure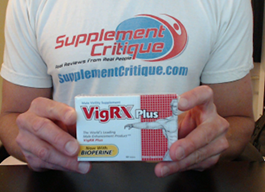 Out of the 100+ male enhancement products Ive tried, Vigrx Plus was the best.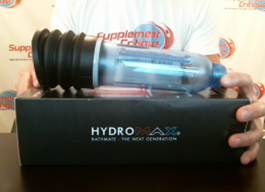 The Bathmate is a proven water-based vacuum pump that can help dramatically increase your size.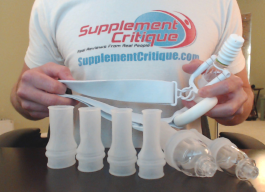 Phallosan Forte is a GREAT option for those looking to grow both length AND girth, permanently.
Honorable Mention/Inexpensive Alternative:Magnum Rings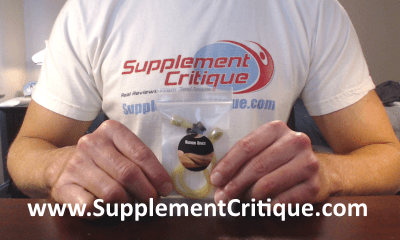 Magnum Rings are a VERY affordable option to getting both girth and length gains, at a fraction of the price of the Bathmate or Phallosan Forte.
Click Here to see our full Magnum Rings review.
4 Star User Reviews

1.0 out of 5 Stars (1 Reviews)
Have you used this supplement?
There Are no 4 Star User Reviews
Want To REALLY Get Bigger?

Click Here To See Products That WORK!
Ask A Question
User Questions and Answers
---

How do you use it for the best results? -mike metcalf

They don't say online. You'll have to check the instructions on the packaging.- Rob
Was this question helpful to you?
8 out of 10 people found this question helpful.
ASK A NEW QUESTION