ViaGOLD Overview
When we first started looking into ViaGOLD at the request of one of our readers who'd heard good things about it, it looked like we might be onto something.

Most of the existing reviews we found were pretty positive in their opinion of the stuff, so we thought that's with opinion we might end up with too, once we'd completed our research. But that's not how things went at all.
Let's start at the beginning.
ViaGOLD is a fast-acting male enhancement supplement that bills itself as the all natural alternative to prescription erectile dysfunction medications.

This information, and I'm sure much more, used to be available on the ViaGOLD website, but that no longer exists at this point.

The basic idea was that, like the presctiption drugs, ViaGOLD would get you bigger, stronger, longer-lasting erections.

Only ViaGOLD would do it without side effects and potential dangers.
ViaGOLD Ingredients and How They Work
Back when the website was around, it did not reveal the ViaGOLD ingredient list.

We were, however, able to track one down.

It includes components like:
L-Argnine which as a precursor to Nitric Oxide increased the flow of blood to your penis during arousal for better erections.
Bombyx Mori Extract which increases natural testosterone production.
Siberian Ginseng Extract which improves circulation and enhances energy.
Cayenne Extract which provides energy.
Stinging Nettles Extract which increases free testosterone by binding itself to SHBG (Sex Hormone Binding Globulin).
Instructions are to take ViaGOLD about 30-45 minutes before sexual activity.
Where to Buy
Here's where we abruptly hit a dead end.

ViaGOLD does have a website anymore, nor is it available through any third party retailers that we can find.

We did, however, find a bunch of complaints against ViaGOLD and its manufacturer, so I think you might see where this is going.

For whatever reason, ViaGOLDis no longer being made, and it's gone from the market.
ViaGOLD Pros and Cons
Advantages of ViaGOLD
The ingredients are all natural.
There's no commitment required.

You just take ViaGOLD as you need it.
Disadvantages of ViaGOLD
There were several complaints about the product.
ViaGOLD is no longer available.
Conclusion
This happens way more than you would probably think.

Male enhancement supplements come and they go.

There seems to have been a time when ViaGOLD was fairly well-liked, yet at this point in time, it's nowhere to be found.
Have You Used ViaGOLD?

Leave Your Review Below!
Our #1 Choice For Male Enhancement – Vigrx Plus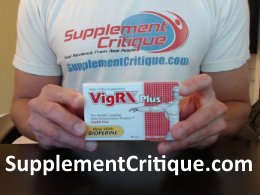 We have personally tested over 100 different male enhancement supplements, and Vigrx Plus stands out as the most effective in terms of results and customer reviews.  Not only is Vigrx Plus designed to help boost overall stamina and libido, but it's also the only product in its category to be clinically studied and PROVEN to work.
Click Here to read more about my specific results with Vigrx Plus
User Reviews
Great Stuff
This is by far the best male enhancement I have ever taken. I feel the effects for 48 to 72 hours. I cannot believe it has been discontinued.

Was this review helpful to you?
1 out of 1 people found this review helpful.
---
Want To REALLY Get Bigger?

Click Here To See Products That WORK!
Ask A Question
User Questions and Answers
No Questions Have Been Answered For This Article.