Vigrx Delay Spray Video Review
By:
Rob Miller
Fact Checked On: 5-29-2018
Thinking about trying Vigrx Delay Spray? I've actually tested it.

Watch my video, and learn more about the ingredients, side effects, how to stack with phenibut, and more.
If you prefer to read our written Vigrx Delay Spray review, click here.
Video Transcription
Hey guys.

Rob here again with supplementcritique.com.

And in today's review, we're gonna be talking about vigrx delay spray.

If you haven't already figured out, by the name of the product, you can tell that this particular product is a spray.

It's supposed to help with premature ejaculation issues, and it's pretty much intended for guys that don't really like taking supplements or pills.

I wanna talk a little bit about the product first.

But if you'd like to dive ahead to my personal results with it, you can just click on the link in the description box below, it'll take you to my website supplementcritique.com where I go into a written review of my personal results with this.

Anyway, vigrx delay spray is made by the same company that makes vigrx plus.

Instead of a pill, the delay spray is literally a bottle of the size of the same bottle of mouthwash.

It's pretty self-explanatory but the end goal behind vigrx delay spray is to delay orgasms.

You basically spray it on your penis for about five to ten minutes before sex.

Rub it in with your hand and it essentially allows you to perform much longer than you normally would, and the secret behind this is the formula.

And the key ingredient behind a local anesthetic commonly known as benzocaine.

Benzocaine is commonly used as a topical pain reliever, and it's also used in some brands of condoms to help delay ejaculation.

The big advantage to using vigrx delay spray over that of a condom is, really two fold. One is that condoms suck.

And two, you can put on as much or as little as you need, depending on the severity of your problem.

The directions on the label state that you should use one to three sprays ten minutes prior to sexual activity.

And the end result is that you basically have a hard penis but you don't come too quickly.

So what makes vigrx delay spray different from the others?

I've tried a lot of different other products Stud 100 comes to mind, Premjact, Promescent.

They only use a completely different anesthetic called lidocaine, and it works very similar to benzocaine.

However, there are some major problems with lidocaine.

One of the major problems is that it works a little bit too well.

It can actually numb you to the point where you really don't even feel your penis.

The effects of lidocaine can last for hours, which unless you're looking to have sex for like four hours plus, might be kind of annoying.

The last problem with lidocaine is that its effects can actually penetrate deeply into the skin causing toxicity.

So long story short is, lidocaine is perfect for getting a cavity filled, but is not really suitable for a premature ejaculation spray.

You can almost say the same thing about benzocaine.

However, it would take a massive dose of benzocaine to have the same exact problem that you would have with lidocaine.

Think about something like 20 sprays of vigrx delay spray versus one or two sprays of some of the other ones.

Some of the most frequently asked questions that I get about vigrx delay spray is: Can it be used orally?

I guess it's possible but it is certainly not intended to be used that way.

I would also think that you wouldn't wanna numb your mouth up like that, so I would probably not do that if I were you.

As far as any side effects, as with any supplement spray, there is always going to be the potential to get side effects.

That's, of course, the same with vigrx delay spray.

The most common one would be itching and burning at the application site.

I didn't experience any of these at all during my experiment, but of course, it's always possible.

Really what happens is, if you're allergic to any ingredients, that's the only way you're gonna get that kind of reaction to it, so if you're not, then you shouldn't have any issues.

I got a few guys asking if it's gonna make them bigger.

It's not intended to, they don't say anything on the website or on the product itself, about it doing that.

But there are other products that will do that.

I'll put a link in the description box below. You can click and check those out. As for my personal results. I'm 34 years old.

I don't typically suffer from premature ejaculation.

Most guys that have this problem are in their early to mid-twenties, their hormones are pretty much raging. Testosterone levels are surging.

However, I did wanna test this out to see if it would make me last longer.

I followed the directions on the label and pumped out just one spray.

Before you do this I recommend that you go to the bathroom or kitchen sink to get a few pumps out to prime it.

Sometimes when you pump it at first, nothing actually comes out.

All in all, I would say my results were actually really good.

You can definitely feel the numbing sensation, almost like when you have a cavity, you're getting a cavity filled. You feel that numbing sensation.

It doesn't hurt, there is no pain, there is nothing like that, but you can definitely tell that there is, that you've been numbed.

It's hard to explain, but yeah, I could totally see how this would definitely make you last longer.

I've had a bunch of guys come to me.

If you look in the reviews section, in the comment section on my site supplementcritique.com, you'll see a bunch of guys that have used this, and they said that they've lasted as much as like 45 minutes to an hour or so.

It'll definitely get the job done if you're looking for something to make you last longer, that's for sure.

As far as where to buy, you can find this on their official website vigrxdelayspray.com.

I believe they offer a 67-day money back guarantee, so if it doesn't work for you, you can always send it back.

Just be sure, if that's the case, you actually hang on to the empty containers because they do make you send them back in order to exercise a full refund.

Anyway, that's pretty much all I have for vigrx delay spray.

If you have any comments you can leave them in the comment section below or you can send me an email at contact@supplementcritique.com, and I'll try to get back to you as soon as I can.

And I'll be back soon with another review.

Take care.
Top 3 Premature EjaculationAffiliate Disclosure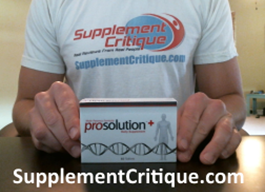 Prosolution + is the ONLY supplement I've reviewed thats been clinically tested to help with premature ejaculation.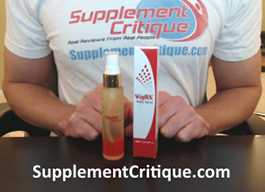 Vigrx Delay spray is a VERY effective premature ejac product for many reasons.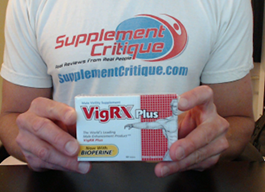 Vigrx Plus was designed to not only help with ED, but also premature ejac. problems.
Ask A Question
User Questions and Answers
No Questions Have Been Answered For This Article.