VirMax T is a relatively new product from Natural Products Solutions. It's the latest release in their VirMax line, which is dedicated to enhancing the sexual experience of both men and women while supporting overall sexual health. VirMax T is the dedicated testosterone booster of the bunch. The product and the line are currently being endorsed by NBA champ and natural health advocate John Salley, and this new relationship seems to be getting the word out.
The low key marketing for VirMax T explains that a man's testosterone level peaks at about age 20, and steadily declines from there. After age 30, the decline becomes more rapid. Lower testosterone levels are linked to increased body fat and low libido. There are synthetic solutions, but they are expensive and invasive, and they require a doctor's supervision. VirMax T is the natural solution.
Update: I actually got a chance to test out Virmax T. Click Here
to skip ahead to my results.
Watch My Video Review Or Scroll Down To Read More
VirMax T Ingredients and How They Work
There is actually a lot of conflicting information floating around when it comes to the full ingredients list for VirMax T.

So as not to add to the confusion, we've taken our list directly from the VirMax website:
Magnesium which is necessary for hundreds of chemical reactions to occur in the human body. It's involved in maintaining muscle and nerve function, a steady heartbeat, and a healthy immune system.
Zinc which is necessary to the body's natural production of testosterone. A direct link has been found between low zinc levels and low testosterone levels. Zinc also supports a healthy prostate.
Tribulus Terrestris which increases the secretion of luteinizing hormone from the pituitary gland.

This in turn signals the testes to create more testosterone.
Tongkat Ali increases the amount of free testosterone in the body. It does this by removing SHBG (Sex Hormone Binding Globulin) from the picture. SHBG binds to testosterone, making it unusable by the body. Be preventing this from occurring, Tongkat Ali allow more testosterone to flow freely through the body.
Here's a snapshot of the label: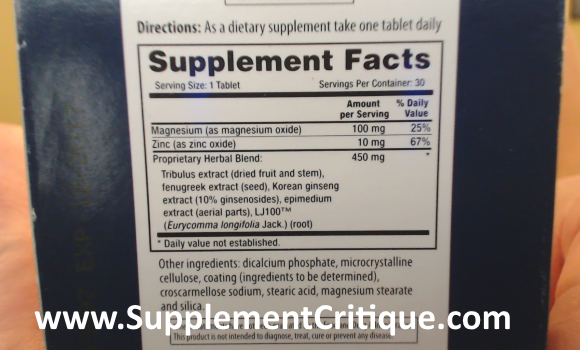 The dosing recommendation is 1 VirMax T capsule once daily, and there is no word on how long it should take to see results.

My Personal Results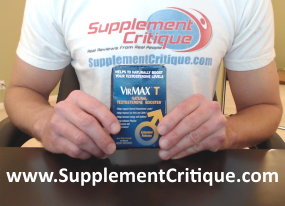 I've personally tested dozens of testosterone boosters throughout the years. Some worked great, some were average, and some didn't do a thing.
I would put Virmax T in the average category.
It works, but the effects I got from it were not very pronounced.
Did it increase my sex drive and libido? A little bit.
Was my physical endurance and performance enhanced? I couldn't really tell.
Was I bursting with energy and stamina? Again, maybe a little bit, but tough to tell if Virmax T was the source.
One thing is for sure, when compared to many of the other testosterone boosters I've tested, Virmax T was reasonably priced.
Some of these testosterone boosters (such as Test Stack RX) go for as much as $197, which is absolutely NUTS in my opinion.
On the other end of the spectrum, you have supplements like Six Star testosterone booster that cost like $9 for a one month supply, but doesn't really do anything.
Virmax T is positioned as a cheap, yet effective, testosterone booster that may or may not work for you.
VirMax T Pros and Cons
We always think it's a good idea to make a comparison of what's good and what's not so good about all the products we look at. That way, we know we're making an informed decision about whether or not to buy.
Advantages of VirMax T
It is widely available.
The ingredients we know about should help increase testosterone levels and are good for general health.
The one pill per day dose is simple.

VirMax T

is affordable.
The manufacturer is well known and presumably concerned with their reputation.
The ingredients are all natural.
Disadvantages of VirMax T
There is confusion about what ingredients are actually in the VirMax T formula.
Different review sites list all sorts of different things.
There aren't very many VirMax T reviews from guys who've tried it.
Where to Buy
You can purchase VirMax T at CVS, Walgreens, or Circle K stores. Online, it's available at Drugstore.com and Amazon. The 30 count bottle sells for anywhere between $19 and $24, so do your homework. It's also available in a 2-count blister pack, though we're not sure how this makes sense for a daily supplement.
Conclusion
In the end, we think VirMax T is worth a try as long as you keep your expectations in check. The ingredients are good, but nothing extraordinary. Probably the biggest things going for VirMax T are the price and the availability. Next time you're in Walgreens, pick up a bottle and read the label. If it still appeals to you, we think it's worth buying VirMax T.
It is comparable to any number of similar supplements and if you are familiar with the ingredients or have taken things like it before, then chances are you know what to expect and if that is what you want, you can't go wrong with VirMax T.
Have You Used VirMax T? Leave Your Review Below!
Top 3 Testosterone BoostersAffiliate Disclosure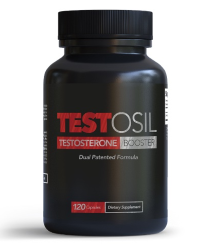 Testosil is the most effective testosterone boosting supplement on the market that I've tested.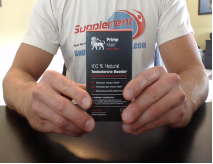 Prime Male is another very effective testosterone booster that uses clinically proven ingredients.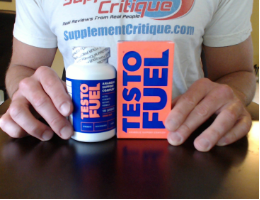 Testofuel is a VERY popular testosterone booster that contains ingredients to help older men.
All User Reviews

3.5 out of 5 Stars (6 Reviews)
Have you used this supplement?
Newbie's Review
I'm 39 and noticing a bit of a decrease in my sex drive. Talked to my doctor about viagra but it was waaay to expensive, like $180 for 7 pills. That's insane. Started looking at other options and found viramax. After doing some research (mainly looking at reviews) I went ahead and bought a 30-day supply (30 tablets). Day one was normal. Day two, I began feeling something. By day three, I felt a level of confidence that hadn't experienced in a while. No, I did not feel like a "stud" or anything like that. I simply felt my body getting a kick of energy, which helped me performed in the bedroom. This product doesn't do wonders, it just gives me that extra kick I need. I'm on day 16 and so far so good. I don't know if I'll take it all the time. I will go through my 30-day supply and then talk to my doctor about it and see what she says. Good luck.

Was this review helpful to you?
36 out of 37 people found this review helpful.
---
Five
By
Kavn lewis

,
Jan 30, 2016
Awesome product,I love to try more of the products in this line,results are quick,and very noticeable,you can ask my wife,lol

Was this review helpful to you?
17 out of 17 people found this review helpful.
---
Virmax
I've been taking it for about three weeks now but the only change I have noticed is a slight increase in my sex drive. I haven't noticed an increase in energy or muscle build, so I don't know. I'm gonna keep on it and see if anything changes. I'm gonna give it two more months plus a week to make 3 months. If no change I'm switching to something more expensive.

Was this review helpful to you?
14 out of 17 people found this review helpful.
---
Ok
By
Groove C

,
Jun 30, 2016
I have been using it for two months and the biggest impact has been my sexual desire and stamina. I have also noticed some weight loss but slight. As far as I can tell it seems to work. I have used better such as ageless male and Armatest which I completely endorse but for 20 bucks, it's worth the try..

Was this review helpful to you?
12 out of 13 people found this review helpful.
---
Bad
I have been using it and seen no results just about like taking a sugar pill does nothing

Was this review helpful to you?
14 out of 18 people found this review helpful.
---
Worked for me
By
Aj

,
Sep 23, 2018


In Short:

I would recommend this to a friend.
I am a 39-year-old male with many health problems. One of them is low testosterone. I have had no libido for a couple years now making my marriage unbearable and almost nonexistent. I am scheduled to get an actual testosterone pellet put in next week, but I figured what would it hurt to try supplementing until then. So I went to Walmart and picked up this one is reasonably priced. Two days in and my vagina woke up. Not even kidding. Very happy with this product. I don't know about energy because I have too many things working against me in that department but the libido boost is enough for me.

Was this review helpful to you?

---
Check Out My Top Choice For T Boosters - Testofuel

Click Here To Read My Review
Ask A Question
User Questions and Answers
---

Is it ok to drink alcohol befor and after using Virmax? -Moe

Yes. There are no contraindications with alcohol.- Rob
Was this question helpful to you?
17 out of 18 people found this question helpful.
ASK A NEW QUESTION
---

How dangerous can the side effects of taking more than one tablet at a time. Taking one to two tablets per dosage or two to three tablets per dosage?? -Kelli

If the ingredients are what they say they are, I would think you'd be okay.  If you want to add an extra dose, do it slowly and with a meal. That way if there are any side effects, they'll be muted by the food.- Rob
Was this question helpful to you?
17 out of 19 people found this question helpful.
ASK A NEW QUESTION
---

Will this add size to your penis -Looking for more

No supplement can do that, unfortunately, but it can increase the size and performance of your erections.- Rob
Was this question helpful to you?
9 out of 9 people found this question helpful.
ASK A NEW QUESTION
---

Sepude tomar si estoy tamando vitaminas y mineralrs (Can you take this with vitamins and minerals?) -lazaro diaz

Sí, teniendo esto con vitaminas y minerales no es un problema. (Yes, taking this with vitamins and minerals is not a problem.)- Rob
Was this question helpful to you?
4 out of 5 people found this question helpful.
ASK A NEW QUESTION
---

Como tomar virmax t? -Luiz

La recomendación de dosificación es 1 Virmax T cápsula una vez al día.- Rob
Was this question helpful to you?
2 out of 3 people found this question helpful.
ASK A NEW QUESTION