Vitrexotin Review: Does It Really Work?
By:
Rob Miller
Fact Checked On: 2-25-2022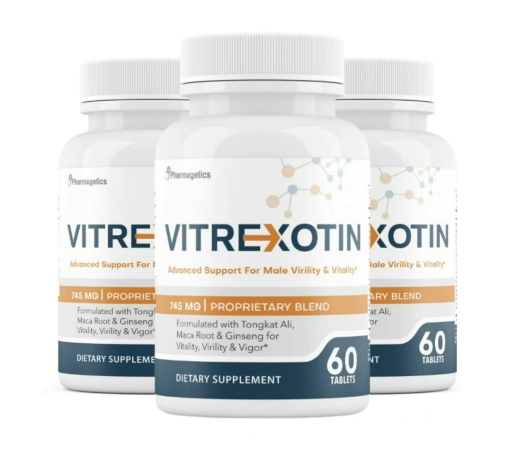 There are plenty of male enhancement supplements that are flooding the market today.
It's hard to tell which ones are trustworthy and which ones are not worth the risk of taking.
The reason being is because most of these supplements are not FDA approved.
Not to mention, they might have ingredients that may be harmful to your health and even trigger severe side effects.
Let's not forget that male enhancement pills are often sold thanks to some shady marketing tactics that might even sucker someone in fairly easily.
With so many male enhancement supplements out there, there are those who have their own recommendations.
Lately, one of those supplements that some highly recommend is Vitrexotin.
Despite the recommendations and claims that it works, many of those are likely to be fake and hypey.
Related Article– MaasaLong Pills Review: Do They Work?
What is Vitrexotin?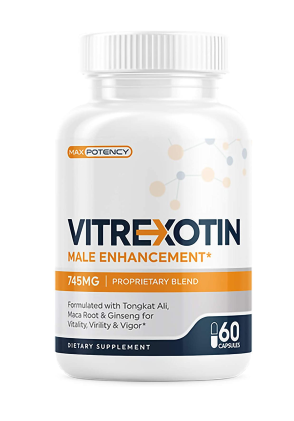 Vitrexotin is a male enhancement supplement that claims to give males harder, stronger erections.
They also claim that you can gain a certain amount of endurance and sexual drive simply by taking this supplement regularly.
Based on what we have gathered, the brand name behind Vitrexotin is Max Potency.
At this time, it is uncertain as to whether or not they have developed other supplements aside from Vitrexotin.
Vitrexotin is believed to include herbal ingredients that claim to have no side effects and therefore is safe to use.
What we have also researched is that there really isn't a lot of reviews online that have shown the positives or negatives of Vitrexotin.
This is quite concerning considering that for a whole lot of supplements out there, reviews are aplenty for almost every single one.
The negative reviews are often helpful since they serve as a warning to those who need to be aware of hyped-up supplements that do little to nothing.
On top of that, it might be considered dangerous to have a lack of negative reviews since potential users of Vitrexotin may run into the possibility of experiencing negative side effects of reactions.
Even though this is a fairly new supplement that has hit the market, every positive and negative review must be taken with a grain of salt.
Looking at the sales page, Vireoxtin has the usual marketing tactics that appear to be the real deal.
Statistics that are somehow backed by science and testimonials that may have been written by someone on Fiverr looking to make a quick buck.
Not to mention, there's plenty of stock photos that are being used.
The use of stock photos isn't necessarily a bad thing.
But they are commonplace when a sales page sells something that may be a low-quality product or an untested supplement.
How does Vitrexotin work?
Supposedly, Vitrexotin has herbal supplements that are apparently linked to male enhancement.
For example, they claim that one of the ingredients is saw palmetto.
Yes, saw palmetto is known for its ability to maintain a healthy prostate and reduce the risk of cancer.
However, it's also been proven to help with keeping the prostate at its regular size.
An enlarged prostate can lead to frequent urination, which is common in older males.
Yet, the inclusion of saw palmetto is believed to increase virility in males that use this.
One other herbal ingredient to note is horny goat weed.
It's been said that this herb can be traced back to ancient China.
It is claimed to be an herb that has the ability to treat and cure various illnesses.
Over the years, it's been a fixture in more male enhancement supplements.
In fact, we think that no male enhancement supplement on the market could exclude horny goat weed from their list of ingredients.
Related Article– Testoryze Review: Does It Work?
What are the ingredients?
Vitrexotin is said to contain the following ingredients: horny goat weed extract, saw palmetto extract, wild yam extract, and stinging nettle root extract.
Though we have already covered the first two ingredients in the previous section, let's take a closer look at the others.
First, wild yam extract is believed to be used in supplements that claim to benefit older women.
For example, wild yam extract claims to treat vaginal dryness, premenstrual syndrome (PMS), weak bones, and menstrual cramps among other conditions.
It is also said to be linked to increasing the sex drive in both males and females.
What's confusing is that aside from the supposed benefit of an increased sex drive, there really is nothing of value that males can benefit from wild yam extract.
It would appear to be more of an ingredient that benefits women than men.
Not to mention, it's been said to be a natural alternative to estrogen replacement therapy. (Source)
We are certain that the last thing a man needs is something that is associated with estrogen.
That's because increased estrogen levels may blunt a man's testosterone levels.
When testosterone levels go done, it will be hard for a man to lose weight, gain muscle, and yes even have a lesser sex drive than normal. (Source)
For a supplement that claims to increase a man's sex drive, there could be a contradiction here as far as wild yam extract is concerned.
The other ingredient we'll be looking at is stinging nettle extract.
This is one of those ingredients that you'd typically find in testosterone boosters.
In fact, its claim is exactly that…boosting testosterone.
It is also said to have the responsibility of binding the sex hormone binding globulin (SHBG).
Of course, the increase in testosterone will lead to an easier time building muscle and losing fat.
Not to mention, increased testosterone leads to increased sex drive and overall confidence. (Source)
With the mixture of these ingredients, it sounds like it's a legitimate supplement compared to others on the market.
But how do we really know for sure?
With the lack of reviews (both positive and negative), it's a bit of a gamble to find out.
What are the side effects?
The problem is that with little to no reviews to speak of, there is no way of knowing what the exact side effects are.
This is one good reason why it's best to err on the side of safety and avoid this supplement.
However, we can do a little digging and take a closer look at the side effects associated with specific ingredients.
For example, let's take a look at horny goat weed extract.
Though it claims to be "safe" to take and has no side effects, there have been side effects associated with long term use.
These include but are not limited to the following: dizziness, vomiting, dry mouth, heart palpitations, spasms, and nosebleed. (Source)
Saw palmetto, while supposedly a good ingredient, also has its own side effects (albeit mild ones).
These side effects include headaches, vomiting, diarrhea, and constipation among others. (Source)
It's also considered unsafe to take prior to surgeries.
The reason being is that saw palmetto is known for slowing down blood clots.
Depending on these surgeries, additional bleeding could occur after the fact.
Related Article– Male Elongator Review: How Does It Work?
Where to Buy Vitrexotin
At one point, it was available online using the domain of MaxGrowth.com.
From what we have gathered, that domain is no longer online.
We did see some affiliate links to what claims to be the sales page to Vitrexotin.
Even if parts of the website do exist, it's not a good idea to order it online.
Thankfully, the supplement is unavailable anywhere else on the market.
With that said, it's probably a good thing that a supplement like this may just stay off the market and never be sold.
Despite its claim for showing up on Shark Tank, it's actually one of many supplements that claim to be "seen on TV".
Also, it might be one of the many supplement scams that have been prevalent on the Internet in recent years.
If you are serious about finding a real male enhancement supplement, then it's important to speak with your doctor first before you consider taking one.
Conclusion — Is it worth trying Vitrexotin?
Short answer: no.
There are plenty of real, FDA approved male enhancement supplements to choose from on the market.
They even have plenty of reviews from real customers.
Vitrexotin does not have any of that.
Sure, you'll hear claims about it containing ingredients that have clinically proven results.
It may even be enough to sucker someone into buying a supplement that is unheard of.
Let's face it, there are male enhancement supplements that will contain ingredients that will have side effects.
Are there supplements with no side effects that exist?
If they are not male enhancement supplements, we'll say that's a possibility.
But it all depends on the ingredients.
Plus, it's important to take that claim with a grain of salt.
Not only did Vitrexotin make a false claim about containing ingredients that trigger no side effects, but it also puts potential users at risk.
This is unethical and dangerous.
Therefore, Vitrexotin should be avoided at all costs.
It's hard for supplements to break into the market these days.
That's because they need to jump through various hoops in order to get FDA approval and make sure that its safe to take.
But in the case of Vitrexotin, there is no proof that it has appeared on the FDA's radar or has gone through the appropriate channels.
Top 3 Male EnhancementAffiliate Disclosure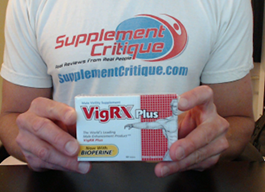 Out of the 100+ male enhancement products Ive tried, Vigrx Plus was the best.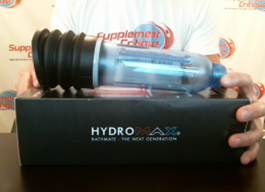 The Bathmate is a proven water-based vacuum pump that can help dramatically increase your size.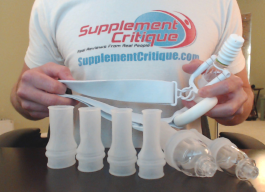 Phallosan Forte is a GREAT option for those looking to grow both length AND girth, permanently.
Honorable Mention/Inexpensive Alternative:Magnum Rings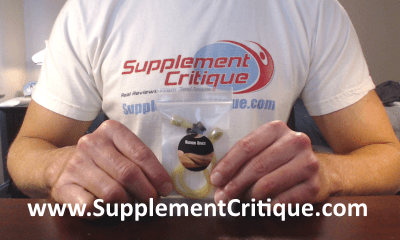 Magnum Rings are a VERY affordable option to getting both girth and length gains, at a fraction of the price of the Bathmate or Phallosan Forte.
Click Here to see our full Magnum Rings review.
Ask A Question
User Questions and Answers
No Questions Have Been Answered For This Article.