WELLTHY SWEAT Fat Burner Review
By:
Rob Miller
Fact Checked On: 4-24-2021
Many people say if you didn't sweat enough to make a puddle, you didn't exercise at all.

While that is more 'tongue in cheek' than 'fact', it's no secret that a good workout should make you sweat more than what you're used to.
Sweating buckets appears to be the area that the Wellthy Sweat Fat Burner wants to specialize in.

From the name itself, it seems like this supplement wants to be that one fat burner known to make users perspire like never before.
Can you sweat your way to a slimmer waistline with Wellthy Sweat?
Check our Wellthy Sweat Fat Burner review to find out!
About WELLTHY SWEAT Fat Burner
WELLTHY is a supplement company whose target market are people that are health conscious, but at the same time don't want to use anything that can be dangerous for the body or harmful to the environment.
They sell supplements ranging from multivitamins to fat burners, with some designed for men and some designed for women.
Certifications. Wellthy Sweat is vegan, paleo friendly, gluten free, and dairy free.
Transparent formula. It doesn't use a prop blend.
Minimal look. The formula and label are clean and done in a way that's pleasing to the eye.
Related Article– Burn TS Review: 5 BIG Reasons It Might Be Worth Trying
Wellthy Sweat Fat Burner Ingredients
The makers of Wellthy Sweat greet us with a really clean-looking label, with all the ingredients and doses indicated as plainly as possible.
Here's a snapshot of it in case you're interested: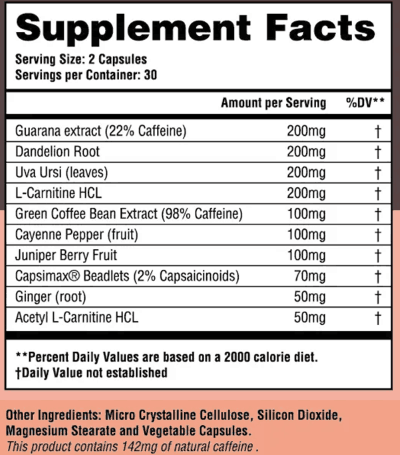 This is a good start and will allow us to thoroughly assess the merits of the product:
Guarana Extract. Guarana extract is a type of alternative caffeine source some users prefer over standard caffeine.

The science is, guarana has a slow-release type of caffeine, making the energy more sustainable for long periods than a huge spike. [1] Of course, because the energy is sustainable the crashing is reduced as well as the jitters. At 200 mg and 22% caffeine, you're really only getting 44 mg caffeine.
Dandelion, Juniper, and Uva Ursi. These ingredients are bonafide diuretics, ingredients that will make you pass much of the excess water you are carrying. At a combined dosage of 500 mg, we think WELLTHY SWEAT Fat Burner may have used too much.

We also don't favor diuretics in general because, well, you can easily gain back the water weight you lost in no time.
L Carnitine. The trendiest fat burner that's been added in all sorts of beverages in the early and mid 2000's (damn, I feel old!), L Carnitine helps funnel fatty acids into our cells which leads to increase fat conversion to energy.
Green Coffee. Another caffeine alternative, but this time it has more perks.

Green coffee bean is known for its chlorogenic acid, a compound found in raw coffee beans and lost during the roasting process.

CGAs help spark fat burning as well as improve blood sugar management.
The 100 mg dose is where this supplement is found wanting.

Not to mention that Wellthy Sweat didn't use the premium, standardized version of Green Coffee.

Big mistake.
The label also declares a total of 142 mg caffeine which we think is potentially too high for a female fat burner.
Cayenne. Ever wonder why people in South East Asia generally don't look fat?
That's because their diets are rich in spices, among them cayenne.

Cayenne literally makes the body burn a lot of fat and rapidly increases core temperature.

It also helps with appetite control.
The dosing is good with this one.
Capsimax. This is the premium version of cayenne, which makes us wonder why they didn't just use all the dosage for this ingredient.

It's standardized for 2% capsaicinoids which is pretty good considering capsaicinoids are really hard to extract from cayenne.
At 70 mg, we think it's enough and when combined with the other form of cayenne you should enjoy some benefits.
Ginger. Ginger is known for a plethora of health benefits, if you get them in concentrated versions they may help improve thermogenesis by boosting norepinephrine production.
At 50 mg and the root form, we doubt its potency.
Acetyl L Carnitine. This is a nootropic and we don't know why they bothered adding a nootropic that requires more than 150 mg to work.
WELLTHY SWEAT Fat Burner Formula Analysis
Based on what we've seen, it seems WELLTHY SWEAT Fat Burner is a type of supplement that doesn't really burn fat per se as much as it does just make you feel hot.
The bulk of the ingredients are either for urinating or for perspiring, unfortunately you won't find much in the way of 'appetite suppression' here.
And because much of it is all about excreting water, you could potentially lose weight quickly, but you will also gain it back as fast.

The type of weight you want to lose should be more fat-derived not just based on your water levels.
We even think there's a danger of dehydration when it comes to using too many diuretics.
It can be a little bit uncomfortable in my opinion, simply having to urinate too much or more than you are used to.
For all the reasons above, we think the premium price tag attributed to this supplement is wishful thinking on the makers behalf.
How it could be improved
Let's say you felt charitable and decided to buy this WELLTHY SWEAT Fat Burner.

Knowing that it doesn't really put appetite suppression at the forefront, you would want to improve it right?
The question is how?
Below are some ingredients you might find good additions to get the most out of this product.
Glucomannan. Glucomannan is a type of fiber that gels and binds with water, it is one of the few ingredients in the EU to be legally approved for weight loss.
Garcinia Cambogia. Supplies hydroxycitric acid or HCA, this ingredient is a carb blocker.

Carb blockers prevent enzymes from converting carbs to stored fat.
B-Complex. This blend of B vitamins refers to thiamine (B1) riboflavin (B2), niacin (B3), pantothenic acid (B5), pyridoxine (B6), biotin, folic acid and the cobalamins (B12).

These are often added in gym supplements because not only are they lost during exercise, but they are also important for the fat burning process in general.
Serving instructions
Take 2 capsules with a meal and at least 8oz of water to increase metabolism, calorie and fat burn.

If sensitive to caffeine start with 1 capsule, and keep at least 4 hours apart from other stimulants.
WELLTHY SWEAT Fat Burner FAQs
Is It Safe?
If you're okay with the possibility of going to the restroom more than a few times a day, then it's safe enough.

Some of the doses for ingredients that actually cause side effects are at minimal or manageable levels.
Does it contain Caffeine?
It has the equivalent of 1 and a half cups of brewed, black coffee.
How much can you take at once?
It says you should take 2 capsules per day.

Because if you take too much, you might release too much water and become dehydrated.

We generally prefer to see at least three separate servings for diet pills per day.
Can I stack it with other supplements?
It needs a lot of stacking, preferably with more effective ingredients.
WELLTHY SWEAT Fat Burner customer reviews:
We picked out a range of customer comments on this product.

As far as passing final judgement is concerned it seems the results are very much split.
One customer said:
Wellthy Sweat has jump-started my metabolism unlike ever before.
And another happy user stated:
I feel better and started seeing great fat loss all over my body!
Unfortunately there are several negative comments to be found including from one customer who simply said:
Pointless.
And another who wasn't quite as harsh:
It's an ok supplement, but expensive.
WELLTHY SWEAT Fat Burner Summary
Pros
Sensible energy. The caffeine in this formula won't cause jitters or crashing.
Designed for women. The dosages used are mild enough.
Transparent. No prop blend.
Cons
Premium price. Too expensive for what it provides.
Weak dosing. They didn't give enough to ingredients that deserved more.
Diuretics. Too many ingredients to make you pee.
One bottle (60 servings): $89.99
Conclusion
WELLTHY SWEAT Fat Burner is a really expensive supplement when you consider what it is lacking.It does have ingredients that potentially can help with burning fat like Cayenne and Green coffee bean, unfortunately there is a clear dosage imbalance favoring the diuretic ingredients.
Sadly this means they designed WELLTHY SWEAT Fat Burner for short term results and not life changing transformations.
I would say that there enough better options that have longer lasting and more pronounced results for less money that WELLTHY SWEAT Fat Burner is not necessarily essential.
From what we can tell there isn't enough creativity and research in this product to justify the premium price tag.
Have You Used WELLTHY SWEAT Fat Burner?

Leave Your Review Below!
Top 3 Female Fat BurnersAffiliate Disclosure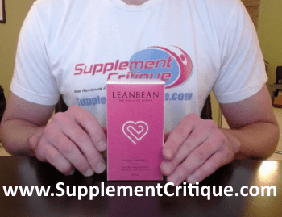 LeanBean Female Fat Burner is the BEST fat burner for women we've ever tested.

Read our review here.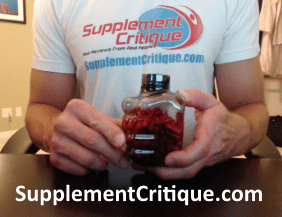 Instant Knockout is actually a new fat burning supplement I just came across, and got great results.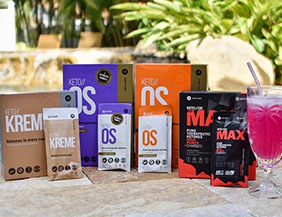 Biohacks your body into instant ketosis to burn fat instead of carbs.

Weight loss, energy, focus, anti-inflammatory, anti-aging.
Ask A Question
User Questions and Answers
No Questions Have Been Answered For This Article.