AEN Presurge Review – Should You Try It?
By:
Rob Miller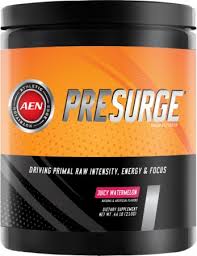 AEN Presurge Overview
The marketing tag line for AEN Presurge is "If There Was A Better Pre-Workout Product, We Would Have Made It." In today's saturated market, I'd say you need a line like that for customers to sit up and take notice.

But more importantly, you have to deliver on that promise.

So we decided to find out if AEN Presurge does.
With an improved formula, the promises are that you'll see:
Laser-like focus.
Extreme muscle gains.
Elevated mood.
Driving Intensity.
Customer feedback is really pretty positive, so let's take a look into the formula for more answers.
AEN Presurge Ingredients and How They Work
The AEN Presurgeformula is mainly made up of proprietary blends.
The first is for energy and includes:
225mg of Caffeine, Dendrobium Extract, and Yohimbe.
There's also L-Theanine which works with caffeine to improve speed and accuracy during demanding athletic exercise.

It also reduces any negative effects that could be caused by caffeine.
Next for energy and focus is Neuravena which boosts dopamine levels to enhance your mental state.
Next is the Muscle Growth Blend which contains:
Creapure, which is a brand of pure Creatine Monohydrate.

Creatine provides your muscles with energy to push harder and longer in the gym so you get better, faster results.
Russian Tarragon which enhances creatine uptake so you don't need to take it with simple carbohydrates (and the added calories) like you used to.
And the Antioxidant Blend which counteracts the increase in free radicals that comes along with nitric oxide production necessary for great pumps.

It includes Grape Seed Extract, Alpha Lipoic Acid, and Folic Acid.
The recommended dose is one to two servings on an empty stomach about 20-30 minutes before working out.

Start with one serving to assess tolerance. Then increase to 2 if necessary.

It's also recommended that you take one serving in the morning on non-training days to maximize the benefits.
AEN Presurge Pros and Cons
Advantages of AEN Presurge
It's relatively inexpensive.
There are tons of great AEN Presurge reviews from customers who say they've gotten great energy and real gains.
Reviewers say it tastes great.

It comes in Fruit Punch and Grape Bubble Gum flavors.
Disadvantages of AEN Presurge
Some people say the powder is hard and/or clumpy.
There are some reviewers who say AEN Presurge doesn't give them as much energy as they want.
It doesn't specifically provide pumps.
Where to Buy
You can purchase AEN Presurge online through several different retailers.

The 30 serving tub costs between $19 and $30.
Conclusion
If energy, strength, and endurance are what you're looking for in a pre workout, AEN Presurge can be a good, economical choice.
Have You Used AEN Presurge?Leave Your Review Below!
Top 3 Pre WorkoutAffiliate Disclosure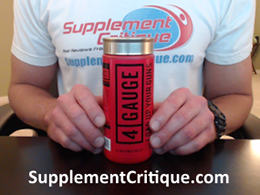 4 Gauge is a brand new pre workout that kicks in FAST and will rev up your workouts.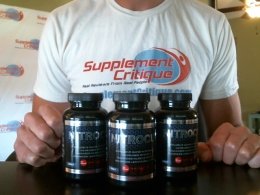 Nitrocut is a VERY effective pre workout supplement for a variety of reasons, see why here.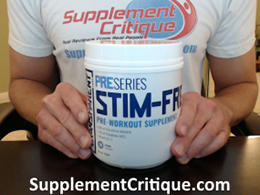 If you're looking for a stim-free pre workout, add Transparent stim-free to your list!
5 Star User Reviews

1.0 out of 5 Stars (1 Reviews)
Have you used this supplement?
There Are no 5 Star User Reviews
Want To Really Get Ripped?

Click Here To Download My FREE "Get Ripped" Ebook!
Ask A Question
User Questions and Answers
No Questions Have Been Answered For This Article.