Argi-Vive III Overview
What's different about Argi-Vive III is that instead of a pill, it comes in powder form for mixing with your favorite beverage.  This way, the vital ingredients make their way more immediately into your bloodstream where they can do the most good.  Made by NorthStar Nutritionals, Argi-Vive III places firmer, harder, more readily available erections at the center of its goals.  Additionally, you can expect to have more stamina and increased sexual desire.  So our first job is to check out the formula.  This will help us determine whether or not Argi-Vive III can deliver on its promises.
Argi-Vive III Ingredients and How They Work
The primary ingredient in focus is L-Arginine, to the tune of 3,000 mg per dose.  This is why Argi-Vive III can claim harder erections as their main benefit.  L-Arginine is a precursor to nitric oxide.

Nitric oxide is a vasodilator that also relaxes the smooth muscle walls of the penile cavities.  These actions allow blood to come rushing into the penis during arousal, providing you with bigger, firmer, stronger erections.
Additional ingredients include:
Ginseng, Gotu Kola, and Epimedium for further improvements in blood flow.
Muira Puama, Maca Root, Ashwagandha, and Catuaba Bark for improving libido.
The recommended dose is one berry-flavored packet (mixed with water or juice) per day.
Argi-Vive III Pros and Cons
Knowing that there's good and bad in everything, we've listed out both sides here to help come to an objective decision about whether or not to invest time and money in Argi-Vive III.
Advantages of Argi-Vive III
The powder mix allow ingredients to be absorbed more quickly and may be a convenient option for anyone who doesn't like to or cannot take pills.
There's a 60 day money back guarantee.
Argi-Vive III is made by a manufacturer of several products, so they must maintain a good reputation.
It contains a high enough dose of l-arginine to be effective.
Disadvantages of Argi-Vive III
Some people may find the powdered mix inconvenient and would just prefer to take a pill.
It requires daily commitment.
NorthStar Nutritionals has received some unfavorable reviews for their customer service practices.
Where to Buy
If you're interested in purchasing Argi-Vive III, you can do so at the NorthStar Nutritionals website.  A single box which should last a month, sells for $39.95, which is on the low end of average for male enhancement supplements in our experience.  There are discounts available for bulk purchases, and a 60-day money back guarantee that applies to unopened packages as well.
Conclusion
We like the amount of l-arginine in Argi-Vive III.  It leaves us encouraged that it really can help significantly with erection quality and frequency.  If the idea of a berry-flavored powder appeals to you, definitely try Argi-Vive III.
Have You Used Argi-Vive III?  Leave Your Review Below!
Our #1 Choice For Male Enhancement – Vigrx Plus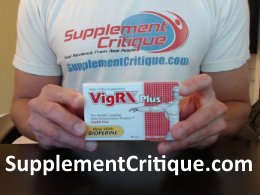 We have personally tested over 100 different male enhancement supplements, and Vigrx Plus stands out as the most effective in terms of results and customer reviews.  Not only is Vigrx Plus designed to help boost overall stamina and libido, but it's also the only product in its category to be clinically studied and PROVEN to work.
Click Here to read more about my specific results with Vigrx Plus
Want To REALLY Get Bigger?

Click Here To See Products That WORK!
Ask A Question
User Questions and Answers
---

How much does Argi Vive plus cost and where can I buy in South Africa? -Katse Mangonyane

A one-month supply bottle costs $39.95. You can buy it at the Northstar Nutritionals website, and they do ship to South Africa.- Rob
Was this question helpful to you?
3

out of 4 people found this question helpful.
ASK A NEW QUESTION
---

When do you take the packet of Argi-Vive III with a liquid during the day? -Les

They don't specify in the directions, so any time is fine, though it's probably best to try to stick to approximately the same time each day.- Rob
Was this question helpful to you?
2

out of 2 people found this question helpful.
ASK A NEW QUESTION
---

Does Argi has any bad effect on Kidneys! -Rao

L-Arginine will increase urea, which gets metabolized by the kidneys, so they have to work harder, but as long as the kidneys are healthy and functioning well,  it won't be a problem.- Rob
Was this question helpful to you?
2

out of 2 people found this question helpful.
ASK A NEW QUESTION
---

DOSE IT MATTER IF I TAKE OTHER PILLS AND TAKE AFTER MEAL? -RICH RODGERS

If you take prescription medications, check with your doctor to see if this will interfere. They don't specify if it should be taken with or without food, so you can do what's convenient.- Rob
Was this question helpful to you?
2

out of 2 people found this question helpful.
ASK A NEW QUESTION
---

how effective is argi-vive plus for hypertensive and diabetic persons -gary

Treating your medical conditions is something you'll have to discuss with your doctor.- Rob
Was this question helpful to you?
6

out of 11 people found this question helpful.
ASK A NEW QUESTION
---