Beyond Raw Refine Review – Does It Work?
By:
Rob Miller
Fact Checked On: 2-21-2015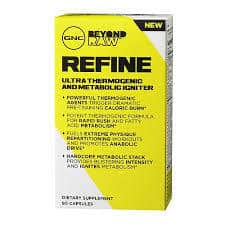 Beyond Raw Refine Overview
GNC doesn't just sell supplements. They make their own lines as well.

Their Beyond Raw line is made for the serious athlete looking to take his or her game to the next level.

So when they introduce their Beyond Raw Refine fat burner, it's not targeted toward couch potatoes who want to take a pill and lose weight.

It's for bodybuilders and serious fitness enthusiasts entering a cutting phase.
The promise of Beyond Raw Refineis a hard core thermogenic boost for dramatic pre workout calorie burn, energy and drive for your workout, increased anabolic capacity, and clear concentrated focus.

All this without jitters or crash like you'll get with so many other fat burners.

If it works like it says, Beyond Raw Refine might be some good stuff.

So a look at the formula is definitely in order.
Beyond Raw Refine Ingredients and How They Work
As a product in the Beyond Raw line, they remind you that Refine is not for everyone.

If you're not serious and pretty experienced, you should be looking at other options.

If you are, keep reading…
The formula is broken down in to a few different complexes, including:
The Herbal Anabolic Potentiator which includes Fenugreek, Rhodiola Rosea and Yohimbe provides an increase in testosterone, a boost in energy, and a resistance to fatigue.
The Nitric Oxide Magnifier which contains Beta Alanine and Resveratrol.

These ingredients are helpful in their own right, but it's a little confusing that they're included in the NO magnifier blend.

Beta Alanine delays the onset of muscle fatigue while Resveratrol fights against free radical damage to cells.
The Thermo Activator Blend which uses Black Pepper, Cinnamon Bark, Caffeine, L-Carnitine, Guggul Extract, and Toothed Club Moss for burning fat and increasing your metabolism at rest.
The Muscle Stimulator Blend which includes N-Acetyl-L-Cysteine, While Willow Bark, Green Tea Extract, L-TYrosine, Taurine, Prickly Pear Cactus Leaf Extract, and D-Glucoronolactonen.
The recommended dose is 3 Beyond Raw Refine capsules either with breakfast or before your workout.
Beyond Raw Refine Pros and Cons
Advantages of Beyond Raw Refine
There are plenty of positive Beyond Raw Refine reviews from serious bodybuilders who say it helps them work out longer and harder than ever.
Disadvantages of Beyond Raw Refine
Plenty of reviewers talk about how it smells awful and causes them to throw up, especially when taken on an empty stomach.
It may have been discontinued.
Where to Buy
Beyond Raw Refine is a GNC product, but it doesn't seem to be listed as one if their products.

The rest of the line is available, but Beyond Raw Refine is nowhere to be found.
Conclusion
While it may work for some, Beyond Raw Refine just isn't worth it if it's going to make you throw up when you take it.

I can't seem to find it available for sale, so my best guess is that it's been discontinued by GNC.
Have You Used Beyond Raw Refine?

Leave Your Review Below!
Top 3 Fat BurnersAffiliate Disclosure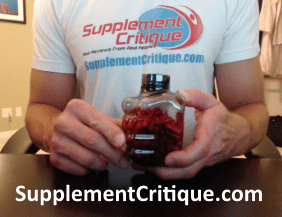 Instant Knockout is actually a new fat burning supplement I just came across, and got great results.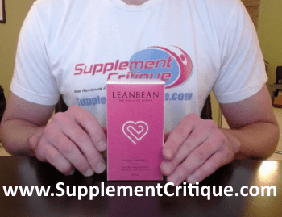 LeanBean Female Fat Burner is the BEST fat burner for women we\'ve ever tested.

Read our review here.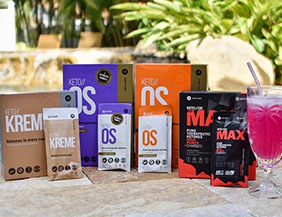 Biohacks your body into instant ketosis to burn fat instead of carbs.

Weight loss, energy, focus, anti-inflammatory, anti-aging.
How People Found This Review:
and beyond raw lit
Ask A Question
User Questions and Answers
---

Will it work for someone pushing 80 yrs. old. -Mervin

From what I hear about it, it's pretty strong and intense, and makes lots of guys who use it throw up. I wouldn't recommend it.- Rob
Was this question helpful to you?
1 out of 1 people found this question helpful.
ASK A NEW QUESTION