Catalyst Pre Workout Review – Should You Use It?
By:
Rob Miller
Fact Checked On: 5-2-2018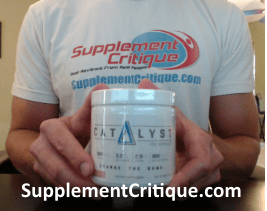 Catalyst Pre Workout Overview
When you want to get ripped and you work out regularly, the one supplement you should be taking is a pre workout supplement.

Trouble is, once you start looking around at all your choices, you find out there are so many your head will spin. So how do you choose?

Well, we've found that it helps a ton to start by know what you personally need and what you don't need.

Then you can start eliminating the ones that don't suit you.

At the most basically level, you generally want energy and good pumps.

On top of that, some guys want additional benefits like fat burning, muscle building, and/or help with post workout recovery.

Once you decide where you land on these issues, you can narrow your search and end up with the right pre workout for you.
Catalyst Pre Workout is made by Momentum Nutrition, a company with a "keep it simple" philosophy.

Their stance is that if it's a pre workout, let it be just that.

Other needs are best met by taking other supplements.

So what you're promised with Catalyst Pre Workout is superior energy, pump, and focus.

Nothing more and nothing less.
Catalyst Pre Workout Ingredients and How They Work
Momentum Nutrition has a strict policy against using "proprietary blends" in their formulas.

Basically that means they tell you everything that's in Catalyst Pre Workout, and they tell you how much.

This is important because a lot of products contain all the right ingredients, but they dose them at such low levels, you just don't get the benefit you're expecting.

But in Catalyst Pre Workout, you get the clinically tested doses.

The formula includes:
Beta Alanine. 3.2 grams which is the daily dose that's been clinically shown to delay muscle fatigue by increasing levels of carnosine in your muscles by about 44%.

If your muscles don't get tired so quickly, you can work out longer and harder.
Betaine. 2.5 grams which is the dose that's been demonstrated in clinical tests to increase muscle power output.
Beet Root Extract. 600 mg which contain high levels of Nitrate which leads to increased Nitric Oxide for better pumps and energy.
Alpha GPC. 300 mg which they say is twice as much as you'll find in most supplements.

It improves the mind/body connection and increases muscle contraction.
Caffeine. 250 mg which is a lot, but not too over the top.

They chose that dose because for most people, it's the right amount to improve energy and focus for most people.
Theanine. 100 mg which is well within the effective range.

It comes from Green Tea and it reduces negative effects of caffeine while enhancing the cognitive benefits.
Hordenine 50 mg and N-Methyl Tyramine 30 mg, both of which also magnify the benefits of caffeine.
Huperzine A. 50 mcg which increases acetylcholine which as you recall from above, improves muscle contractions and mind/muscle connections.
The recommended dose is one scoop of Catalyst Pre Workout taken preferably on an empty stomach about 30-45 minutes before your workout.
Catalyst Pre Workout Pros and Cons
Advantages of Catalyst Pre Workout
The dosing is precisely what you should need.

So when they say a tub is 30 servings, it really is.
It focuses only on pre workout needs, without cluttering it with other goals.
It's pretty affordable.
Disadvantages of Catalyst Pre Workout
There aren't any independent Catalyst Pre Workout reviews to help let us know how well it's working for real guys.
Where to Buy
You can purchase Catalyst Pre Workoutthrough their website.

The 30 serving tub sells for $29.99, which is a pretty reasonable $1 per serving.
Conclusion
Catalyst Pre Workout looks like a pretty good product, but we decided to find out for ourselves.We placed an order and plan to test it out soon very soon.

Check back here and we'll let you know our results.
Have You Used Catalyst Pre Workout?

Leave Your Review Below!
Top 3 Pre WorkoutAffiliate Disclosure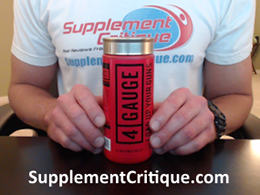 4 Gauge is a brand new pre workout that kicks in FAST and will rev up your workouts.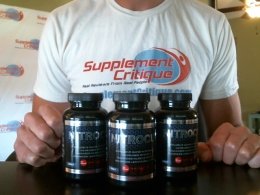 Nitrocut is a VERY effective pre workout supplement for a variety of reasons, see why here.
Want To Really Get Ripped?

Click Here To Download My FREE
Ask A Question
User Questions and Answers
No Questions Have Been Answered For This Article.