Cellucor P6 Black Review – The Nootropic Testosterone Booster
By:
Rob Miller
Fact Checked On: 12-1-2016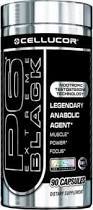 Contents
Overview
Ingredients
Pros and Cons
User Reviews
Stacking Cellucor P6 Black
Where to Buy
Conclusion
Reviews
Cellucor P6 Black Overview
You know we look at lots of testosterone supplements, but this one has me really excited, I have to admit. Not only is it the re-introduction of an old favorite, but it's got something completely new as well.
Back in the day, Cellucor P6 Blackwas one of the most effective testosterone boosters you could get. Then it got banned because its active ingredient was Androstenediol, a pro-hormone that got banned in the mid 2000's. Apparently, since then, Cellucor has been working on a legal replacement product and finally, Cellucor P6 Black has returned and the company claims is better than ever.

Cellucor P6 Black Ingredients and How They Work
Instead of pro-hormones, the new Cellucor P6 Black formula is anchored with D-Aspartic Acid, which increases testosterone through multiple channels. It not only stimulates your body to produce more, but it also keeps the testosterone you have from being bound up by SHBG (Sex Hormone Binding Globulin). The DAA in Cellucor P6 Black is slightly different in that it is chelated with Magnesium, which makes it more readily absorbed into your system.
In addition to this, magnesium is also required for the generation of ATP in the body, which is going to fuel each and every rep that you perform in the gym.1
Probably the most exciting new ingredients are Alpha GPC and D-Serine, which effectively make Cellucor P6 Black a Nootropic as well as a testosterone booster. Alpha GPC is a natural Choline compound which increases the neurotransmitter, Acetylcholine. This means it improves your cognitive functioning. D-Serine is an amino acid that also acts as a neurotransmitter, so it also improves memory.
Of course, there are plenty of other ingredients to round out the formula. These include Zinc, Vitamin D, and Vitamin B6 which are all instrumental to the body's chemical process of producing testosterone.
ZMA, a supplement you can purchase all on it's on, contains zinc, magnesium, and vitamin B6, and has been proven to assist with improving sleep quality, which can then also help you maintain higher testosterone levels and enhanced recovery between workout sessions.
Zinc is lost from the body every time ejaculation occurs, so for men with an active sex life, the chances of being low in zinc can be quite high.
The recommended Cellucor P6 Black dose is 3 capsules daily, and it is suggested that you only take it for a 4 week cycle before cycling off to give your body a break from the effects it provides.
By cycling in this manner, you'll help ensure that each cycle of it you do, you notice the full effects being exerted.
It doesn't matter whether you take this product with food or without, but it is advised that you take two capsules in the morning and 1 capsule before bed to see full effects.
Continual and constant use would not only be hard on the body, but may also cause you to see diminishing returns with regards to the benefits it offers you.

Cellucor P6 Black Pros and Cons
We like to keep things objective, and a great way to do that is to list the pros and cons of a product side by side.
Advantages of Cellucor P6 Black
Most of the Cellucor P6 Black reviews we've seen are very favorable. The benefits cited run the gamut from increased focus and energy to clear-mindedness, to insane strength, better sleep, and off-the-charts sex drive.
There is a 30-day money back guarantee.
It's seems to have successfully combined testosterone boosting with nootropics.
It'll help boost your motivation for the gym.
Disadvantages of Cellucor P6 Black
It's expensive.
We've seen a few reviews that state that the full dose causes nausea.
It must be cycled, which some individuals may not prefer.
User Reviews, Complaints, And Comments
One very important thing that you must consider whenever you purchase a product is what others who've used it experience.
Getting a number of views is wise as what works for one person, doesn't always work for another so this will better allow you to spot trends you should be on the lookout for.
One positive comment about Cellucor P6 Black is that users tend to report maintaining their strength while cycling off.
This is important as there's nothing more frustrating than coming off a product only to find that your strength starts going down to the tubes.
This is one way many products essentially get you hooked – if you're only strong while on the product, chances are you will always be using the product.
Other users report very high libido levels, so much so that it can get frustrating at times.
For some people, this may be a benefit, but for others, considered a downside.
Increased focus and concentration is something that is stated again and again with this product, so if you want to up the intensity of your workout or simply want more focus on as you go about your workday, this product will deliver.
Check out some of these user reviews we found on Youtube:
Stacking Cellucor P6 Black
You might also want to think about stacking Cellucor P6 Black with other products as you go about using it.
It'll be fine to stack this with a standard whey protein powder, any creatine product you use, along with recovery based supplements.
Do be more careful when stacking it with any sort of fat burner however or other stimulatory product.
While P6 Black doesn't contain caffeine or a stimulant, you'll want to see how you react to the nootropics element first to ensure that you tolerate that well.
As caffeine or other stimulants also boost focus and concentration, you don't want to overdo it. After using P6 Black for a few weeks (or one cycle), feel free to try adding your stimulatory supplements after that if you so choose.
Cellucor P6 Black Vs. P6 Extreme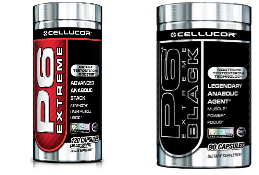 If you're a fan of Cellucor products, you may be wondering what the difference is between the P6 Black product and the P6 Extreme.
Both seem like attractive options and both are in fact testosterone boosters.
Which should you go with?
The main difference to consider is the fact that P6 Black has the nootropics focus, whereas P6 Extreme does not.
If you do want more focus and concentration in the gym, P6 Black is the route to go.
Then in addition to that, P6 Extreme relies on a greater amount of herbal ingredients that will help boost testosterone levels higher.
For older males who may be experiencing a sharper decline in testosterone, and therefore have more room for increase, this would be the better product to choose.
If you also aren't looking for the focus boost then P6 Extreme might be what you consider.
In addition to that, the P6 Extreme product is also designed to minimize the conversion of testosterone to DHT and can also help to block estrogen formation, so if that's an issue for you, something else to consider.
Another thing that you may wish to consider if you dislike taking the break period from P6 Black is that you can stack both products, one after another.
While you are not advised to use them at the same time, you can do your 4 week cycle of P6 Black and then move into an 8 week cycle of P6 Extreme, giving you 12 full weeks on a testosterone booster before having to cycle off for a rest period.
For those who prefer extended cycles, this can be a good way to go.
Cellucor P6 Black Vs Animal Stak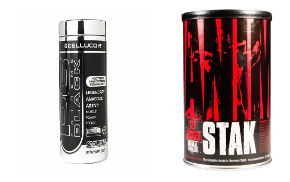 Another very popular testosterone booster on the market you may be wondering about is Animal Stak.
How does Cellucor P6 Black compare?
Both products do contain positive ingredients that should show an increase in testosterone levels.
One marked difference between the two however is with Animal Stack you'll need to cycle three weeks on, one week off.
Some will find this cycle just too short to produce full results, so the four week cycle that Cellucor allows may be more attractive.
On the plus side however, Animal Stak contains a much greater number of ingredients, which are not only aimed at boosting testosterone levels, but that can also amplify growth hormone as well as help speed recovery.
So with Animal Stak, you'll have a full support product, while with Cellucor P6 Black, you may want to pick up a recovery product as well.
This may not be a bad thing though depending on your preferences.
If you already have a recovery product you enjoy using, you could be better off sticking with it.
Cellucor P6 Black For Fat Burning
You might be wondering whether it's a good idea to take Cellucor P6 Black during a fat burning phase.
Will it still benefit you?
While you can certainly use it to help you maintain strength, keep in mind that since this product primarily aims to help you build muscle, and to build muscle properly you need to be in a calorie surplus, this means you see far superior results taking it during a mass gain phase.
So you can use it, but note that it will not be optimal.

Where to Buy
You can purchase Cellucor P6 Black at GNC stores or online. The 90 capsule bottle is a 30-day supply and costs $89.99, though you can find it less on Amazon. If you buy from the Cellucor website, you'll be covered by the 30 day guarantee.

Conclusion
Aside from the price, we've got no complaints about Cellucor P6 Black.
In fact, I list it as one of the best testosterone boosters you can buy in GNC.
It'll help to both increase your physical potential in the gym, as well as help to boost your mental drive and determination.
With both of these working together, you should see superior results compared to just focusing on one element alone.
Unfortunately, the price is pretty steep, especially if you're planning to stack it with other supplements. If you're really interested, I'd suggest you go ahead and buy it from the website, planning on exercising the guarantee if you're not satisfied.

Have You Used Cellucor P6 Black? Leave Your Review Below!
Reference:
1. http://www.prohealth.com/library/showarticle.cfm?libid=14606
Top 3 Testosterone BoostersAffiliate Disclosure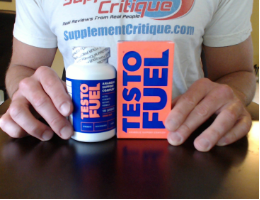 Testofuel is the most effective testosterone boosting supplement on the market that i've tested.
It uses a unique blend of effective testosterone boosting ingredients that will help transform your life.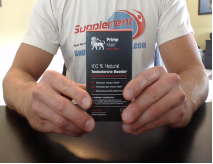 Prime Male is a VERY close 2nd to Testofuel, but contains ingredients to help older men. See why we recommend Prime Male for guys aged 40+, as well as my personal results.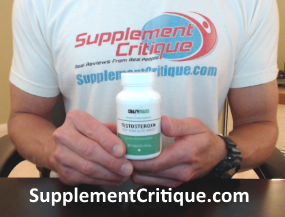 Testoroxyn uses DHEA and other ingredients to help boost free testosterone. See how Testoroxyn is different from Testofuel and Prime Male, as well as my personal results.
Check Out My Top Choice For T Boosters - Testofuel

Click Here To Read My Review
Ask A Question
User Questions and Answers
---

I'm 58 yrs old . I lack the motivation to go to the gym. Which one of these is better for me where i have alot of room to add testosterone to my body, extreme or black? -marc

Since you lack motivation and want to increase testosterone, go with Black.- Rob
Was this question helpful to you?
2 out of 2 people found this question helpful.
ASK A NEW QUESTION
---

Does your product elevate the heart rate? Will it aggravate an arrhythmia (Afib)? At 53 I have a real need for a testosterone Booster, but being troubled with an arrhythmia in the past I need to be careful about what supplements I take. Your product looks promising but there is no mention of whether it affects the pulse. -James Collins

Yeah I would avoid this one.  Because it contains D-Aspartic Acid, it does have the chance to cause heart palpitations / make your arrhythmia worse.  I'm afraid most of these testosterone boosters contain ingredients that can cause these problems.- Rob
Was this question helpful to you?
3 out of 5 people found this question helpful.
ASK A NEW QUESTION
---

I got p6 black but I didn't ask what is that doing for body and how I can use that ? -Steven

Take 2 capsules in the morning and 1 at night.- Rob
Was this question helpful to you?
1 out of 1 people found this question helpful.
ASK A NEW QUESTION
---

As a former prostate cancer patient is this a safe product? -craig

That's really a question for your doctor. I don't have the medical knowledge or training needed to answer.- Rob
Was this question helpful to you?
1 out of 1 people found this question helpful.
ASK A NEW QUESTION
---

You don't need to take this before workouts. It's more important to try to take it at around the same time each day. If you've missed your dose, just take it when you remember. -

You should take it with a meal if you miss it pre workout. Just make sure you don't take it too close to bed time.- Rob
Was this question helpful to you?

ASK A NEW QUESTION