Elevate GF Review – Does It Really Work?
By:
Rob Miller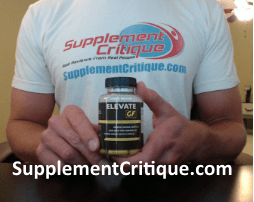 Elevate GF Overview
When a guy decides to get in shape and improve his body, he tends to reach for help in the form of a supplement. It makes sense.

You've got to eat lean, get enough protein, and get to the gym for a lengthy workout most days of the week.

It's hard work and you want to see results… as fast as possible.

Taking a pill that can help only makes sense.

There's certainly no shortage of options, and that's where we come in.

We find those options and help you figure out which ones are likely to benefit you and which ones are, well, crap.
Elevate GF has been popping up on my radar a lot lately, so I decided to sit down and take the time to check it out.

The first thing I noticed is the claim that taking Elevate GF will make you taller. What!?

A supplement that will make a grown man taller?

Why haven't I heard of this before?

If it's for real, this stuff is a gold mine.

Just the market of would-be basketball players would be enough for this company's owner to retire on.

Well, not to get ahead of ourselves, let's look at what Elevate GF is and how it works.
How Elevate GF Works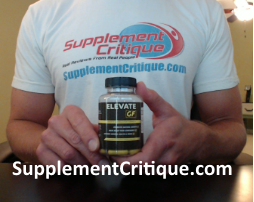 The idea behind Elevate GF is a little hard to follow.

On the one hand, the official website explains it like this: Elevate GF makes sure you have optimal levels of Growth Hormones so you can get the recovery and growth you're looking to get out of a good night's sleep.

It also puts you in a better mood and gives you more confidence, presumably because you're getting that good night's sleep and because you're taller.
On the other hand, we also read that Elevate GF is a supplement that is supposed to give you increased energy and help you build lean muscle when combined with gym time, cardiovascular exercises and healthy eating habits.

Whereas there are some proven supplements that can help boost your energy levels as well as raise your appetite, and thus encouraging more intense working out sessions, simply taking a pill and waking up ripped one day does not happen.
The Buzz
The overall buzz around the internet about Elevate GF is mixed, but there is actually some credible evidence that this supplement does boost your energy level and helps you to recover faster.

Elevate GF does make a few claims that obviously cannot be true but that may not mean it is useless.
As far as making you taller?

There is a post on a medical Q&A site that addresses that very issue from a user of Elevate GF.

Needless to say the user posted they had not seen any results after using the supplement for the last three weeks.

But I am sure (or hope) you would have guessed that!
On the positive side there are a few comments on the internet that seem credible and actually claim to have seen improvements from using some of the ingredients that are used in Elevate GF.

The reviews about Mucuna Pruriens are positive overall and one review in particular claimed a pretty amazing recovery by a man who was very sick and weak.

It sounded like more of a case of increased energy as opposed to a pure increase in strength though.
Elevate GF most likely will not make you taller but based upon the ingredients and the buzz around the internet you may experience some positive effects from this supplement.

Based upon the research I had done I was intrigued to find a little more about Elevate GF so decided to actually try it out myself.

You can see what my personal experience was below.
Elevate GF Ingredients
The website doesn't make a complete list available, but it does specify some of the key ingredients and how they contribute to the benefits you can expect:
Mucuna Pruriens helps your body produce Dopamine which improves mood and movement, and increases your sexual appetite. It does this because the herb actually contains L-DOPA, an amino acid that is actually a precursor to the neurotransmitter dopamine, and has been successfully studied in rats to do so. (source: Wiki – Mucuna Pruriens)

Rhaponticum Carthamoides which may increase protein synthesis, thereby building muscle tissue.

It's also an antioxidant that helps improve memory and learning.
Terminalia Arjuna which strengthens the heart muscle.
Phyllanthus Emblica contains Vitamin C which is an antioxidant for helping to reduce wrinkles and skin pigmentation.

It also may have antiviral and antimicrobial properties as well.
There is no information given on how to take Elevate GF, just that taking it results in a good night's rest during which your body can produce more growth hormones so you can grow inches taller, and put on more muscle from your workouts.
My Personal Results With Elevate GF
After alot of requests from my sites visitors, I finally got a chance to try out Elevate GF myself and I gotta say the results were OK, but not wonderful. One thing I noticed right away was that I was actually sleeping better. While I don't know if I can attribute this to the supplement, and I didn't feel groggy or anything in the morning like I do with some other sleep aids, I definitely noticed that I would literally sleep through the whole night for 7 or 8 hours and wake up feeling very refreshed.
In turn, I think this actually did help me as far as my overall mood and motivation for the gym, but I didn't really seem to notice any major "lean muscle" building effects from Elevate GF.
Popular Muscle Stacks Involving This Supplement:
– Elevate GF and 1285 Muscle
– Elevate GF and Amino Prime
– Elevate GF and Muscle Factor X
Where to Buy
Elevate GF is only available through a free trial offer, but it comes with a catch.

When you order a month's supply, you pay only shipping at first.

If you do not cancel within 14 days of placing your order, you will be charged $87.47 for the "free trial" product and $87.47 each month thereafter for your automatic monthly shipments.These kinds of setups are notorious for being difficult to get out of once you're in.
Elevate GF Pros and Cons
Advantages of Elevate GF
I experienced increased sleep quality

Better sleep did put me in a better mood
Disadvantages of Elevate GF
The claim that an adult male will grow inches taller when taking Elevate GF is preposterous at best.

The only way to order is through the free trial offer for which you have to enter into a contract wherein you're making monthly payments that you didn't necessarily plan to make.

The ingredients don't support the claims to make you taller.


Elevate GF is expensive.
Conclusion
After personally testing out Elevate GF myself I felt inclined to change up my conclusion a bit. While you'll see in the comments section below there are alot of guys that are ticked off at the free trial, the supplement does indeed seem to work to some degree. Of course, I don't really believe in the hype about it making you taller, but as far as a somewhat decent workout supplement, I think there is some potential here. I think that if they just made the product available for sale without enrolling you into a free-trial, auto-rebill nightmare, they would stand out as one of the more effective supplements and not gain such a bad rap.
Have You Used Elevate GF?

Leave Your Review Below!
Top 3 Pre WorkoutAffiliate Disclosure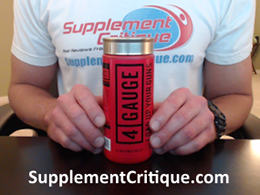 4 Gauge is a brand new pre workout that kicks in FAST and will rev up your workouts.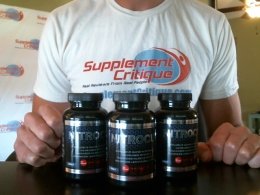 Nitrocut is a VERY effective pre workout supplement for a variety of reasons, see why here.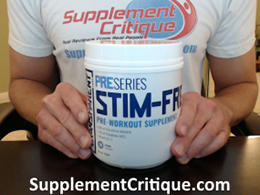 If you're looking for a stim-free pre workout, add Transparent stim-free to your list!
3 Star User Reviews

3.4 out of 5 Stars (5 Reviews)
Have you used this supplement?
Elevate GF Final Thoughts
For the time I have utilized Elevate GF, all I have really noticed have been health and mood improvements. Natural growth has been very minimal at best, and I am close to the age of 23. I will personally seek L-Glutamine as my next best option for increasing my levels of Human Growth Hormone (which is responsible for every kind of body growth). Customer service has greatly declined and it definitely seems as though the company cheapened such service. On many recent occasions, nearly every agent I have inquired for solid proof on the product seems pathetically incapable of providing it since they are simply "a billing department". Overall, I would rate Elevate GF with a 2/5 for performing as advertised, 0.001/5 for their most recent change in their customer service, 5/5 for safety, and 4/5 for general effectiveness. Elevate GF, this is a great product for health, but there are definitely more affordable and potent alternatives present in today's supplement market. Thank you for close to 15 months of health and wellness.?

Was this review helpful to you?

---
ELEVATE GF
I have just started using Elevate GF. I'm stacking it with hyper fuel 9x. Haven't been in gym in a while. Seems like it helps with recovery to where hyper as a prework out gives me focus. Didn't realize about the auto bill till got second one in mail. All I did was call # on bill. By the way both are same # and canceled order.

Was this review helpful to you?

---
Want To Really Get Ripped?

Click Here To Download My FREE
Ask A Question
User Questions and Answers
No Questions Have Been Answered For This Article.