Epiphany D1 Review – Should You Use It?
By:
Rob Miller
Fact Checked On: 12-3-2013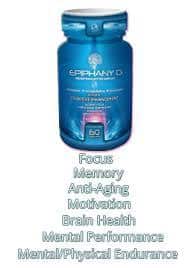 Epiphany D1 Overview
Turn your potential into prosperity. That's what Epiphany D1 says it can do. A couple of years back, there was a movie called Limitless, where a lazy, down-on-his-luck guy (played by Bradley Cooper) took a pill and all of a sudden became smart, motivated, focused, and energized to the point where he made a fortune in the stock market one morning and wrote a novel that afternoon.

Nootropics have been around since long before Limitless, but their popularity has increased exponentially since its release.
Epiphany D1is classified as a nootropic stack. That means it combines several different mind enhancing components in attempt to provide the most complete benefits, including:
Improved memory
Increased learning ability
Better communication between the two sides of the brain
More energy
Greater oxygen supply to the brain
Better verbal fluency
Improved motor skills
Protection of brain cells against the effects of aging
Epiphany D1 Ingredients and How They Work
Lots of the nootropics we look at are single ingredient supplements. Epiphany D1 is a stack so it includes several of those as well as some other nutrients and herbal ingredients. A list of the highlights includes:
Aniracetam which is a fat-soluble nootropic known to act on AMPA receptors. It's been clinically shown to improve memory.
Oxiracetam is a water-soluble nootropic known to be very fast acting. It boosts mental energy and help along the process that turns choline into the neurotransmitter acetylcholine.
Vinpocetine which increases the brain's energy by improving the way oxygen is used.
Alpha GPC which is a precursor to acetylcholine. It's very bioavailable and crosses the blood-brain barrier easily.
Sulbutiamine which is a form of Vitamin B1 (or Thaimine) that's been clinically shown to improve memory and decrease anxiety.
Phosphatidylserine which helps repair brain cells and help them communicate better with each other.
Caffeine which is of course a stimulant and mood enhancer.
Bacopa Monnieri which is an herb that elevates mood and improves memory. It also protects brains cells from damage.
Epiphany D1 is also rounded out with Chromium, B Vitamins, Folic Acid and Zinc to help provide the nutrients the brain needs to function more seamlessly.
The recommended dose of Epiphany D1 is1 to 2 capsules taken twice a day, 5-10 minutes before eating.
Epiphany D1 Pros and Cons
Advantages of Epiphany D1
As a stack, it provides several important nootropic ingredients.
There is a 30 day money back guarantee.
Epiphany D1 reviews show that people are experiencing positive effects, primarily energy and better recall.
Disadvantages of Epiphany D1
It's expensive.
With so many ingredients, there are two potential problems. One is that there may not be enough of each one to be really effective. The other is that if it is effective, it's hard to tell which component is providing the benefit.
It may create a tolerance with daily use.
Where to Buy
You can purchase Epiphany D1 through the official website. There's a trial package of 10 capsules for $19.95 or a 60-count bottle for $64.95. Buying in bulk will result in a small discount.
Conclusion
There are so many different ways to go if you're wanting to enter the world of cognitive enhancement supplements. Epiphany D1 uses the approach of stacking a bunch of components in one supplement. It's definitely been a help to some of the guys who've written reviews on supplement forums. Given that there's a money back guarantee, it shouldn't hurt to try.
Have You Used Epiphany D1? Leave Your Review Below!
Top 3 NootropicsAffiliate Disclosure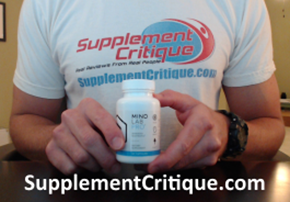 Mind Lab Pro is a VERY effective nootropic for focus, concentration, short / long term memory, and more.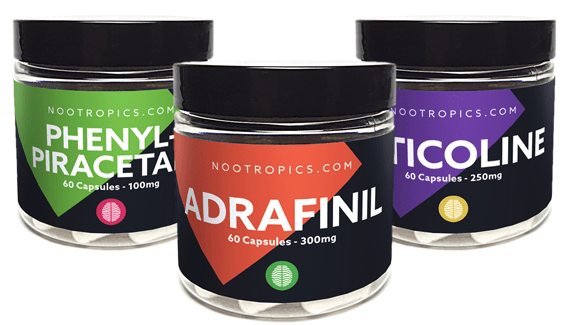 The Ultimate Nootropics Stack by Nootropics.com is one of the most effective stacks I've taken.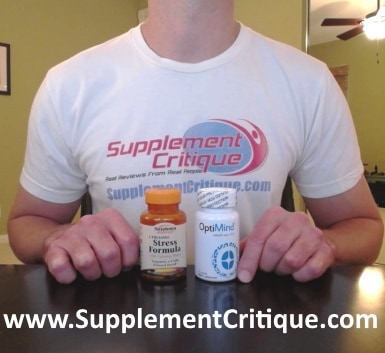 The combo of L-Theanine and Caffeine is a well known nootropic stack that really works.
Want To See What Supplements
Work Like Adderall?

Click Here To Find Out!
Ask A Question
User Questions and Answers
---

is it "EPIPHANYd1" Tablet is comes under doping in Athletics..?.? -Bijili.P.C

A few nootropic supplement ingredients are banned by some sports organizations, including phenylpiracetam.  Epiphany D1 has aniracetam, so I would check with your organization to be sure.- Rob
Was this question helpful to you?

ASK A NEW QUESTION