Extreme Edge Pre Workout Review – Does It Work?
By:
Rob Miller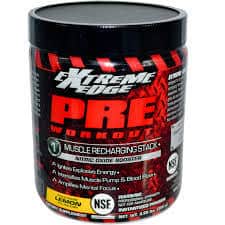 Extreme Edge Pre Workout Overview
When choosing a pre workout formula, most guys want clean energy with no crash.

There are other requirements too, no doubt, but clean energy with strong, smooth, lasting motivation is at the top of the list.

That's what Extreme Edge Pre Workout promises.

It's part of the Extreme Edge Stackfrom Bluebonnet Nutrition (including Carbo Load and Post Workout formulas) which was designed to skip all the additives and banned substances in favor of a more clean, natural product that does the job better than you would expect an honest product to do.
With Extreme Edge Pre Workout, you'll get clean energy, solid pump, and clear focus, and you'll be able to last longer and push harder at the gym for drastically better results.
Extreme Edge Pre Workout Ingredients and How They Work
Extreme Edge Pre Workout relies on a few key, trusted components to get the job done.

There's:
CarnoSyn which is a well-studied form of Beta Alanine.

It decreases the amount of lactic acid build up in your muscles, so they don't get tired and fatigued as quickly.

If you can go another set in the gym, your results will show it.
L-Taurine and L-Tyrosine are free form amino acids that help with protein synthesis and muscle recovery because if you can get back to the gym in full force sooner, you'll see that in your results too.
Caffeine from natural sources so you've got the energy you need to get motivated and focuses through your entire workout.

The level of caffeine in Extreme Edge Pre Workout is low enough so you're not all jittery and you don't end up with a crash half way through the day either.
L-Arginine to boost nitric oxide for better blood flow which means more efficient delivery of oxygen and nutrients to your muscles when you're working out.
Creatine to give your muscles the energy they need to push harder through your workout.
BCAAs (Branched Chain Amino Acids) including L-Leucine, L-Isoleucine, and L-Valine, for improved post workout recovery.
The recommended dose is 1 scoop with water about 15-30 minutes before working out.
Extreme Edge Pre Workout Pros and Cons
Advantages of Extreme Edge Pre Workout
The ingredients are natural.
It's cheap.
There are plenty of favorable Extreme Edge Pre Workout reviews from customers who've used it.
Disadvantages of Extreme Edge Pre Workout
Several reviewers say the taste is awful.
For some users, there's not enough of a stimulant pop.
Where to Buy
You can find Extreme Edge Pre Workout for sale online. The 30 serving tub goes for anywhere between $17 and $20, which puts it at the low end of the price scale.
Conclusion
Usually, clean and natural doesn't pair well with inexpensive.For instance, the price of organic vegetables is much higher than their counterparts.

With Extreme Edge Pre Workout, this isn't the case.

If you're moving toward a cleaner diet, and you need an affordable pre workout formula, give Extreme Edge Pre Workout a try.
Have You Used Extreme Edge Pre Workout?

Leave Your Review Below!
Top 3 Pre WorkoutAffiliate Disclosure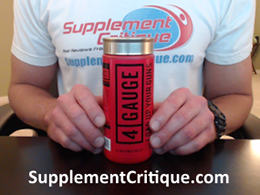 4 Gauge is a brand new pre workout that kicks in FAST and will rev up your workouts.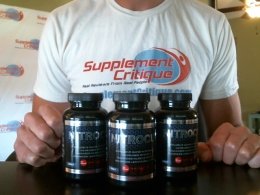 Nitrocut is a VERY effective pre workout supplement for a variety of reasons, see why here.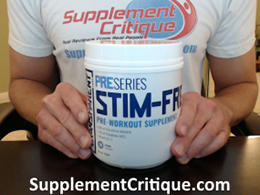 If you're looking for a stim-free pre workout, add Transparent stim-free to your list!
User Reviews

5.0 out of 5 Stars (2 Reviews)
Have you used this supplement?
EXTREME EDGE is my GO TO
I love the GRAPEFlavor (My spouse Dislikes it) She LOVES The Lemon ( I Dislike it, but will use it if i run out of grape. Honestly gives me hours of HIGH ENERGY, at first we'd get the itchies, but i guess our bodies have adapted. I am a Group Fitness Trainer, I drink 1 serving between 5am and 7am and It still has been running around hyped up til Noon on a good day. I absolutely love the fact that it is pretty much all natural and cost effective. I recommend this over VEGA Pre Workout and Advocare Spark which just tastes nasty and is full of artificial crap. Try this, you def will NOT be disappointed.

Was this review helpful to you?
5 out of 5 people found this review helpful.
---
James's Review
This stuff works really well, first time using it today and I felt like a 300 Spartan.

Was this review helpful to you?
1 out of 2 people found this review helpful.
---
Want To Really Get Ripped?

Click Here To Download My FREE
Ask A Question
User Questions and Answers
---

DO EXTRAMEDGE PRE WORK OUT ENHANCE YOUR SEX LIFE -James

It increases nitric oxide in your body, so it can improve your erections, but it does nothing for your libido.- Rob
Was this question helpful to you?

ASK A NEW QUESTION
---

Rob, Just curious, wouldn't adding Citrulline and Glutamine to this pre-workout may it the perfect all in one pre-workout (i.e. I did not include some form of beet root juice because it has to be taken about two hours prior to workout)? -James

It could definitely work. I hesitate to say anything would be the perfect pre workout however, since different guys have different goals and preferences.- Rob
Was this question helpful to you?

ASK A NEW QUESTION