Focus Formula Review – Best Memory Supplement?
By:
Rob Miller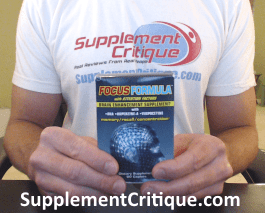 Focus Formula with attention factors is a widely available brain and memory enhancing supplement made by Windmill Health Products, a reputable supplement company that's been making products for sale at over 3,500 pharmacies for over 40 years. Their Focus Formula product is made to energize the brain while it improves memory, recall, and concentration.
Memory and overall mental function supplements are becoming more and more popular with each passing week it seems like and with good reason, so Focus Formula has put their best foot forward to be a standout in the field.
By combining recognized cognitive enhancing ingredients with vitamins and other nutrients for nutritional support, Focus Formula strives to boost your mood, your memory, your concentration, and your focus.
There seem to be lots of pleased customers out there, judging from many of the Focus Formula reviews we read, so we've looked into what goes into the formula and how well you might be able to expect it to work.
Note: There is another supplement called Formula Focus, which is a totally different product that is not the focus of this review.
Focus Formula Ingredients and How They Work
The first ingredients listed on the label are vitamins:
Vitamin C
Vitamin E
Vitamin B-6
Folic Acid
Vitamin B-12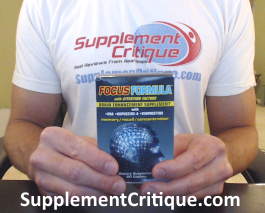 The B vitamins help with cell energy conversion and cell division. They are believed to contribute to the metabolic processes necessary for proper brain functioning. Vitamin C helps with muscle recovery and stress hormone levels.

And Vitamin E is an antioxidant used to boost brain functioning in Alzheimer's disease patients.
Next are the compounds more specifically targeted to improve memory and focus:
DMAE which may increase levels of certain key neurotransmitters to improve brain functioning.
DHA Complex which helps improve the stress response.
Alpha Lipoic Acid is an antioxidant that helps minimize the damaging effects of free radicals.
Vinpocetine which has been shown to improve the symptoms of dementia in patients of all ages suffering from various brain diseases.
Huperzine A causes an increase in choline levels in the brain.
Choline is a key neurotransmitter necessary for optimal communication between different parts of the brain and body.
Click Here to see a picture of the label.
The recommended dose of Focus Formula is 2 caplets daily with a meal or as directed by your physician or pharmacist.
Who Makes It?
As mentioned previously, Focus Formula is made by a company called Windmill Health products, which is located in West Caldwell, NJ. They make a wide variety of other supplements, including B complex vitamins, sleep aids, and a garcinia cambogia supplement.
What People Are Saying About It
All in all, the reviews and testimonials for Focus Formula are very positive. The vast majority (about 80%) of the reviews on Amazon rate it 4 stars or above, and the negative reviews seemed to be complaining more about the packaging rather than it's effectiveness.

The same can be said on drugstore.com, where 30 reviewers rated it an average of 4.3 out of a possible 5.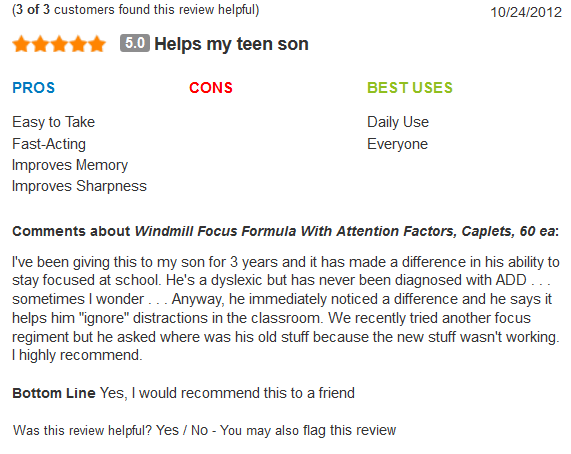 My Personal Results
I have to say, I was fairly impressed by this supplement. It seemed like it took a few days to kick in, but I could definitely "feel it". It seemed to allow me to focus on tasks that were usually relatively boring, and get stuff done at a faster rate.
More than anything, in a way it seems like it almost took the monotony out of doing things that just needed to be done quite frankly, and I enjoyed the way it affected my brain function and mood.
This echoes many of the sentiments mentioned in other reviews, particularly on Amazon.
I only got a chance to test it out for 2 weeks, but towards the end of the second week it seemed like it was having a positive effect on my memory. I seemed to be remembering mundane details like what I had for dinner a few days prior, I remembered the first AND last name of a complete stranger I met, and I even seemed to be answering questions much quicker when watching Jeopardy.
It definitely seemed to help improve my attention span too. I felt like I was becoming more engaged in conversations that would usually leave me mentally drifting away from.
I tested out my attention span by deliberately picking out a boring article in a nat geo magazine I had laying around, and found myself actually reading (and understanding) all of the material.
As far as side effects, I didn't seem to experience any. There was no jitters, no anxiety, and no insomnia to speak of (likely because of the lack of caffeine).
With that said, I would definitely recommend that you take it earlier in the day, or at the VERY least don't take it at least 6 hours before bedtime. Focus Formula does have a few very mild stimulants that may interfere with sleep.
Also, although rare, Huperzine A does have the potential to cause side effects like sweating, blurred vision, restlessness, twitching, and high blood pressure.
Again, I personally did not experience this, but I thought you should know.
Focus Formula Pros and Cons
Advantages of Focus Formula
It is much more affordable than most other options.
Most Focus Formula reviews from customers to be found on retailers' websites are quite positive.
The formula includes vitamins and some of the other compounds we hope to find in memory supplements.
It's widely available.
Disadvantages of Focus Formula
Some customers have found

Focus Formula

not to work for them.
Where to Buy
You've got lots of purchasing options for Focus Formula. You can get it at Walmrt and CVS both online and in stores, although not in all of them. It's also available through the Windmill Health Products website, Amazon, and The Vitamin Shoppe.
GNC used to carry it, but it appears they no longer do so. The price is usually between $12 and $15 depending on where you go.
Conclusion
Given the ingredients, the reviews, and the price, we see no reason not to recommend that you try Focus Formula. You'd be hard pressed to find a better combination of inexpensive and likely to work than is available with this product.
Of course, there's no way to tell if you'll get the same results I did, but it's certainly worth a shot.
Have You Used Focus Formula? Leave Your Review Below!
Top 3 NootropicsAffiliate Disclosure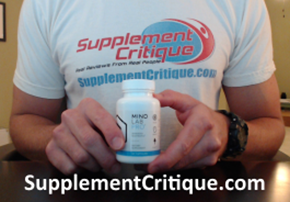 Mind Lab Pro is a VERY effective nootropic for focus, concentration, short / long term memory, and more.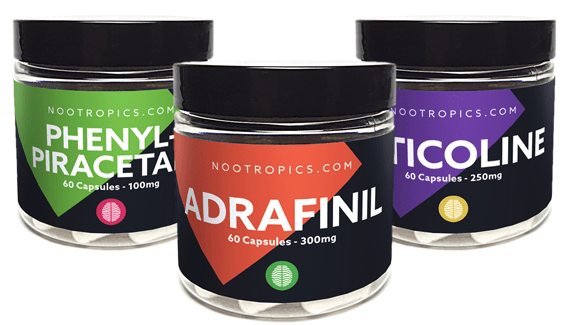 The Ultimate Nootropics Stack by Nootropics.com is one of the most effective stacks I've taken.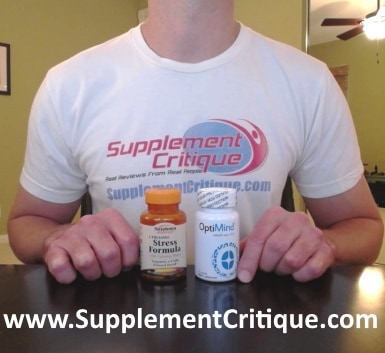 The combo of L-Theanine and Caffeine is a well known nootropic stack that really works.
User Reviews

1.0 out of 5 Stars (2 Reviews)
Have you used this supplement?
Georgine f gathings's Review
By
Georgine f gathings

,
Apr 10, 2017
for what its worth i only wanted 1 bottlewhen i tlooked on my messeges my bank took out $149.75 they charged me for4 or more. now my overdraft was used....there goes my PGE BILL&mycredit,been on the pc for hours still cannot find the link for rfeturn policy ill call my lawers in the AM

Was this review helpful to you?

---
Won't refund! Rip off!
By
Capt. Jeffrey Hathorn

,
Aug 29, 2017
Focus Formula immediately gave me diarrhea! I tried to call company several times. It took five days to talk to someone for a refund. I got a return order number and sent the product back within the alotted time with a return order number via registered USPS in the original box packing, using only three capsules.

Was this review helpful to you?

---
Want To See What SupplementsWork Like Adderall?

Click Here To Find Out!
Ask A Question
User Questions and Answers
---

Can you take this product if you are taking antidepressant? -Ashley

Whenever you take prescription medications, you need to consult with you prescribing doctor before starting any new supplements.- Rob
Was this question helpful to you?
2 out of 2 people found this question helpful.
ASK A NEW QUESTION
---

Can you tell me where I can still get this product. It appears it has been taken off the shelves. When I order it on Amazon the picture and box is the same, however, when the package arives it is a reformulated version and does not work the same. I have been using this for some time and would like to get the same thing. Thank you. -Randy Schwartz

I'm not really sure.  I don't see it listed on the Windmill Health Products website. You may want to give them a call directly to see what's going on. Their number is (973) 575-6591.- Rob
Was this question helpful to you?

ASK A NEW QUESTION
---

when can i can take it? how long do i have to wait to take another? -meiwah

The recommended dose is 2 pills daily with a meal.  Because of the stimulants, I wouldn't recommend you take more than that, and you should take it earlier in the day so it doesn't interfere with your sleep.- Rob
Was this question helpful to you?
0 out of 1 people found this question helpful.
ASK A NEW QUESTION