LA Muscle Nuclear Creatine Review
By:
Rob Miller
Fact Checked On: 5-1-2021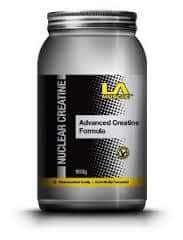 LA Muscle Nuclear Creatine Overview
You've probably heard me say it before, and it's true.

Creatine is the most well-studied bodybuilding supplement there is.

It's been proven safe and effective over and over again, and it's been used by bodybuilders and workout enthusiasts alike for lots and lots of years.

With that kind of popularity comes lots of variation as well.

Creatine monohydrate is the flagship, but many others have come along claiming to provide better efficiency and fewer side effects (namely water retention.) LA Muscle Nuclear Creatine is one option we were asked to look at recently.

It starts with creatine and adds a few other components, claiming to be the ultimate creatine workout supplement.
The specific claims made by LA Muscle Nuclear Creatine are:
Increases in muscle strength and size
Greater pumps so your muscles look fuller in the gym and all the time.
Increases testosterone and growth hormones.
Fast-acting so you'll feel the effects in minutes.
LA Muscle Nuclear Creatine Ingredients and How They Work
So what are these other components that LA Muscle Nuclear Creatinesays makes it so effective?

There's
Creatine Monohydrate which provides fast twitch energy to your muscles.
D-Aspartic Acid which has been shown to increase your body's natural testosterone levels by 42% in 12 weeks.

One serving of LA Muscle Nuclear Creatine contains about half the dose of DAA that gave those results in a clinical study.
L-Ornthine Alpha Ketogluterate which increases nitric oxide for better muscle pumps and decreases muscle fatigue.
Taurine which increases the effectiveness of creatine.
Dextrose which increases the speed at which creatine takes effect.
The recommended dose is 1 scoop mixed with water.

You should take 2 doses per day to get effective levels of the ingredients.

If you've never taken creatine before, it's recommended that you load up with 4 doses a day for 4 days.

If you're simply trying to maintain, take one dose 15 minutes before training and one dose 15 minutes after training.
LA Muscle Nuclear Creatine Pros and Cons
Advantages of LA Muscle Nuclear Creatine
There are lots of favorable LA Muscle Nuclear Creatine reviews.

In fact, I haven't seen any that aren't positive.
The ingredients are natural.
It combines creatine with the testosterone boost of DAA,
Disadvantages of LA Muscle Nuclear Creatine
Where to Buy
You can buy LA Muscle Nuclear Creatine online through the LA Muscle website as well as some other retailers.

A single tub sells for about $110.
Conclusion
LA Muscle Nuclear Creatine may work, but I just don't see how they can justify the high price tag.And the fact that you need at least 2 doses a day doesn't help.

You can get creatine and the other ingredients pretty cheaply.

My recommendation is that you go with something more affordable.
Have You Used LA Muscle Nuclear Creatine?

Leave Your Review Below!
Top 3 CreatineAffiliate Disclosure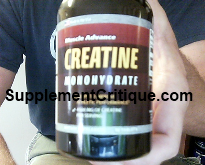 Muscle Advance creatine is probably the most effective creatine product we have come across.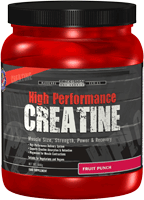 Body Fortress high performance creatine is another highly rated creatine supplement used by many of our users.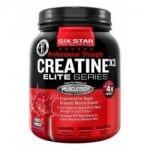 Creatine X3 is often taken as a post workout creatine that helps repair broken muscle tissue.
Ask A Question
User Questions and Answers
---

Back in the 90's I was taking Ripped Fuel and lost close to 50 pounds in about 3 months. Is it still sold and what was the ingredients that made it effective. -Carlos

Back in the 90s Ripped Fuel worked so well because of the Ephedrine. But since it was banned in 2003, the new formula just doesn't live up to the old one.  Check out my full Ripped Fuel (today's formula) review here.- Rob
Was this question helpful to you?

ASK A NEW QUESTION