NeuroVibran Review – 1 BIG Reason to Hesitate
By:
Rob Miller
Fact Checked On: 4-23-2020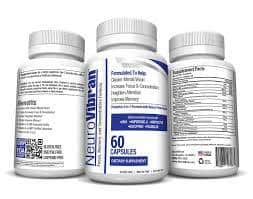 Contents
What Is NeuroVibran
How Does NeuroVibran Work
NeuroVibran Ingredients
How To Use NeuroVibran
NeuroVibran Side Effects
NeuroVibran Reviews
Where to Buy NeuroVibran
Pros and Cons
NeuroVibran – The Bottom Line
I've been researching and testing out a number of nootropic supplements lately.

You've probably seen them advertised.

They've been getting pretty popular over the past few years.

It started out as a way to try and get benefits similar to Adderall, using natural ingredients, so you wouldn't need to get a prescription or buy it on the black market.
Many people that seek out such supplements do so because prescription alternatives are either too hard to get or have the potential to carry nasty side effects as well as become addictive with long term use.
But really they've exploded from there.

People use them to feel quicker, sharper, so that they can be more productive and ultimately more successful.
I've tried some that I've had really good results with, and others that were pure duds.
Nootropics are like any supplement in that it is not only about the ingredients that go into them, but what levels they are concentrated in and whether or not it is a solid formula.
Related Article: The Real Limitless Pill – Fat Chance!
I recently came across NeuroVibran and decided to check it out and try to see which category it belongs in.
What Is NeuroVibran?
NeuroVibran is a cognitive enhancement supplement using natural ingredients to improve the way your brain relates with information it receives.

If we were to list out the benefits, the list would include:
Increased motivation/Less procrastination.
Better long term memory.
Quicker grasp of new knowledge.
Greater ability to store information for quick recall.
How Does NeuroVibran Work?
When it comes to brain power, it's all about the neurotransmitters.

These are the chemicals within your brain that communicate and transmit information between brain cells.There are several types, and if you can increase certain ones and make them work better, you'll be rewarded with the benefits of smart drugs.
And with advances in the science of nutrition, more and more substances are being discovered that can have that kind of effect.
NeuroVibran Ingredients
Now it's time to see if NeuroVibran contains and/or promotes any of those substances.
NeuroVibran does not discuss all the ingredients, but they do mention a couple of the more important ones:
Phosphatidylcholine and Bacopa Monnieri.
Phosphatidylcholine contains both fatty acids and choline.

Fatty acids (ie omegas) have always been considered brain food, while choline increases the amount of the important neurotransmitter acetylcholine in your brain.

This increase is known to improve communication between brain cells, and it's also neuroprotective, meaning it preserves the health of brain cells.
While dosing recommendations are not firm, the most common daily recommendation is 200-400 mg daily.

A serving of NeuroVibran contains 200 mg.
Bacopa Monnieri has been shown to improve the speed of processing visual information after 12 weeks.
The NeuroVibran website also drops a few breadcrumbs about some of the other ingredients that made the cut.

On the website, NeuroVibran cites several studies of certain substances, ostensibly proving that they can improve cognition.

It stands to reason that these cited substances are what's in the formula.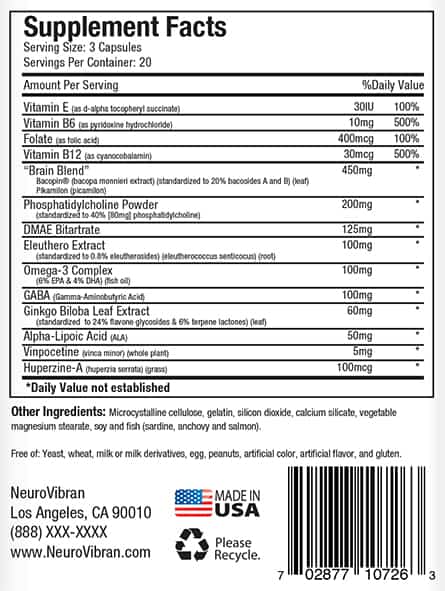 But luckily, we came across a label image containing the entire list, which includes:
Vitamins E, B6, B9, and B12 because B complex vitamins are known to provide mental energy.
DMAE Bitartrate which improves cognitive performance by reducing the buildup of "age pigments" that cause mental decline over time.

It is also very similar to acetylcholine, and may convert to it, though the research doesn't bear this out as yet.
Eleuthero Extract which is what's known as an adaptagenic.

It helps your body and brain adapt to new and/or stressful situations, both physical and mental.
Omega-3 Complex which have been shown to increase gray matter volume in healthy adults.
GABA which is another of the neurotransmitters you need to improve cognitive function.

The problem with taking GABA orally as a supplement is that it does not cross the blood brain barrier, so its effectiveness is very limited.
Ginkgo Biloba Leaf Extract which provides energy and increases blood flow to the brain.
Alpha Lipoic Acid which has neuroprotective and antioxidant properties.
Vinpocetine which acts as an antioxidant while also protective nerve cell membranes and relaxing blood vessels to allow a greater amount of blood to flow through, providing necessary oxygen and nutrients.
Huperzine-A which is commonly used to treat Alzheimer's Disease.
How To Use NeuroVibran
The recommended daily dose is 3 capsules, and there are 20 servings in the 60-count bottle.
NeuroVibran Side Effects
NeuroVibran claims there are no important side effects of note, and this is probably true for the most part.

That doesn't mean, of course, that you're assured there won't be any mild headaches or nausea. Huperzine A alone has been known to cause nausea, diarrhea, and vomiting, though it's relatively rare and more likely to occur at higher doses.
In fact, this brings me to a very important point to make about NeuroVibran. The list of ingredients is pretty good.

But just as important as WHAT is in it is HOW MUCH is in it.

The NeuroVibran label does reveal this information, and in a lot of cases, the amounts are low, too low to expect much of an effect.
For instance:
The recommended dose of DMAE Bitartrate ranges from 350mg – 750mg, while NeuroVibran contains just 125mg.
Alpha Lipoic Acid is recommended at 300mg-600mg while NeuroVibran contains only 50mg.
Vinpocetine comes in at a recommended dose of 15mg-60mg, while NeuroVibran contains only 5mg.
NeuroVibran Reviews
Tracking down customer feedback on NeuroVibran was not exactly easy, but I did find a few discussions – on Facebook and Reddit.
On their Facebook page, there's a thread asking whether or not NeuroVibran is a scam.

The comments in response are not very promising: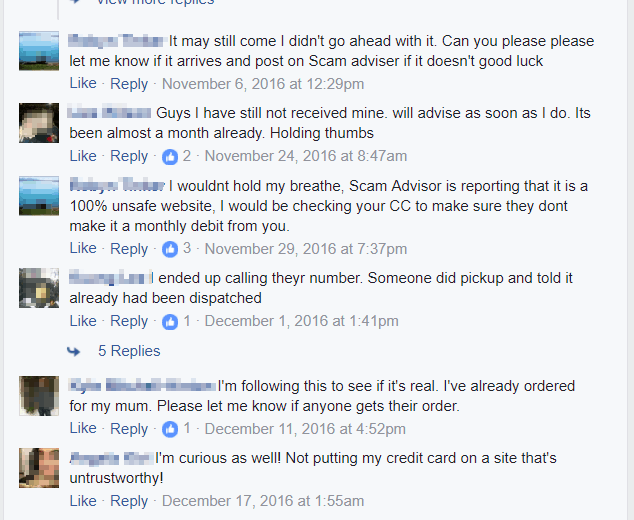 Granted, this is primarily about customer service and product delivery, but still, it doesn't look good.
I kept scrolling and found one customer that had actually tried NeuroVibran, and still, the news isn't good:

And there's more.

Some of the commenters looked up the website and found that ScamAdvisor rates it as likely to be a scam: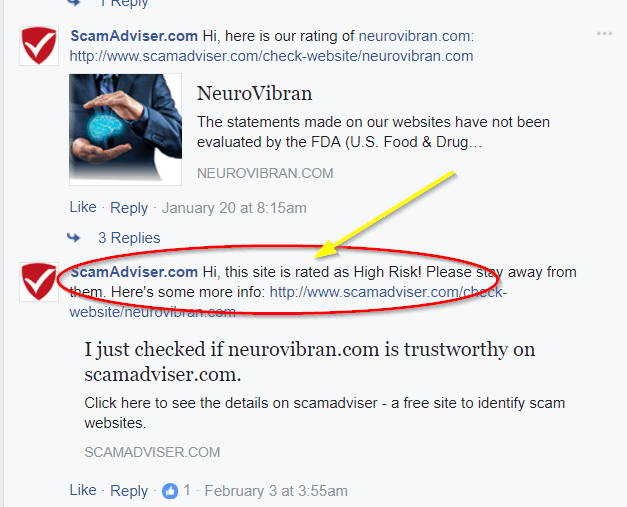 Where to Buy NeuroVibran
I've only found one place where you can buy NeuroVibran, and that is their official website, which as we established above, is rated as high risk.
I can see why actually.

The first time I checked out their order page to figure out how to go about purchasing NeuroVibran, the page didn't even tell you how much it costs.

You were apparently not allowed to see that until you entered your valid and real credit card number. (Trust me, I tried to enter a fake CC# just to see what the price was, but it didn't get me very far) So your credit card number had to be collected and verified before you were even allowed to know what they're going to charge you. No wonder the site is high risk.

I would never knowingly give away my credit card information online (to a high risk website no less!) without knowing what I was going to be charged.
Here's what it looked like:
But things had changed the next time I visited the site a few days later.

This time, the order page asked which country you were in, and based on how you answered, they took you to the next phase of ordering, with prices and packages.
Here's the list of participating countries (Note the United States is not one of them).
Australia
Canada
France
Germany
Ireland
Malaysia
New Zealand
Singapore
South Africa
United Kingdom
They offer certain packages and prices depending on where you live – as long as it's in one of the listed countries.

In the UK for example, a single bottle (a one month supply) costs £48.95, while you can save some money with a larger package, like 5 bottles for £24.39 each (Buy 3 Get 2 Free).
Orders are covered by a 30 day money back guarantee. You'd need to call to receive an RMA number, and return the bottle within 30 days.
Pros and Cons
Advantages of NeuroVibran
The ingredients are all listed and all natural.
There's a money back guarantee.
There's no caffeine, which may be a good thing for those who can't or don't want to use stimulants of any kind.
Disadvantages of NeuroVibran
Some of the ingredients are in amounts are too low in general to be effective.
The website is inconsistent about billing.
Customer feedback is not good.
NeuroVibran – The Bottom Line
With so many shady supplements being sold online these days, it pays to be skeptical.

When I first visited the website and they didn't show a price, it was a big red flag.

I'm pleased that it appears to have been fixed, but who's to say it won't look completely different when you visit the website two weeks from now?

Whatever they're offering at that time, make sure you read the terms and conditions carefully to be sure you know what you're getting yourself into.
The ingredient amounts in NeuroVibran tend to be low for the most part. It's a common tactic.

They want bragging rights to say the good stuff is in the formula, but they don't want to have to cut into their profit margins by paying lots of money for it.

So they put just a little bit into the pill.

This way, they can claim it's there, but they don't have to charge a premium for it.

In the end though, it's the customer that loses, since they don't get the results they expected.
I'm glad NeuroVibran doesn't use a free trial scam at this point. It's a start.

But they'd have to improve their formula to earn my full support.
Have You Used NeuroVibran?

Leave Your Review Below!
Top 3 NootropicsAffiliate Disclosure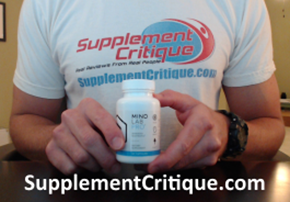 Mind Lab Pro is a VERY effective nootropic for focus, concentration, short / long term memory, and more.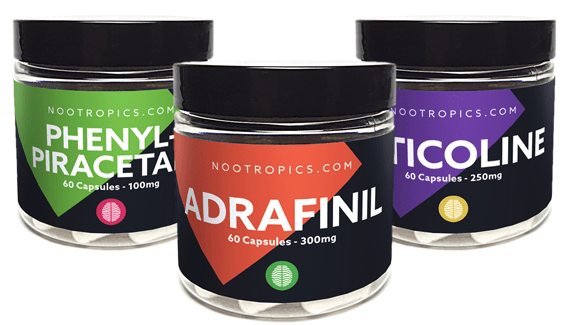 The Ultimate Nootropics Stack by Nootropics.com is one of the most effective stacks I've taken.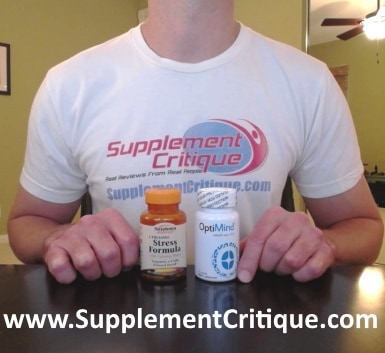 The combo of L-Theanine and Caffeine is a well known nootropic stack that really works.
Want To See What SupplementsWork Like Adderall?

Click Here To Find Out!
Ask A Question
User Questions and Answers
No Questions Have Been Answered For This Article.