Optimal Stack and Muscle Factor X Combo Reviews
By:
Rob Miller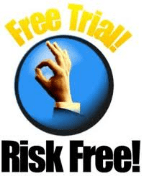 Who doesn't want 6 pack abs and chiseled arms, chest, and shoulders?

Most guys would want this, but few ever achieve it.

We recently came across a men's health (not the actual men's health site, it's a copy) blog post about 2 products that apparently do just this, called Optimal Stack and Muscle Factor X.

This blog talks about how these 2 products have been used by celebrity's such as Gerard Butler and Ryan Reynolds, to help him get ripped for the filming of the movie 300. What they don't tell you is the complete BS this story really is, and I am about to tell you why.
The Optimal Stack and Muscle Factor X Story
So your browsing through facebook, twitter, or some other social networking site, and you come across this ad talking about "getting ripped" in just 4 weeks. Curiosity sparks you to click the ad, and it apparently takes you to someones personal blog where he shares a "story" about how he got ripped in less than 6 weeks. This "men's health" expert goes on to say that he combined Optimal Stack and Muscle Factor X, both of which are pre-workout supplements.
He actually goes on with a weekly synopsis of his results, stating that felt an overall increase in energy and endurance, and also lost a bunch of weight very quickly. The blog even provides before and after photo proof that the Optimal Stack and Muscle Factor Xcombo works, and optimal stack reviews towards the bottom seem to support this theory.
The Products
Let's take a closer look at these 2 supplements to see how they really work.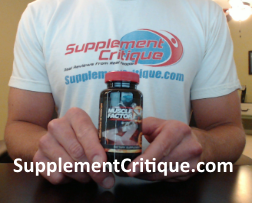 Muscle Factor X – As indicated on the official website for Muscle Factor X, it looks like it uses L-Arginine HCL as it's primary ingredient. L-Arginine was first discovered in the late 1970's to help increase the production of Nitric Oxide (sometimes known as N.O.). It is used in countless pre-workout supplements, and is often paired with all natural aphrodisiacs to help treat erectile dysfunction.
Arginine has been shown in several studies to help encourage the secretion of growth hormone, but no conclusive evidence has proven this works for everyone.
Muscle Factor X specifically contains 3 different variations of L-Arginine, and also has L-Citrulline (an amino acid) and Dipotassium Phosphate (a food additive). They do give an exact quantity of L-Arginine, stating that it contains 267 mg. Reviews of Muscle Factor X are not hard to find, but the vast majority of them are fake reviews aimed at trying to get you to by the product.
Update!! I finally got a chance to try out Muscle Factor X, and my suspicions were right….It doesn't work!! Want to learn more about my results? Check out my full Muscle Factor X review here.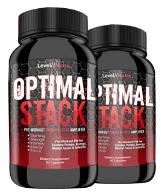 Optimal Stack – Optimal Stack brands itself as a pre-workout energy and focus amplifier, and cites that it is a scientifically proven pill for energy, massive pumps, and mental focus and intensity. Finding information like the ingredients and reviews for Optimal Stack was….difficult, to say the least. The official website does not give any information on the ingredients and their quantities, but apparently his lord "Jesus" does have a review on their saying his results were incredible.
The Catch
Back to the main part of the story. So, they say that using Optimal Stack and Muscle Factor X is actually clinically proven, but you have to use both of them at the same time. They even provide links to these supposed "risk" free trials, and mention that you need only pay a couple of bucks for shipping. Sounds like a great deal, right? This is where the fine print comes in…
If you do decide to buy Optimal Stack and Muscle Factor X, you are taken to their individual pages by clicking on these links. After you put in some basic information (name, address, phone #, etc.) you are led to a page that says you need to input your credit card info in order to pay for the shipping, and that their offer expires "tomorrow".
So you think, "Ok, I have nothing to lose except for a few bucks, let's take them up on their offer". Besides, it's only $4 or so for shipping for both, so that's only $8, big deal…Well, here is where they get you…What they "barely" tell you in the fine print is this:
Optimal Stack – If you don't cancel your order within 14 days of ordering, they will charge you $87.47 for the bottle received, plus enroll you in a monthly recurring billing option which will charge you every 30 days for a new months supply of Optimal Stack.
Muscle Factor X – If you don't cancel your order within 14 days of ordering, they will charge you $79.95 for the bottle received, plus enroll you in a monthly recurring billing option which will charge you every 30 days for a new months supply of Optimal Stack.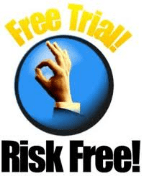 But wait, I thought they said it was FREE? No, they actually said it was "risk" free and that it was a trial, and they are actually well within their legal rights to do this. A trial is different from a sample, and supplement companies such as this have been getting away with this for a long time. I can't even begin to tell you how many scams like this I have come across, including combining Sytropin and hard knight, sytropin and muscle factor x, muscle x edge and sytropin, and countless other supplement combo's.
The Bottom Line
So hear you are, staring at your credit card bill, wondering how something like this could have happened. Don't feel bad, as there are literally THOUSANDS of guys worldwide that have fallen for this type of "scam, including many that i see from reading optimal stack reviews.The good thing is, there are some things you can do about it. First, you will want to contact the company directly and immediately cancel your order (that is of course, that you don't want it!). Usually, the customer service agent will help you out, but if they give you a hard time you can always contact your credit card company to get it resolved. Both optimal stack and muscle factor x I believe have a refund policy, so you may be able get your money back if you contact them on time.
Does combining these 2 supplements really work? Most likely not, and if it truly was a miracle combo, you would probably hear more about it from more "reputable" news sources. If you come across a specific combo like optimal stack and muscle factor x that you would like to get our professional opinion on, please contact us and we will try to help you out.
Have You Used Optimal Stack and Muscle Factor X? Leave Your Review Below!
Top 3 Pre WorkoutAffiliate Disclosure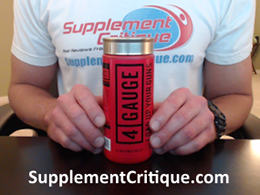 4 Gauge is a brand new pre workout that kicks in FAST and will rev up your workouts.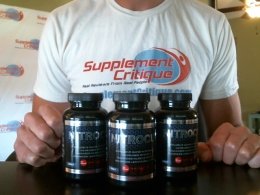 Nitrocut is a VERY effective pre workout supplement for a variety of reasons, see why here.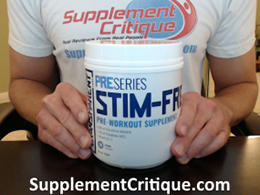 If you're looking for a stim-free pre workout, add Transparent stim-free to your list!
User Reviews

2.7 out of 5 Stars (9 Reviews)
Have you used this supplement?
Thanks for the info. I was suckered in by the "free trial" The latest combo is the Optimal Stack you spoke of and a product called TrigX2. Ever heard of it? Its a Post Workout Booster it says. You saved me from a lot of hassle. TrigX2 says I don't have to ship back the unused product.

Optimal Stack says I have to ship back the unused product within 30 days of original order. Should I try to use them both and see what happens until I have to ship one of them back?

Thanks AGAIN for making me aware of the "Free Trial". I am off to workout now, but when I get home I will be sure and like you on FB. Thanks MAN!!

Was this review helpful to you?

---
I did use optimal stack but not the muscle factor x. Im 21 180lbs and work out 5-7 days a week. When I started taking it I had just started working out so I don't know if it was the supplements or just actually getting in the gym and lifting but I did get in great shape. I cut 25lbs in just two months. Again

I'm not saying that its an awesome product or anything like that but if you decide to try it I would suggest get a free bottle cancel a few days after you order it and see if you like it.

Was this review helpful to you?

---
Great review about Optimal and Muscle X. Riddle me this! I'm 44 and I'm at 190. I have high blood pressure and take meds. Cardio most everyday (55 minutes) and I still can't lose my gut. I'm thinking ten pounds would be great. This whole aging metabolism blows! Yes I do eat well. Any suggestions that won't bother the blood pressure?!

Was this review helpful to you?

---
I am 32 yrs, 6ft 195lbs. I just finished the P90X (also do taekwondo) program and my results are not what I was hoping for. I am stronger and have slimmed down, was 213 lbs before I started the program. I take multivitamins, fish oil, alive, protein shakes, and the P90X recovery shake.
Should I do a different workout program to gain more muscle mass.
What kind of products (supplements pills shakes) do you suggest for building muscle mass?

Was this review helpful to you?

---
Screw optimal stack. They are a shady company, fortunately I'm getting my money back. It is a shame because I actually got decent results, but they screw you over and become a hassle.

I'm interested in this nitrocut I believe you said.

Thanks

Chaf

Was this review helpful to you?

---
Want To Really Get Ripped?

Click Here To Download My FREE
Ask A Question
User Questions and Answers
---

I'm in Australia & got caught with Optimal Stack & MassPM as did many Aussies; but their Australian Number is not connected,,,Any suggestions how I can get hold of them to cancel & stop the debits.....I ahve strong contacts in Authorities over here but don't want to use them unless absolutely necessarily....and I will warn them about influencing via Social Media if they don't cancel immediately....Cheers & Thanks -Graeme

If you work through your credit card company or bank, you should be able to get a number that works. If not, ask them not to accept any more of their charges.  Hope that helps!- Rob
Was this question helpful to you?

ASK A NEW QUESTION
---

Do you know if any of the ingredients in optimal stack has amphetamines ? I recently tested positive for meth and I'm not a meth user. I can't think of anything else I may have taken to get a positive reading. I have had no luck in getting a response from the company,website,ect. I'm being suspended for a month and that's going to hurt my family and I financially. Any help would be appreciated. Thank you -Llewellyn

None that I know of, but since they don't disclose their ingredients, I don't have any way of really knowing.  I'm not sure what phone number you used to contact them, but this is the one I found: 1 866 757 8473.  (If calling from outside the US, use 001 866 757 8473).  Their hours are 9am to 5pm Eastern Time in the US.  Hope that helps.- Rob
Was this question helpful to you?

ASK A NEW QUESTION