Rejuva Brain Review
By:
Rob Miller
---
It's been a long time since I wrote about a nootropic supplement.
I happened to be browsing through my yahoo news feed this morning when I came across this ad:
I knew it was a sponsored article by the little thing that said "sponsored" just above the title, but decided to click anyway.
Not all sponsored articles are full of fluff and are misleading, so I try my best to go into them with a fresh set of eyes when I can.
According to this "Business Insider" article, the founder of Tesla, Elon Musk, has developed a pill that restores brain function by 57.3%.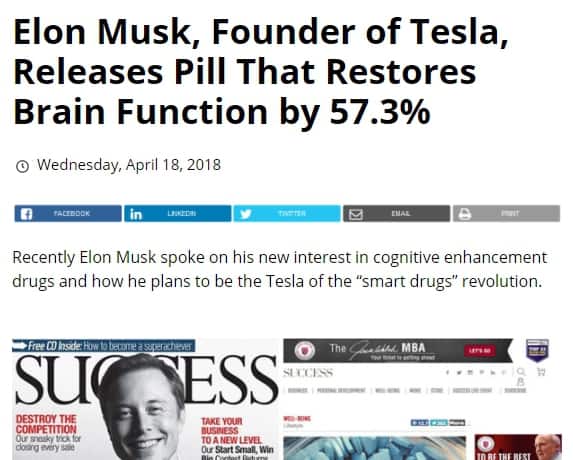 The name of that pill is none other than Rejuva Brain.
Problem is, this article is complete B.S.
There are so many reasons that it is B.S. that I should have smelled it from a mile away.
Let's pick things apart and I'll show you why you shouldn't believe a word that is written.
Red Flag #1 – This Is NOT The Business Insider Site
I know it looks like it, but this is NOT the Business Insider website.
Case in point, take a look at the URL in the address bar. What does it say?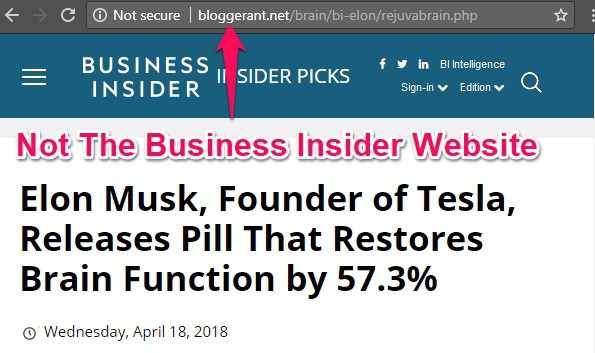 It should say "BusinessInsider.com".
Instead, it says "bloggerant.net".
What happens when you go to "bloggerant.net"? This is what you see: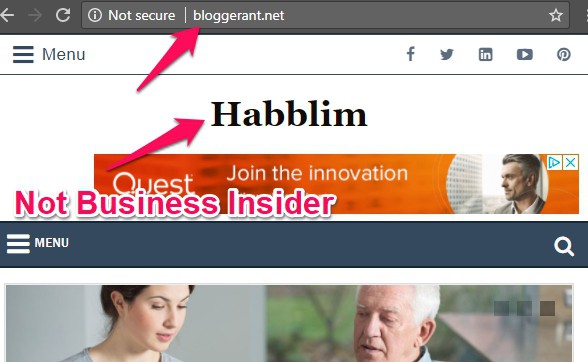 Red Flag #2: Fake Elon Musk Quotes
About the 4th paragraph down, they quote Elon Musk as saying the following:
"Yes, caffeine was my go-to during my career because it does help to promote mental alertness and can, therefore, increase my overall productivity.But the effects of caffeine are minuscule on the scale of cognitive enhancement substances such as "smart drugs".

Our team has been able to increase overall brain output by 57.3%, that's just something coffee cannot and will not do."
If you run a google search for that quote, you're presented with 3 different pages.
If you start visiting these pages one by one, you'll start to see something interesting occurring.
For example, if you go to the first link, you'll a "CNN" article with the title "E.

Musk lends a hand to neurobiologists and enhances brain function by 93.7%"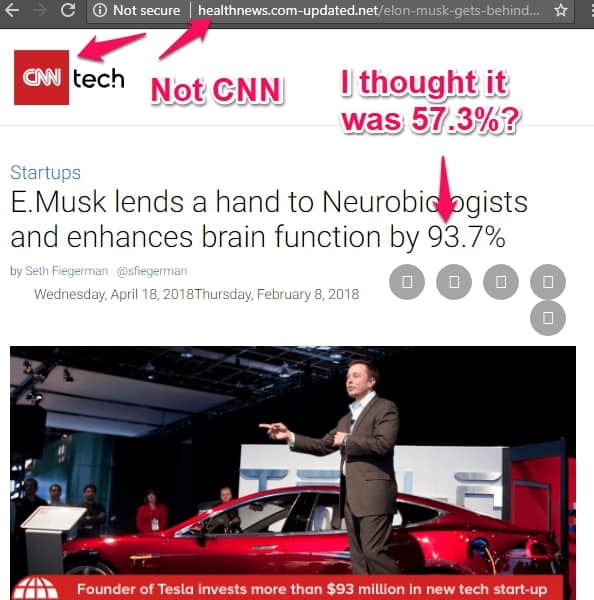 First off, this also is NOT the CNN official site.
Second, in the ad we just saw on yahoo, they said it enhanced brain function by 57.3%.
Now it's 93.7%?
It hits you even hard when you scroll down to the first paragraph and notice that they're not even talking about Rejuva Brain.
Instead, they're talking about a pill called IQ Points Brain.
So which is it? Rejuva Brain or IQ Points Brain?
Back to the original Google search, we click on the 3rd link: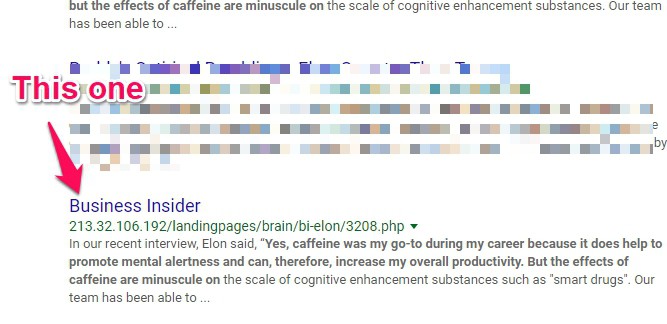 Again, we're confronted with the fact that this is not the actual Business Insider website.
If you start scrolling through the page, you'll notice a trend.
You'll see that this article is literally the EXACT same article talking about Rejuva Brain.
HOWEVER, instead of talking about Rejuva Brain, they're talking about a completely different product called Brain 360.
Case in point, they feature a Dr. Anders Sandberg talking about the benefits of Brain 360.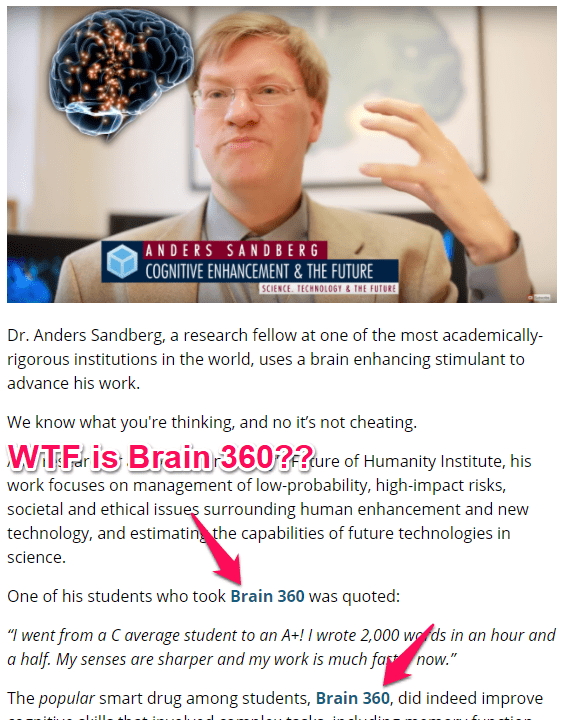 and here's the same Dr. Anders Sandberg talking about Rejuva Brain: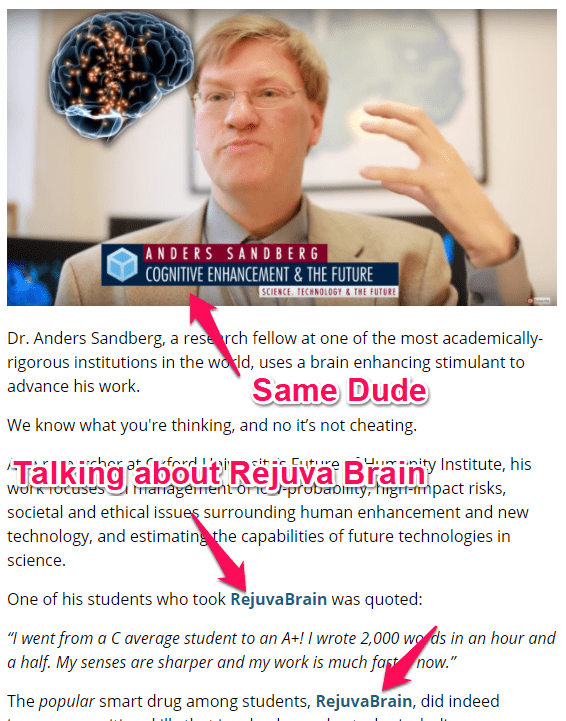 Suspiciously enough, if you search for Dr Anders Sanberg, he does actually exist.
And he IS a researcher at Oxford.
But is he REALLY involved with Rejuva Brain? Unlikely.
If you run a search for him and the pills, you'll come up short.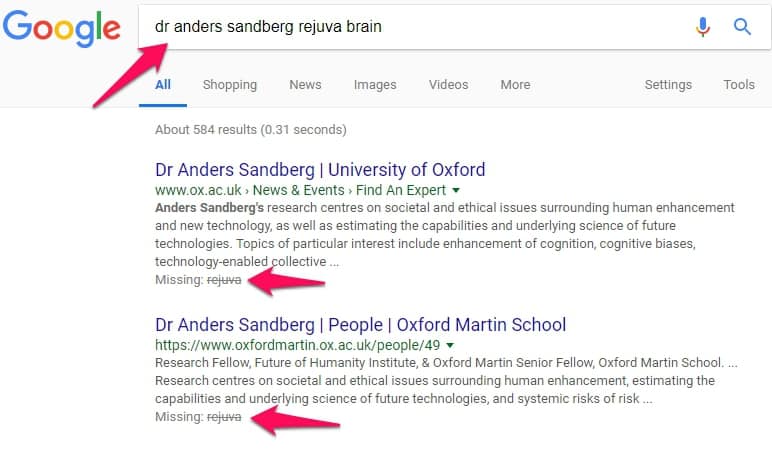 They also show a photo of someone getting their brain scanned, and talk about how celebrities and athletes alike have been taking Rejuva Brain.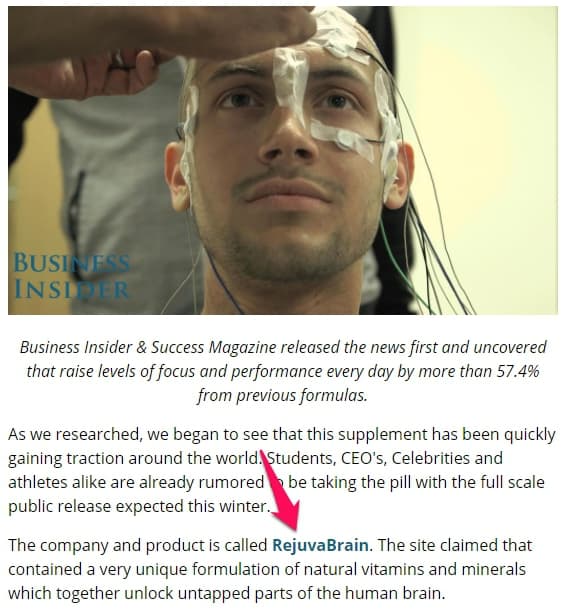 What's more, if you scroll down the page a bit you'll see that they again not talking about Rejuva Brain.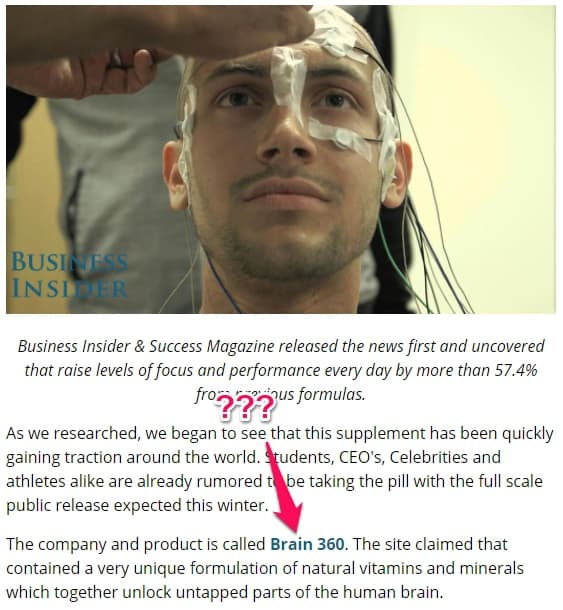 Further down the page, they mention that Rejuva Brain was tested by their in house senior editor "Daniel".
His Rejuva brain results are summarized below: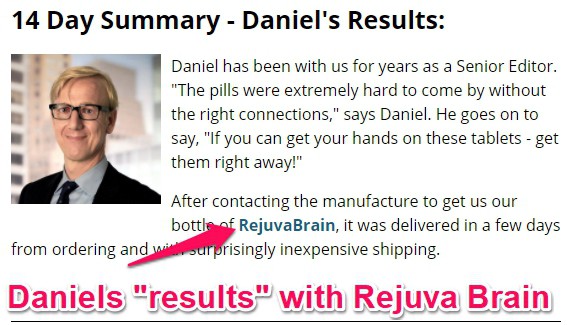 Yet, in the other article, the explicitly mention that he tested brain 360.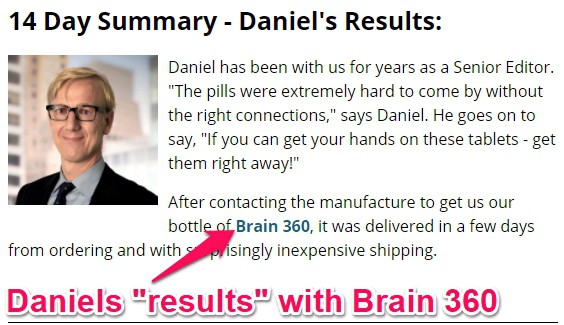 There's a ton more examples of this, but I won't bore you because at this point it should be obvious.
Red Flag #3: Elon Musks Tweet
Towards the bottom of the page, there's an embedded tweet from Elon Musk.
Mind you, this ENTIRE article has been talking about a pill called Rejuva Brain.
If you look at the tweet carefully, you'll see several mistakes.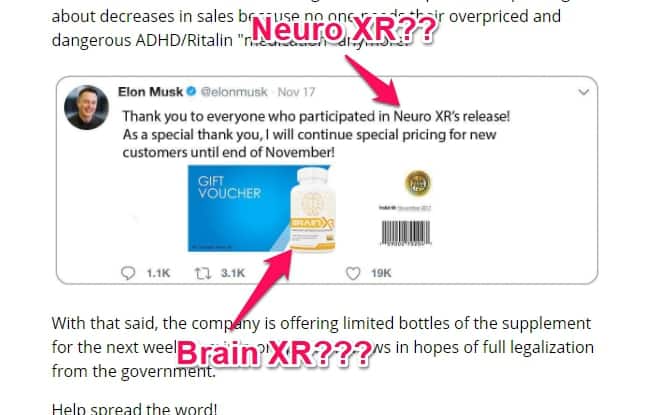 In the copy of the tweet, he "thanks" those who participated in Neuro Xr's release.
In the image just below the tweet, it shows a totally different product called Brain XR.
Also, while it looks like this is an embedded tweet, it's actually not.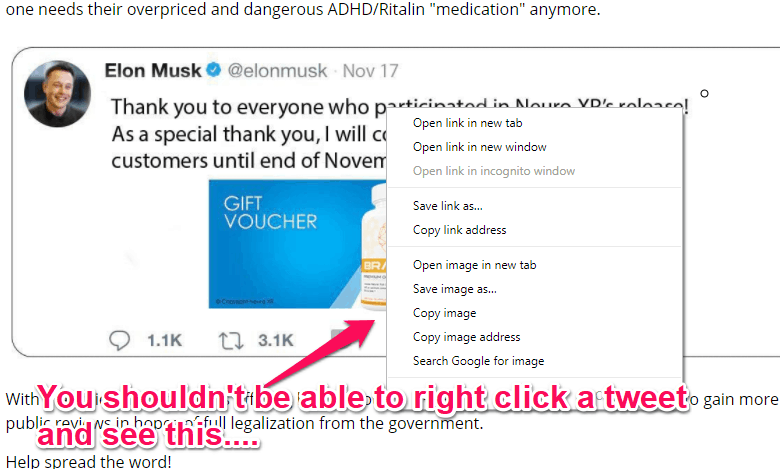 I did a little digging, and scrolled through all of his tweets on November 17, 2017.
From what I can tell, there are only 2 of them (both retweets):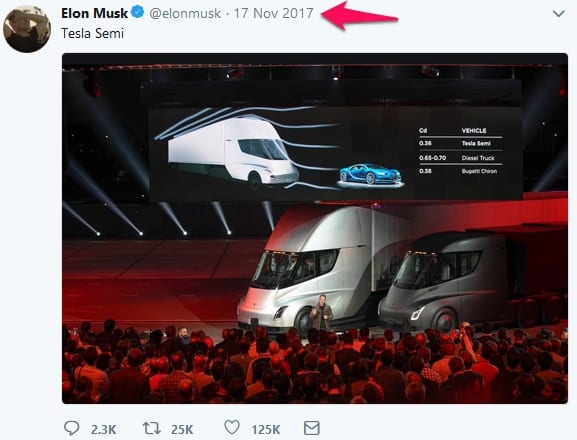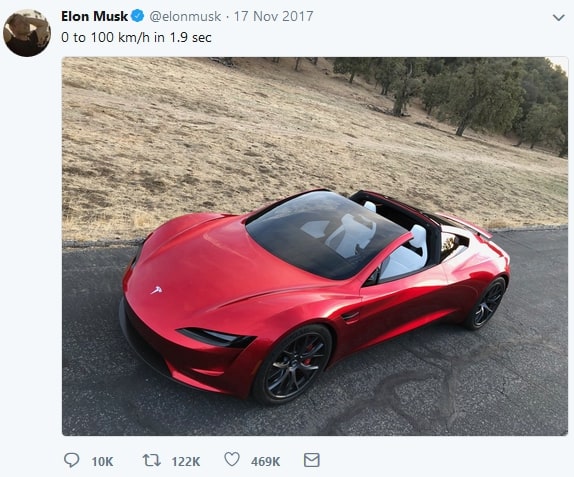 Of course, neither one of these tweets makes any mention of Rejuva Brain, or any other pill for that matter.
Red Flag #4: The REAL Company Elon Musk Backed
So this article about Rejuva Brain is based on the premise that Elon Musk likes it so much that he decided to invest a bunch of money into it.
Everything I've described above would make you think twice about that, but it turns out there's a small bit of truth to all of this.
According to the Wall Street Journal, Musk launched a company called Neuralink Corp back in 2017.
Neuralink is researching ways to implant chips into your brain, which would allow you to upload and download thoughts.
It has nothing to do with a pill called Rejuva Brain, Brain 360, or Neuro XR.
Now that it's crystal clear that the marketing is a scam, let's find out if Rejuva Brain actually does what it says it does.
What is Rejuva Brain?
According to the official website, Rejuva Brain was designed to promote:
Intense Focus
Mental Clarity
Cognitive precision
Boosted brain function
Something looked very familiar when I visited their site.
I feel like I've seem a similar looking site in the past, so I started digging around my old nootropics reviews to see if any of them matched up.
Sure enough, when I looked at the official website of a product called Enhanced Mind IQ, it hit me.
They have virtually the exact same website design.
When I say "virtually", what I really mean is they're identical.
Case in point, I present to you exhibit A: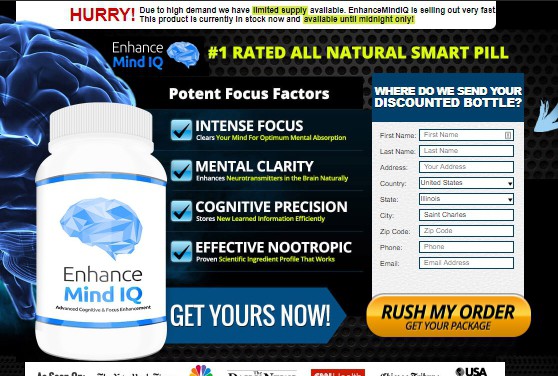 and Exhibit B: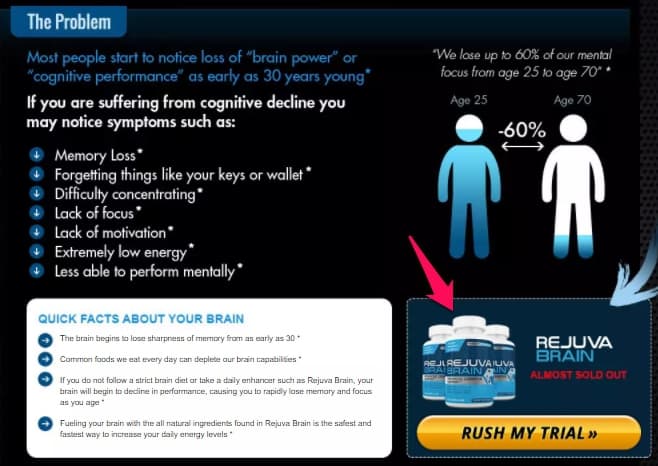 And lastly , but most importantly, the return address for both Rejuva Brain and Enhance Mind IQ are exactly the same: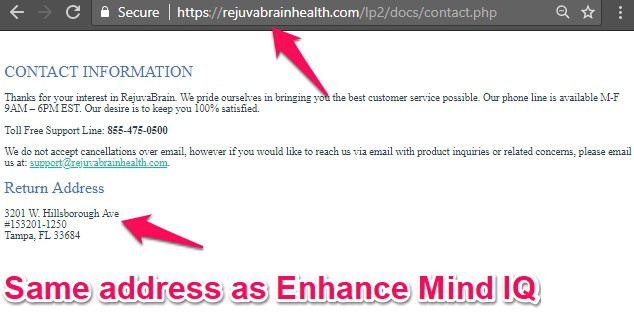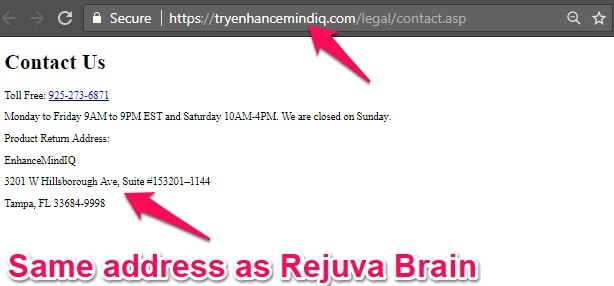 "Why is this relevant?", you ask?
Well, it turns out that back when Enhance Mind IQ was for sale, there were about 50 people that came to our site complaining that they had been scammed.
You see, at the time Enhance Mind IQ was running what they call a "free trial".
You paid $5 or $6 for the shipping, and they would send you a free bottle.
Then way down in the fine print, it said something like this:

That's right, they would charge you almost $90 14 days after ordering your supposed "free trial".
There were 1,000's of guys and gals that got bilked by this scam, and it started to reflect online.
For example, on the Better business bureau page for Enhance Mind
IQ, there were about 10 reviews that all said the same thing.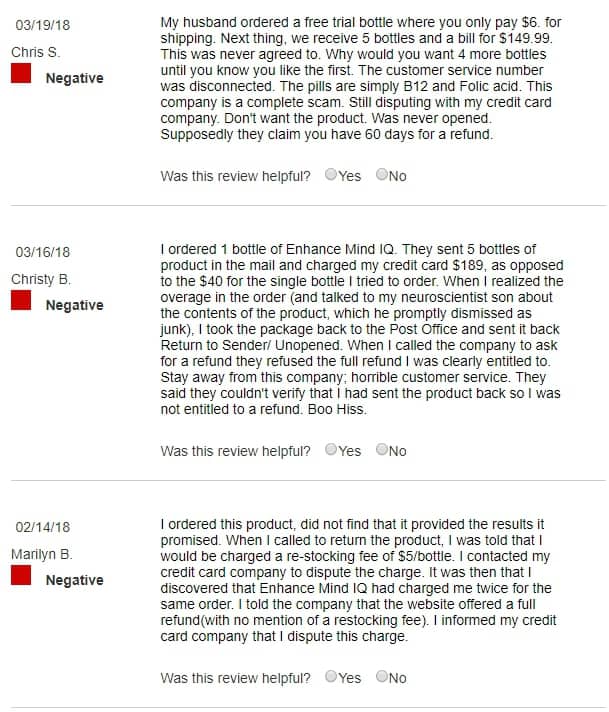 Well, guess who is doing the same thing?
That's right, Rejuva Brain…
In fact, the Better business bureau already has some complaints rolling in as we speak.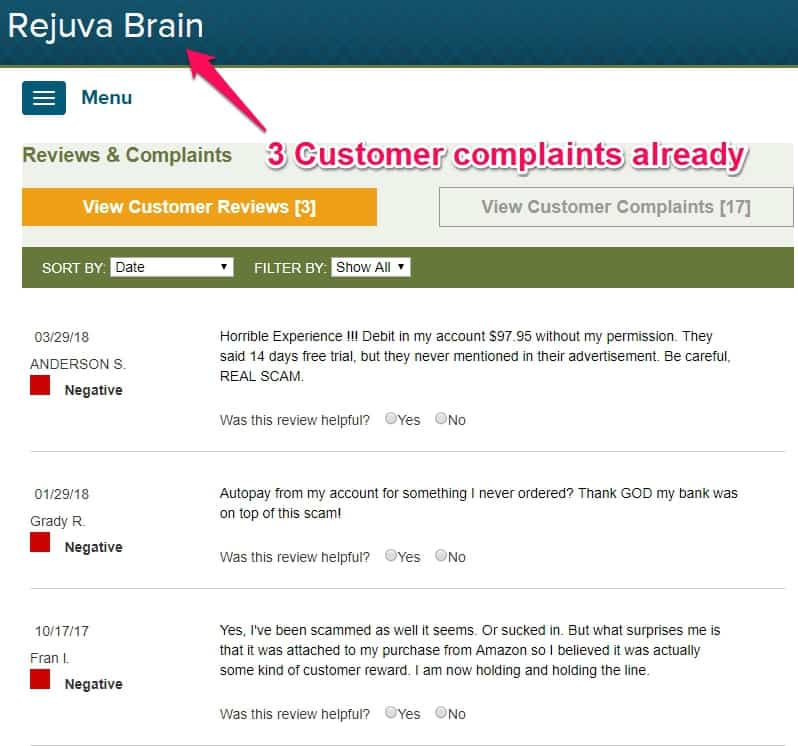 What The Rejuva Brain free trial is all about
If you fill out your info on the Rejuva Brain website, you're then redirected to the checkout page.
It says here that you're getting a 30 day supply for only $6.95, which sounds like a good deal.
That is of course until you scroll down to the bottom of the page and read the fine print.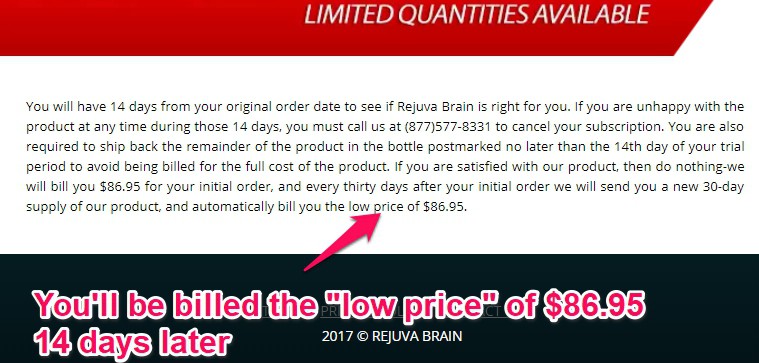 This may be one of the reasons why when you start typing rejuva brain into a google search, the first suggested term that comes up is "rejuva brain phone number".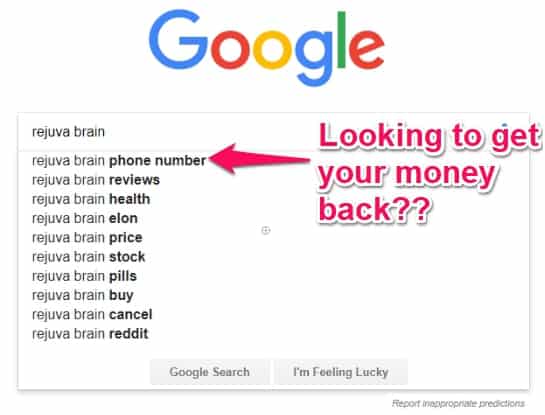 If you're looking to get your money back, you're in for a rough ride.
How To Cancel Rejuva Brain
Step 1:You have to call their customer support phone number at 877-577-8331 to cancel your subscription.
You NEED to do this within 14 days of ordering, otherwise they won't cancel it.
Step 2: You have to ship back the remainder of the product in the bottle postmarked no later than the 14th day of your trial.
If you don't they won't cancel it.
Step 3: I would recommend getting shipping tracking and delivery confirmation.
This way they can't "claim" they never received the trial bottle back from you.
They definitely make you jump through hoops to get your money back, but it IS possible.
Rejuva Brain Reviews
Surprisingly enough, finding reviews for these pills was actually easier than I thought it would be.
For one, it is available for sale on Amazon.
A pretty rosy picture is painted there, with almost 90% of the reviewers rating it at 4 stars or above.
You'll see several statements stand out at you, like:
Recommend it highly
Seem to work well
Gladly order it again
Zero side effects
Of course, it can be difficult to discern whether or not these reviews are legit.
Related Article: How To Spot A Fake Review On Amazon
Rejuva Brain Ingredients
When you look at the Rejuva Brain ingredients label, I can see that it contains many of the same compounds you'll find in several other nootropics.
Here's a quick snapshot of the label: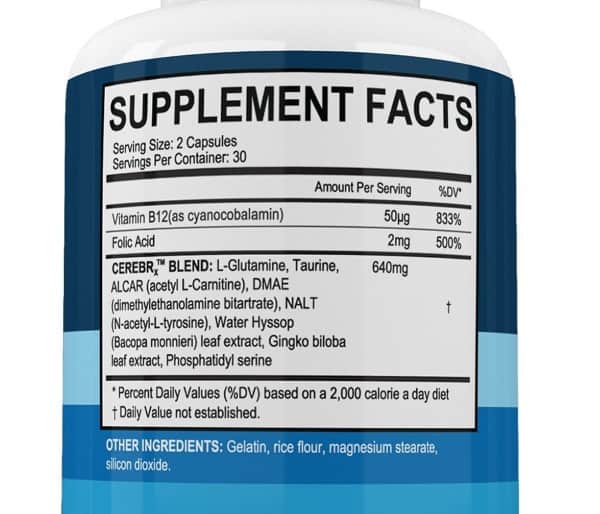 To be honest, there's nothing "revolutionary" about this formula.
Ingredients like DMAE, Bacopa Monnieri, and Gingko Biloba are found in countless other nootropics, including supplements like Optimind, AdderRX, and fat burners like Lean Fire XT.
Do they provide enhanced cognition and focus? Yes.
Are they an effective replacement for drugs like Adderall or Modafinil? Not really.
Recommendation
I'm actually planning on testing out Rejuva Brain in the near future. Personally speaking, I don't think it's going to do much.
This is based on my experience with Enhance Mind IQ, which appears to be their original product.
What really gets to me is the free trial.
They trap unsuspecting customers into this free trial, with the complete knowledge that 99% of the people who buy Rejuva Brain won't read the terms and conditions.
With that said, many of the reviews on Amazon are reporting good results.
Which begs the question, why ruin a good thing by deceiving potential customers with an unsuspecting free trial?
Have You Used Rejuva Brain? Leave Your Review Below!
User Reviews

1.0 out of 5 Stars (1 Reviews)
Have you used this supplement?
Mike's Review
Rejuva brain may or may not work but i can confirm by bank statements that they double charged me for the same product. when trying to communicate with the company my 4 or 5 emails to customer support were returned as undeliverable. after explaining this various times to the supervisors they refused to provide me with another email address that i could send proof of the overcharge. this loss of $102.95 for a person on a fixed income is a great loss for me and unacceptable customer service for a online company. WARNING, WATCH YOUR BANK STATEMENTS BECAUSE YOU WILL NOT HAVE ANY RECOURSE!!! By far the worst experience i have ever had in my 66 years of doing business with ANY ONE EVER!!! IVE BEEN TAKEN ADVANTAGE OF WITH NO RECOURSE!!!

Was this review helpful to you?
6 out of 6 people found this review helpful.
---
Ask A Question
User Questions and Answers
No Questions Have Been Answered For This Article.