Contents
Ingredients
Pros and Cons
Where to Buy
Conclusion
User Reviews
Samurai-X Overview
Samurai-X is a male enhancement supplement in the "Viagra Alternative" category.
By taking one capsule about 3 or 4 hours before sex, you'll find yourself being able to get an erection at will.
And with the effects lasting up to 48 hours, you'll be reaching that place over and over.
Samurai-X is mainly available online through a number of different retailers.
There is no official Samurai-X website so product information is a little sparse.
But we did get our hands on an ingredient list, so we should be able to come up with a pretty good idea of how this particular penis pill works.

Samurai-X Ingredients and How They Work
We were actually a little impressed by the ingredients included in the formula.
Unfortunately, however, we were not able to determine how much of each ingredient is in the pill.
So while any of the ingredients themselves may be beneficial in the right doses, we don't know whether or not Samurai-X uses the right doses.
The list goes something like this:
Epimedium Sagittatum which increases the flow of blood to the penis, allowing you to achieve a longer, thicker, harder erection with ease.
Tribulus Terrestris which helps encourage your body's own natural production of testosterone for improved desire and performance.
Maca Root and Damiana which is are both ancient aphrodisiacs used for centuries to increase male virility.
L-Arginine which contributes to improved blood flow.
Ginseng and Ginkgo Biloba which both improve sexual energy and stamina.
B Vitamin Complex to boost immune function and provide you with overall energy and stamina.
The optimal dose is 1 Samurai-X capsule taken 3 to 4 hours before sex.
It is recommended that for a quicker more potent effect, you should chew the capsule and/or take it on an empty stomach.
Don't take more than one capsule in any 24 hour period.
Want To

REALLY

Get Bigger?
Click Here to sign up for my free "Enlargement Exercises" eBook.
Update Feburary 2018!
As expected, Samurai-X contains a hidden ingredient called Sildenafil, which is the active ingredient in Viagra.
You can read more about that in the FDA post here.

Samurai-X Pros and Cons
We find that making a list of the good and bad points of each product really helps when determining whether or not any particular pill is the best choice for you.
Advantages of Samurai-X
The ingredients are all natural.
There are no reported side effects.
Since

Samurai-X

is a take-as-needed supplement, there is no long term commitment required in order to achieve results.
Disadvantages of Samurai-X
It is recommended that you take it 3 to 4 hours prior to sexual activity.

This could become inconvenient.

There is no information available about the manufacturer.
Ingredient amounts are unknown.
We were unable to locate any Samurai-X reviews from customers.
Where to Buy
You can purchase Samurai-X online through a number of retailers.
It is sold in boxes containing individual "cards" with one capsule per card.
This is presumable set up for resale at places like gas stations and convenience stores.
While the online price seems to vary, the typical range is about $1.50 to $2 per pill.
Conclusion
The ingredients in Samurai-X seem like they would gain you some benefit, but without knowing ingredient amounts, it's difficult to tell what to expect.
Also, we wish we had some information about the manufacturer.
Not knowing who you're dealing with when making a purchase can be frustrating and make you feel like you're not a valued customer.
I'd say if you see the display sitting on a store counter and want to pick one up, go for it.
If it doesn't work, you're only out the price of one pill.
But I wouldn't recommend seeking Samurai-X out or buying in bulk without trying it first.

Have You Used Samurai-X?
Leave Your Review Below!
Our #1 Choice For Male Enhancement – Vigrx Plus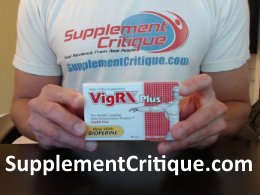 We have personally tested over 100 different male enhancement supplements, and Vigrx Plus stands out as the most effective in terms of results and customer reviews.  Not only is Vigrx Plus designed to help boost overall stamina and libido, but it's also the only product in its category to be clinically studied and PROVEN to work.
Click Here to read more about my specific results with Vigrx Plus
How People Found This Review:
and samurai x pill, and samurai x pill review
User Reviews
Great Pill
I start using Samurai male enhancement pill for a a while now I get it almost every weekend, this pill works great for me it comes in 3 different dosage 1000 mg, 1500 mg and 2500 mg and there was a limited edition of 3800 mg. The card claims that it will work for days which is true but the disadvantage of the pill is, it takes a long time to start working more than 4 hours sometimes I have to take it the day before -I'm not sure if that how my body react to the ingredients- also the 3800 mg make me feel like sea sick.

I've taken up to 3 pills 1000 mg each and gave me the same sea sick feeling. You can Combine the dosage if u want longer and stronger effect I usually takes no more than 2500 mg either one pill or Combine the 1000 mg with the 1500 mg.



Was this review helpful to you?
29 out of 29 people found this review helpful.
---
Contains sildenafil
Of course it works. It contains sildenafil, the active ingredient in the FDA-approved prescription drug Viagra

http://www.fda.gov/Drugs/ResourcesForYou/Consumers/BuyingUsingMedicineSafely/MedicationHealthFraud/ucm427824.htm?source=govdelivery&utm_medium=email&utm_source=govdelivery



Was this review helpful to you?
20 out of 25 people found this review helpful.
---
I will tell you these pills REALLY work. My fiancee has no problems without pills but occasionaly we like to add a little extra to our sex life.

We tried samuri x and we were not dissapointed. What an awesome experience.

Go samurai x!!! I recommend them highly.



Was this review helpful to you?
17 out of 21 people found this review helpful.
---
so far, so good
By
keith kelly
Dec 17, 2013
I am 50, in good health and just needed some extra umph sue to fatigue. Bought the individual pill at a gas station.

Since virility is not a big problem, I cannot guarantee the results. For me, I had a standup performance and felt very, very hard.



Was this review helpful to you?
12 out of 13 people found this review helpful.
---
Samurai X
I've used Samurai X several times and it works as it is intended to. I was happy with the pill enough to want to buy two more boxes (24ct) after my initial online order.

Based on my experience I would recommend Samurai X. It works.



Was this review helpful to you?
13 out of 16 people found this review helpful.
---
Want To REALLY Get Bigger?

Click Here To See Products That WORK!
Ask A Question
User Questions and Answers
---

Is it safe to take if one has high blood pressure -Ray

Tactically, Samurai-X has been recalled by the FDA because it contains the same ingredient a prescription ED medications, which you should not take if you have hig blood pressure. So no, you should not take this with high blood pressure.- Rob
Was this question helpful to you?
7

out of 7 people found this question helpful.
ASK A NEW QUESTION
---

There is going to be some drinking alcohol can the pill still work -Lawrence

It should still work as long as the drinking is moderate.- Rob
Was this question helpful to you?
6

out of 6 people found this question helpful.
ASK A NEW QUESTION
---

I used samurai x gold about 2 years never change was work but last one month I use 4 time it's not work for me I don't know what happen I'm thing in not work for me anymore what should I do? -kevin

Try VigRx Plus. It's my top male enhancement choice.- Rob
Was this question helpful to you?
5

out of 7 people found this question helpful.
ASK A NEW QUESTION
---

Can i chew the pill -Jaquan

It's not a good idea for controlled release type medications, but should be okay for this.- Rob
Was this question helpful to you?
2

out of 2 people found this question helpful.
ASK A NEW QUESTION
---

Can woman take samurai-x pills? -Felicia

No, I believe it only works for males.- Rob
Was this question helpful to you?
1

out of 1 people found this question helpful.
ASK A NEW QUESTION
---