Skinny Fit Detox Tea Review
By:
Rob Miller
Fact Checked On: 11-20-2018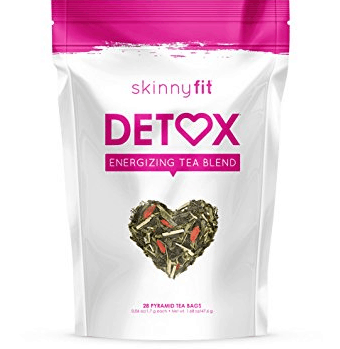 ---
Update (8-31-2018):We're looking for one health volunteer to test out Skinny Fit Detox Tea!
The product will be provided free of charge, all we ask for is a detailed review of your personal results.
Click Hereto learn more!
Why the Hype Over Detox Teas?
Detox is a buzzword right now, and companies are capitalizing on consumers' desires to feel refreshed, cut bloating, flush toxins and lose weight.

One popular type of product is the detox tea, like Skinny Fit Detox Tea.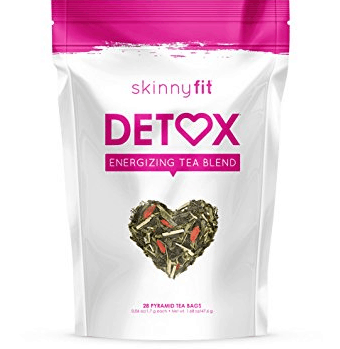 These teas aren't necessarily a new concept.

They've often been used in alternative medicine and available at health food stores, but they've become more mainstream.

If you use social media, you've more than likely seen celebrities or influencers touting the benefits of these teas.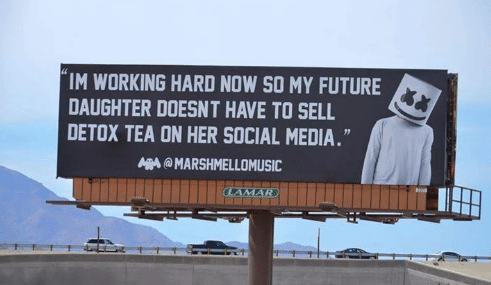 So what's the deal?

Do detox teas work, and specifically, what about Skinny Fit Detox Tea?

Along with whether or not they're effective, a lot of people wonder if they're safe, so we put together a rundown of what exactly Skinny Fit Detox Tea is, its ingredients, and whether or not it's potentially safe or effective.
Do Detox Teas Really Work?
As we touched on, the idea of detoxing is a popular one right now.

People are willing to pay to feel like they're detoxing their body, or essentially removing the buildup of all the bad stuff in their system.

They'll buy fresh juices, dietary supplements, and of course, teas.
Some companies have taken the idea of the tea detox or cleanse, and they've branded it into specific products.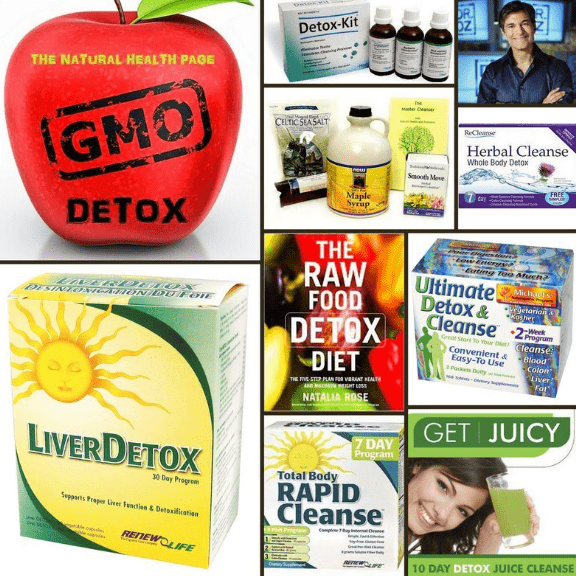 A lot of detox teas will have natural ingredients that are believed to help with detoxing like dandelion, milk thistle, ginger, and lemongrass.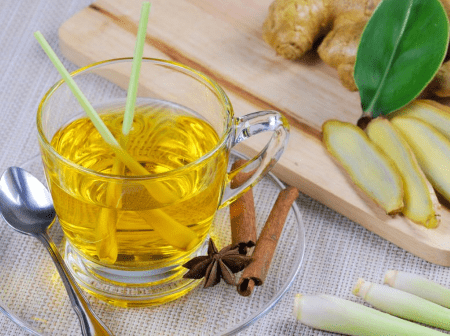 Some of these products also have herbal laxatives like senna.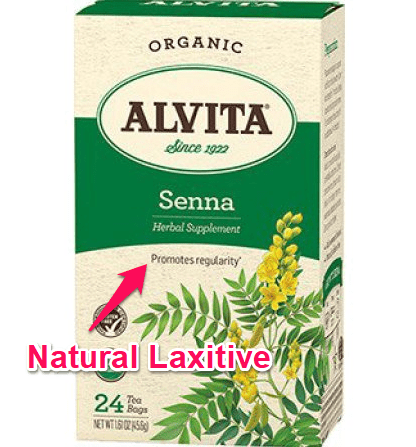 Some people may drink the tea in addition to following their normal routine, while others may only drink tea for a period of time to lose weight quickly.
Benefits promoted by makers of tea detox products include the weight loss, as well as feeling lighter, and having a flatter stomach.

Most tea detox products also claim users will experience less belly bloat, and there are some claims it can make the liver and kidneys healthier.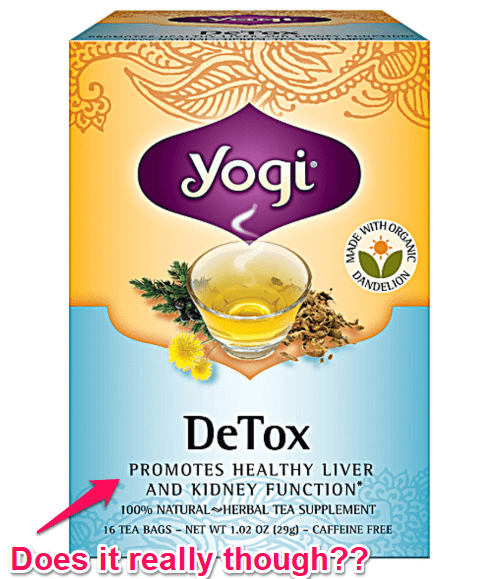 Some people do lose weight using these products, but it's not all it might seem to be.

Health professionals, by and large, do not recommend tea detox products, and clinical studies point to the fact that commercial detox diets don't have many positive effects.

The National Center for Complementary and Integrative Health, which is part of the NIH, is skeptical of any detox or cleanse claims.

According to this organization, there's no convincing evidence that detox diets or products promoting a cleansing of the body have any effect on the body or health.
Some of the side effects of tea detox products and programs can include complications in bowel health and even a slowed metabolism, which is quite the opposite of the desired effects.
Furthermore, some of them have even went so far as to inject dangerous and illegal chemicals into their product in an effort to make them work.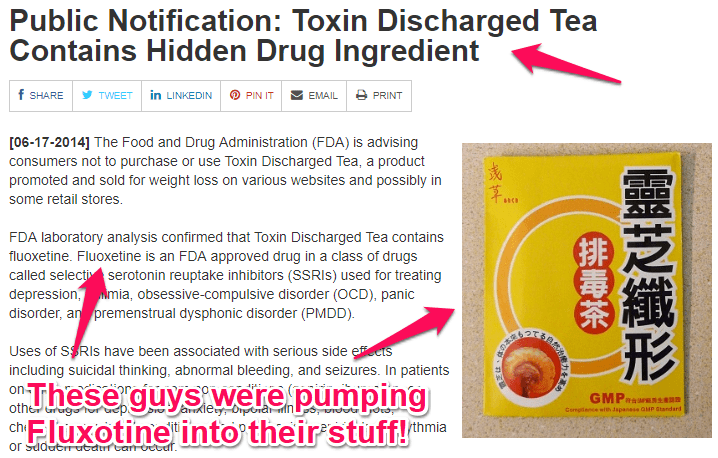 What Is Skinny Fit Detox Tea?
Skinny Fit Detox Tea is one of the most widely promoted tea detox products on social media platforms like Instagram.

You'll often see celebrities and reality stars posing with the tea product, and showing how flat their stomach is as a result.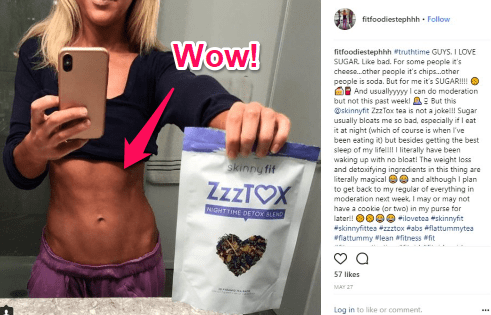 The Skinny Fit company makes skinny Fit Detox Tea.

They describe the Skinny Fit Detox Tea as a natural, simple product that can boost metabolism, alleviate boating, and remove toxins from the body.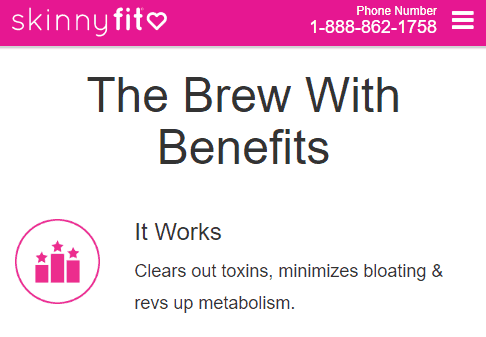 The claim is that this tea is made up of 13 superfoods, which include separate teas as well as herbs and berries.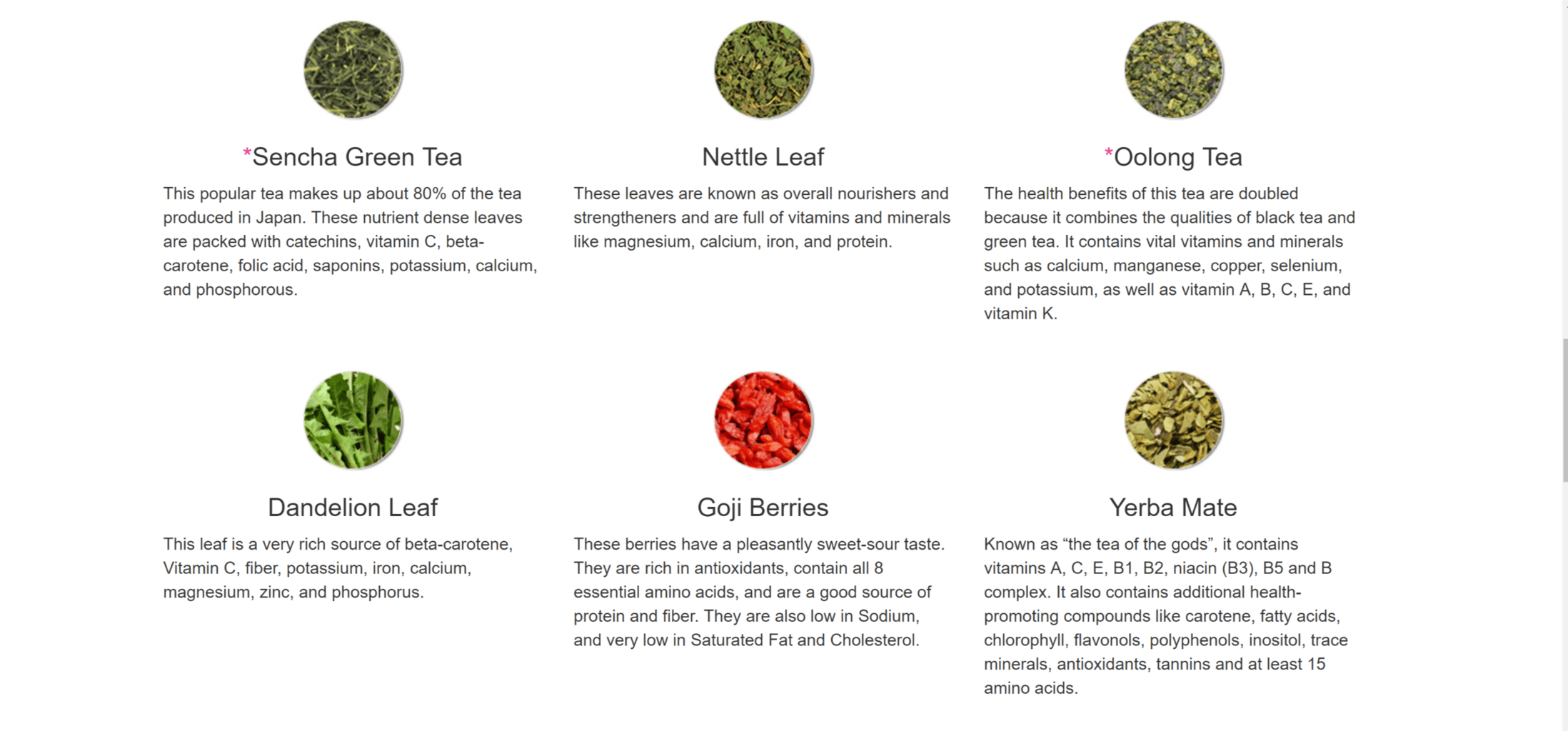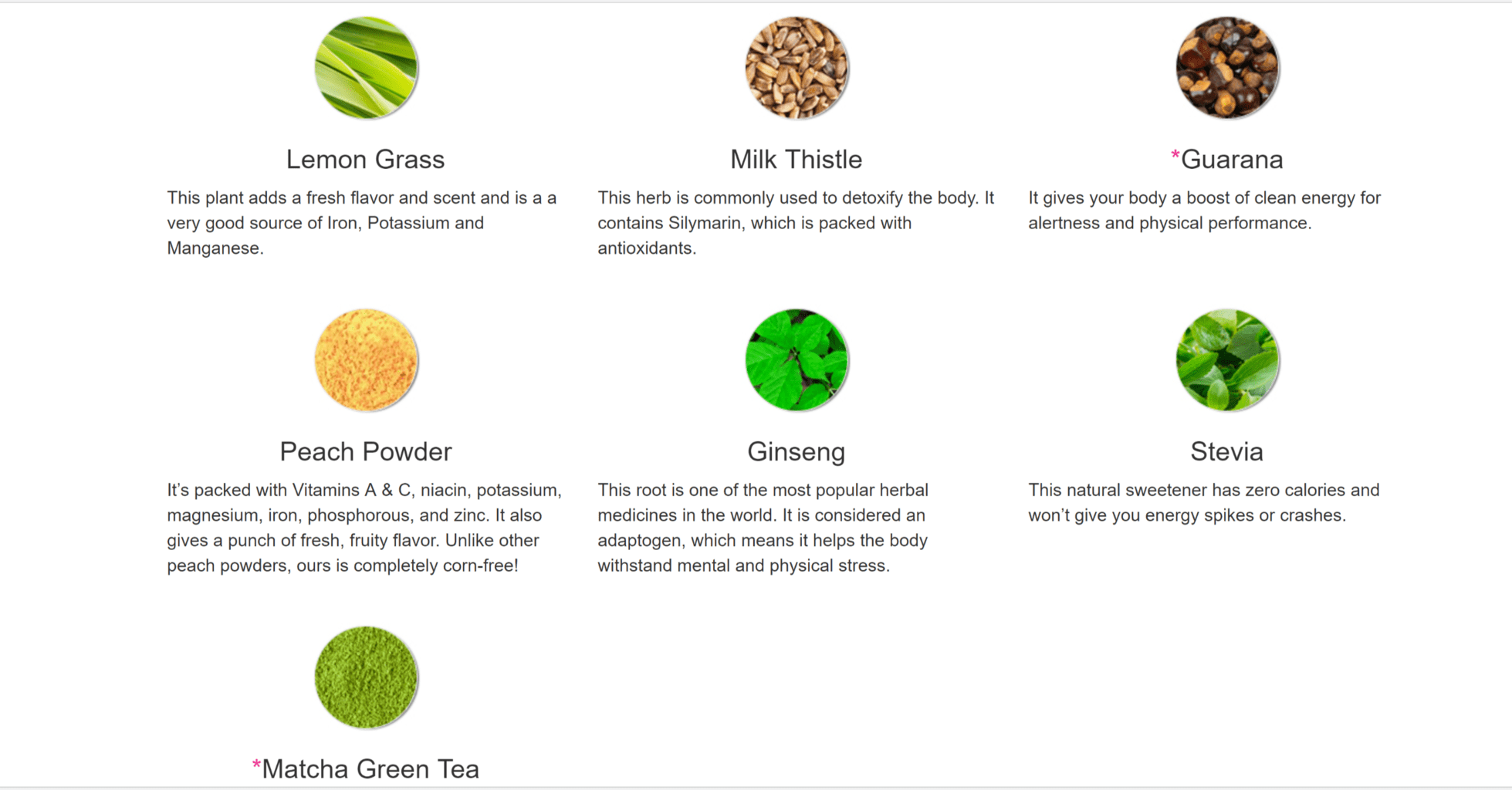 Specific benefits named on the Skinny Fit website include helping with healthy digestion and losing body weight, relieving gas, and providing antioxidants.

Other big claims you'll spot on sites selling Skinny Fit Detox tea include the promotion of healthier, glowing skin, increased energy, reduced inflammation and colon cleansing power.
The tea is designed to be a daily drink, and while people use it, the makers recommend eating a healthy, whole food diet.
Ingredients In Skinny Fit Detox Tea
Skinny Fit Detox Tea doesn't include the senna laxative.

The tea does contain caffeine. Ingredients in the product include:
Ginseng Leaf
Goji Berries
Sencha Green Tea
Matcha Green Tea
Oolong Tea
Guarana
Yerba Mate
Nettle Leaf
Peach Powder
Stevia leaf
Frequently Asked Questions
What Do the Reviews Have To Say About Skinny Fit Detox Tea?
We're living in the age of the review, and let's face it—that's how most of us make the majority of our daily buying decisions.

So what are reviewers on Amazon saying about Skinny Fit Detox Tea? This is a polarizing product.

There's almost an equal number of consumers on Amazon who gave it five stars as opposed to one star.
We'll start with the positive reviews.
Some of the things people who gave it five stars noted include:
"I've always had a problem with bloating, but this has gotten rid of my bloating in just a couple of days."
"It's been a week, and I've already lost a few pounds."
"This detox tea is a great way to kick-start a healthier lifestyle."
"Works on bloat."
"I've been drinking this in the morning instead of my regular coffee, and it has energized me without the crash."
"I have a lot more energy, and I feel good about myself."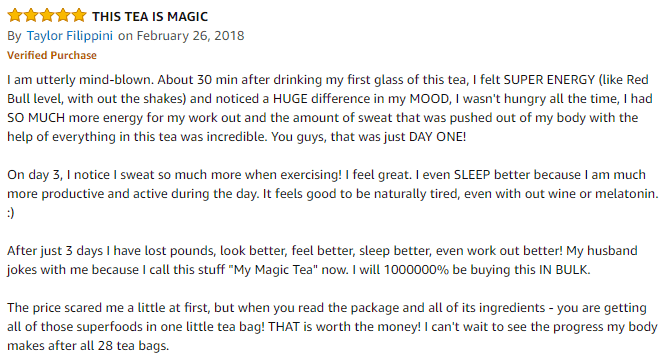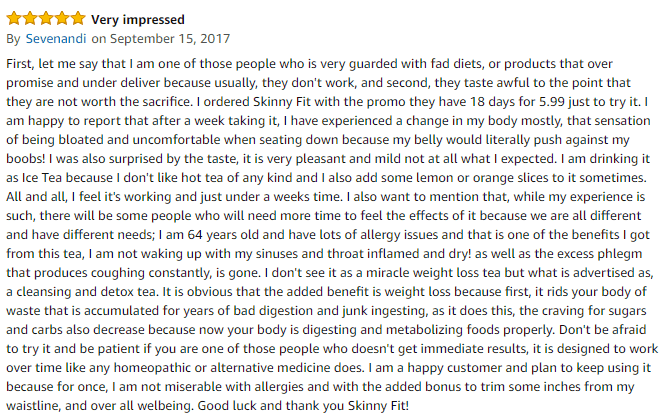 So, next for the bad.

What do reviewers who gave the product one star have to say?
Some quotes from customers on Amazon include:
"I finished the whole bag, and it didn't do anything to me at all, haven't lost any weight and not helping with my bloat."
"Do not waste your money.

Product doesn't work, too expensive for a tea."
"This product was very disappointing."
"Total scam, they even deleted me on Facebook."
"Biggest waste of money."
"After using the product for almost one month, I did not notice ANY difference."
Youtube Reviews
There is no shortage of YouTube reviews floating around out there for every tea product on the market including Skinny Fit's detox tea.

One reviewer who hosts Andrea's Kitchen created a pretty in-depth video, where she says she enjoys the product.
According to her review, she's used it for around three weeks at the point she shares her results, and she's experienced energy without a crash, and what she describes as a "nice clean feeling."
How Do I Use It?
The instructions for Skinny Fit Detox tea include having it each morning about 30 minutes before eating breakfast.

Users should pour eight ounces of water that's just come to a boil over a single tea bag, and let it steep five to seven minutes.

Users can also have a second cup later in the day if they choose, such as before working out.
It's meant to be a daily drink, and according to the makers, the effects are best when it's used consistently.
Along with using it as instructed, the Skinny Fit company recommends eating a healthy diet while using it.
Does It Contain Caffeine?
Skinny Fit detox tea does contain caffeine.

It contains 1.798 mg of caffeine per tea bag.

This is compared to a cup of green or black tea, which can have 30 to 50 mg of caffeine, or a cup of coffee, which can have 95 mg of caffeine per cup.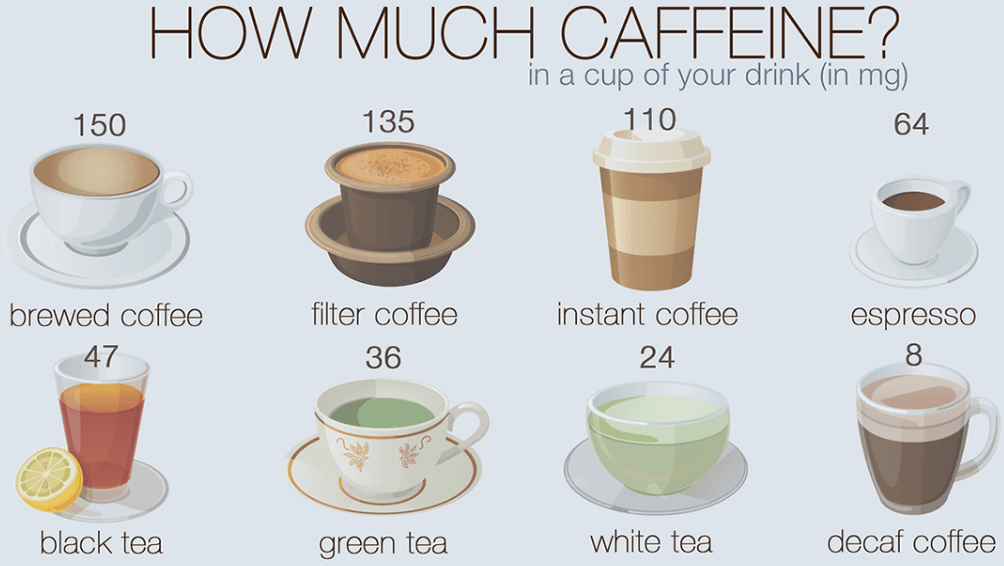 Are There Any Side Effects?
One of the primary side effects that people experience with tea detox products is diarrhea, and the uncontrollable need to go to the bathroom.

Since Skinny Fit doesn't contain senna, this isn't likely to be a side effect of this product.
There is the potential for this tea to cause you to feel jittery, or to have higher blood pressure levels than normal, but this can happen with any tea or product containing caffeine.

Another possible side effect of this product is gastrointestinal discomfort, but again if you're drinking a lot of pretty much anything, this can be a side effect.

Examples of gastrointestinal discomfort can include gas and flatulence.

You may experience nausea as well, and this is something people experience with green tea alone.
Some users say they experienced side effects after stopping the tea.

For example, one person on Amazon said that she ran out and then started having stomach burning, bloating, excessive gas and general discomfort after she stopped using it.
Is It Suitable For Both Men and Women?
According to the makers of Skinny Fit detox tea, anyone who wants a healthier lifestyle can use it.

It can be used by men or women, although the marketing is directed primarily at women.
How Does It Taste?
Asking how Skinny Fit Detox Tea tastes is subjective, but for the most part, users seem to think it has a good taste.

Even people who say it did not affect them regarding things like weight loss do note that they found the taste to be pleasant.
Will It Help Me Go to the Bathroom?
As we touched on earlier, a lot of the tea products on the market have laxative ingredients in them.

This can make people feel like the product is working, or like they're losing weight or bloat, but it can also cause complications like diarrhea.
Skinny Fit doesn't have a laxative in it, including the natural laxative senna.

It shouldn't make a drastic change in your routine as far as going to the bathroom, but you could notice some increases in bathroom visits just because you're adding more liquids to your diet.

The green tea and some of the other ingredients can stimulate the gastrointestinal system a bit as well.
Is It Safe?
For the most part, Skinny Fit Detox Tea is probably safe, although anyone using it should speak to their healthcare provider first.

Also, when you're using this tea or any other tea product, it's important to eat, drink enough water and maintain a diet that's healthy.

One of the biggest risks with a lot of tea detox products is that people will stop eating or drinking on them altogether in an attempt to lose weight quickly. That can cause serious health effects.

Skinny Fit Detox Tea doesn't recommend that users do this, but instead the company recommends eating a healthy diet.
If someone is pregnant, breastfeeding, or under the age of 18, they shouldn't use this product without consulting a healthcare provider.

The same is true of people with pre-existing health conditions.
Where Can I Buy Skinny Fit Detox Tea?
If you decided it's worth giving Skinny Fit Detox Tea a try, where can you buy it?

Most people go directly to the manufacturer's website.

They offer this particular tea blend along with some of their others, and you can make a one-time purchase for $69.95 (it's an expensive tea).There's also an option to subscribe, and that brings the price down to $59.95. However, if you do subscribe, some people complain that it's very difficult to then cancel that subscription.
There are terms and conditions listed on the site regarding subscribing to receive the product monthly and be automatically charged, so if you're thinking about going with this option, read the fine print.If you want to cancel a subscription you're supposed to do so 24 hours before your next bag of tea would ship out.

To cancel, the company tells customers to call 1-888-862-1758 or email them at hello@skinnyfit.com.
You can also buy it on Amazon or Walmart's website, however right now both seem to be out of stock of the product.
As far as guarantees, Skinny Fit doesn't make any.

They don't issue refunds for someone not experiencing the desired results of the product.

However, they tell customers to email them if they do not see effects and they may be able to offer them tips.

After an order is shipped, there are no refunds, returns or exchanges.
Conclusion
Okay, so here we have it—what are our final thoughts?

Skinny Fit Detox Tea has ingredients that individually may help you feel less bloated, help you lose water weight, or provide you with more energy.

If you watch your diet while using it, you may also lose weight.

However, there are no guarantees.
The people who seem to have the most benefits at least as far as weight loss from using SkinnyTea seemed to have paired it with a healthy diet and exercise.
It's an expensive product, and you're probably best off if you try one bag before subscribing, since there isn't a money-back guarantee.

SkinnyFit Detox Tea may be a better tea option than some of the other similar products since it doesn't contain a laxative, but as with anything like this, consult with your doctor before trying it.
Have You Used Skinny Fit Detox Tea? Leave Your Review Below!
Ask A Question
User Questions and Answers
---

I ordered my skinnier package 3 weeks ago still has not arrived -Sharon

That seems like a long time. You'll have to contact the company directly. We're a review website with no connection to them.- Rob
Was this question helpful to you?
2 out of 2 people found this question helpful.
ASK A NEW QUESTION