StrongGirl Pre Workout Review – Do You Need It?
By:
Rob Miller
Fact Checked On: 11-12-2015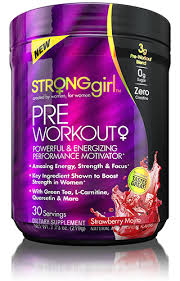 Most of the products we reivew are geared toward men. The truth is, most of our readers are men. But they're not all men, and even when they are, they've got wives, girlfriends, sisters, mothers, and daughters, so every once in a while, we veer from our regular formula and review a product made for women.
StrongGirl Pre Workout is a pre workout supplement designed and marketed for women. You can make the argument that many, if not most, pre workouts are fine for men and women both, and that's true.

But "fine for women" and "made for women" are not the same thing.

StrongGirl Pre Workout is specifically made to work with a woman's body to help her achieve the best workout she's capable of, every time.
StrongGirl Pre Workout Promises
On the StrongGirl Pre Workout product website, they make a few promises to get you interested.

They are that StrongGirl Pre Workout is:
Formulated specifically for women.
Developed using a scientifically researched key ingredient.
Free of banned substances.
Free from harmful impurities.
Free from undeclared substances.
And while living up to these promises, StrongGirl Pre Workout claims to be a powerful and energizing formula.

Explosive strength and intensity combined with endurance and recovery, all in an easily mixed delicious pre workout powder in flavors designed to women's tastes.
StrongGirl Pre Workout Ingredients
Of course, promises are one thing.

What we're more interested in is whether or not StrongGirl Pre Workout can deliver. For that, we first look to the formula.

Most of the ingredients in StrongGirl Pre Workout are found in lots of other pre workout formulas, for both men and women. Almost the entire formula is put into a proprietary blend, so we don't know how much of each ingredient is used.
Here's what's in the proprietary blend:
Beta Alanine to provide long lasting endurance.

When you work out, lactic acid builds up in your muscles, causing them to feel fatigued. You know the feeling it causes.

Your muscles almost tell you flat out, "I'm not doing this anymore!" That's lactic acid.

Beta Alanine prevents lactic acid from building up in your muscles, so you and keep pushing on.
Taurine which boosts hydration during your toughest workouts and increases fat burning during cardio.
Green Tea Extract. The EGCGs in Green Tea are thermogenic. This is true.

But more than that, recent studies with only women as subjects have shown that it increases strength.
L-Carnitine L-Tartrate which boosts metabolism and supports muscle growth.

It's a rare ingredient in that it serves both weight loss and muscle building processes at the same time.
Caffeine which provides an energy and focus boost while stimulating metabolism and suppressing appetite.
Quercetin which provides natural energy before and effective recovery after you workouts.

Its antioxidant, anti-inflammatory, and anti-histamine properties are good in any supplement.
Choline Bitartrate which helps maintain even energy throughout your entire workout.
Japanese Raisin Tree Extract which helps maintain proper hydration levels.
Rhodiola Extract which is an adaptagen that helps your body adapt in stressful situations.

This leads to increased energy and endurance, as well as better post workout recovery.
L-Theanine which can mitigate the negative side effects of caffeine.
And they add a bit of Vitamin B6 and B12 for an all day energy boost with no crash
So StrongGirl Pre Workout really isn't much different from other pre workouts, not designed for women. It's just the addition of Green Tea, with its latest study using only women, that gives the impression its just for women.
How To Use StrongGirl Pre Workout
At first, you need to assess your tolerance.

This means taking a lowered dose so that if you get hit hard with the stimulants or any of the other ingredients, the effect will be muted.

It also gets your body acclimated to the ingredients so within a few days, you can get the benefits of the full dose.
One Day 1 and Day 2, mix one scoop with water and drink about 30-45 minutes before working out.

If all goes well, on Day 3, use 2 scoops.

This is the dose you take from them on.
It comes in 2 female-friendly flavors straight out of a Sex and the City episode: Cosmopolitan Fruit Punch and Strawberry Mojito.
It's not recommended that you exceed the 2 scoop limit in the a 24-hour period.
Who Makes StrongGirl Pre Workout?
StrongGirl Pre Workout is made by Iovate, the same company that makes Hydroxycut and MuscleTech products.

It's a respected company in terms of customer service and longevity.

But they do push the envelope when it comes to cutting edge ingredients.
Where to Buy
Like other Iovate products, StrongGirl Pre Workout is available online though GNC and Amazon, as well as in GNC Stores.

GNC sells 30 servings for $49.99 ($39.99 with your GNC membership).At Amazon.com, you'll get that same tub for $37.91.
StrongGirl Pre Workout Reviews
The overwhelming majority of StrongGirl Pre Workout reviews I've seen are very favorable, and the raves encompass just about every category you can think of.
Here are some examples:
"Worked 12 hours, hit the gym at 8pm, 30min steady state cardio on stair mill, 30 min HIIT on stair mill, followed by 2hrs of heavy glute training!Was on fire for a solid 3 hours!!! "
"I am actually obsessed with this pre work out.

I have tried many other pre work outs that haven't really done the trick, or proven to be effective.

I had an increase of energy and strength on this pre-workout.

It helped pushed me through tougher sets."
"I love the flavor and the energy as opposed to some other brands of pre workouts I've tried.

It definitely doesn't come on as intensely which I like, but you can feel it help you push through a great workout."
"What I love most about this pre-workout is that I didn't get the shakes and the heart palpatations that a get from a lot of other pre-workout formulas.

This pre-workout gave me a great, clean energy with zero crash."
And there are plenty more where those came from.

There are a few less than positive reviews, but very few.
StrongGirl Pre Workout Pros and Cons
Advantages of StrongGirl Pre Workout
It gets great reviews.
According to most users, it mixes well and tasted great.
It fills a perceived need for a pre workout for women.
Disadvantages of StrongGirl Pre Workout
There's not really a need for a women's pre workout.

And if there is, StrongGirl Pre Workout doesn't really fill it.
Conclusion
Judging by the abundance of positive reviews, StrongGirl Pre Workout is a good solid pre workout supplement.

It's marketed toward women, but in reality, there's nothing in it that makes it better suited to women than men. The simple fact is most preworkouts are fine for both genders.

The trick is finding the one that's best for you.
Have You Used StrongGirl Pre Workout? :Leave Your Review Below!
Top 3 Pre WorkoutAffiliate Disclosure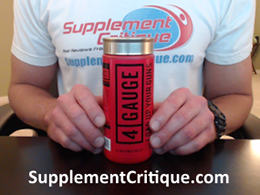 4 Gauge is a brand new pre workout that kicks in FAST and will rev up your workouts.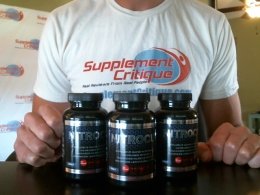 Nitrocut is a VERY effective pre workout supplement for a variety of reasons, see why here.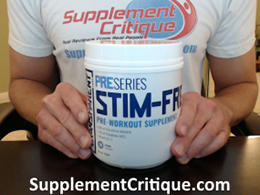 If you're looking for a stim-free pre workout, add Transparent stim-free to your list!
Want To Really Get Ripped?

Click Here To Download My FREE "Get Ripped" Ebook!
Ask A Question
User Questions and Answers
---

Do u eat breakfast before u drink the pre workout drink... I just started taking this today I added 1 scoop with 8 oz water then waited 30 min I did my floor exercise 30 min workout then I ate breakfast I finished up my leg workout and then took the after workout drink -Brenda

It's really what you feel most comfortable with. Some people like to do fasting cardio, but you generally want to eat some complex carbs before your lifting workout.- Rob
Was this question helpful to you?
1 out of 1 people found this question helpful.
ASK A NEW QUESTION