Untapped Pre Workout Review – Does It Work?
By:
Rob Miller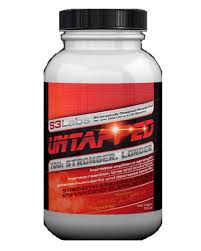 Untapped Pre Workout is a hard charging pre workout supplement that calls itself the Pre Workout Calalyst Designed to Make the Toughest Workouts Feel Easy.

When we started researching this product, we could tell there was something different about it.

It makes a lot of the same promises you get from most formulas, like:
Explosive Strength
Relentless Energy
Fat Incineration
Faster Recovery
But when you look closer, Untapped Pre Workout goes further than most product.

They talk about dulling pain, reducing inflammation, enhancing the mind-body connection, and even sharpening your reflexes.

Are these really benefits you can get from a pre workout? Untapped Pre Workout says they are.

So we looked a little more closely.
Untapped Pre Workout Ingredients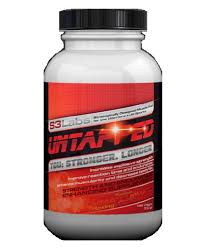 Untapped Pre Workout provides a list of all its ingredients including amounts, so this is not a product that's hiding behind proprietary blends.

The formula uses some of the usual suspects, but there's one ingredient in particular that stands out as unique, and it's the one Untapped Pre Workout puts most of its focus on:
Octacosanol is a compound found in raw wheat germ oil.

Back in the 1950s, there was a small study that found athletes taking unrefined wheat germ oil for 18 weeks improved their bike riding times by 47%.

The control group in the study took only Vitamin E, and their times only improved by 4%.

The reason they controlled for Vitamin E was to determine if it was the Vitamin E in Wheat Germ Oil causing the athletes to improve.

Clearly it was determined that the Vitamin E was not responsible.
That leaves Octacosanol as the likely answer.

Since then, there have been many promising animal studies showing its potential benefits.

It's believed to improve they way your muscles and body use oxygen, thereby improving stamina and endurance.

It also helps remove lactic acid from the muscles, allowing for a prolonged workout without muscle pain.

An additional benefit may also be an improved utilization of fat for fuel.
This makes Uptapped Pre Workout slightly unique from many of its competitors as a little bit of digging can actually point to the specific ingredient that may be responsible for the results that users can expect to get.
Octacosanol may also improve the efficiency of the mind/muscle connection which creates an environment for better reaction times and overall athletic performance.
The Untapped Pre Workout formula is filled out with:
Beta Alanine which is known to help prevent the build up of lactic acid in your muscles during workouts.

When the amount of lactic acid gets too high, it causes your muscles to feel like they just can't work any longer.

Beta Alanine causes a significant delay in that build up, so your workouts go harder for longer.
Caffeine to boost motivation, energy, and concentration.

The dose is 100 mg which is around what you get from a single cup of coffee.
Guarana which is another source of caffeine, adding an additional 100 mg to the mix.

Guarana kicks in a little more slowly than caffeine, so you have a more smooth, longer lasting energy.
Ginseng which improves energy, blood flow, and oxygen uptake throughout your body.

It makes your workout just that much more effortless, allowing you to work out longer.
Vitamin B12 which provides whole body energy without being a central nervous system stimulant.
Pantothenic Acid which is Vitamin B5, a catalyst for protein, carbohydrate, and fat metabolism.
How To Use Untapped Pre Workout
The recommended dose is 4 capsules taken with water about 30 minutes before your workout.

There's no need to take Untapped Pre Workout on your off days.
Who Makes Untapped Pre Workout?
Untapped Pre Workout is made by a company called S3 Labs.

They're a company out of Las Vegas, Nevada that only makes Untapped Pre Workout. Little is known about S3 Labs.

They don't have a presence with the Better Business Bureau.

And I don't find any complaints lodged against them with any of the other complaint boards online.
What we know about them comes from the "About Us" page on their website.

The company was created by a former American Intelligence operative who switched careers to create a nutraceutical that could take mind/body performance to a new level.

They leave out the proprietor's name and when he formed the company.

Really, they just provide a small snippet of information, kind of a teaser with a little intrigue to get you interested.
Untapped Pre Workout Side Effects
Octacosanol isn't known to cause any major side effects.

Beta Alanine, on the other hand, tends to cause a tingling feeling on your skin. It's not harmful. Some people are bothered by it.

Others like it because it means their pre workout is working.
Other than that, there are no reported side effects associated with Untapped Pre Workout.

Of course, that's no guarantee that any particular person won't experience a reaction to one or more of the ingredients.
Where to Buy
The only way we found to purchase Untapped Pre Workout is through their official website, named for the product.

A single bottle, containing 25 servings, sells for $34.99. You can get a 2-pack for $54.99, about a $15 savings.
They do offer a money back guarantee for all first time purchases.In order to get your refund, you need to contact S3 Labs for an RMA number, and return the product.
Untapped Pre Workout Reviews
Because it's only available through its official website, there aren't a lot of independent Untapped Pre Workout reviews from customers who've used it.

The Untapped Pre Workout website does offer a collection of feedback from sports nutrition writers and experts.

Here are a few examples:
Examiner.com says: "The experience, both in and out of the gym, that Untapped Pre Workout brings to the table is unlike anything we've tried."
Natural Pre Workouts Blog says: "I definitely felt an increase in power, endurance, and strength.

Definitely pushed me through my limits."
Untapped Pre Workout Pros and Cons
Advantages of Untapped Pre Workout
The ingredients are all natural.
The primary ingredient shows promise as a strength and endurance booster.
There's a money back guarantee.
What reviews there are tend to be positive.
Disadvantages of Untapped Pre Workout
The positive science behind Octacosanol is old, and there hasn't really been a human study since that backs it up.
Conclusion
Untapped Pre Workoutis worth trying.

I can't at this point definitively say it works, but there's definitely promise.

It definitely seems to have more promise and value than some other similar pre workout remedies available.
If you do give it a try, come back and let us know how it works out for you.
Have You Used Untapped Pre Workout?

Leave Your Review Below!
Top 3 Pre WorkoutAffiliate Disclosure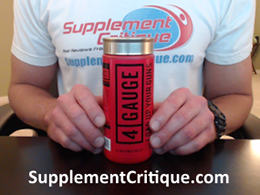 4 Gauge is a brand new pre workout that kicks in FAST and will rev up your workouts.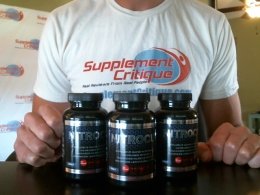 Nitrocut is a VERY effective pre workout supplement for a variety of reasons, see why here.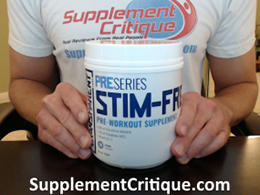 If you're looking for a stim-free pre workout, add Transparent stim-free to your list!
User Reviews

5.0 out of 5 Stars (1 Reviews)
Have you used this supplement?
Untapped
By
Kevin

,
Jun 24, 2019


In Short:

I would recommend this to a friend.
Yes it works I am stronger than ever and have more muscle

Was this review helpful to you?
9 out of 10 people found this review helpful.
---
Want To Really Get Ripped?

Click Here To Download My FREE
Ask A Question
User Questions and Answers
No Questions Have Been Answered For This Article.