RECOMMENDED
Date Published:
06-18-2015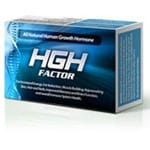 There are a lot of hgh supplements on the market that claim to help boost lean muscle, and help you lose weight at the same time.
Hgh Factor is one of those supplements, so we decided to take a hard and fast look at this product to see if it really does what it claims.
Ever since the publishing of a study conducted by the "New England Journal of Medicine" talking about the effects of HGH on the nervous system, many companies have been coming out with these products in an effort to capture the market.
Quick Facts About HGH
Human Growth Hormone has been studied and used for the past few years as a way to treat children with growth dysfunctions, and is typically taken in inject able form.
True GH is applied subcutaneously under the skin, and takes a period of up to 12 months to actually work.
It can only be prescribed and administered by a doctor, and often can cost upwards of $15,000 for a years worth of therapy.

So What is HGH Factor?
HGH Factor is not actually growth hormone.
It can't be, because it is illegal to sell it without a prescription and doctor supervision.
What it is, however, is a so called "hgh releaser", which somehow encourages the pituitary gland to help produce more of its own hgh.
This particular product uses amino acids and peptides in an effort to do this, but there has been no research or clinical studies to back up these claims.
HGH Factor is promoted all over the internet, but you can only buy it on their official website.
Moreover, reputable online retailers such as Amazon and Ebay do not carry very many of these types of supplements, probably because of the nature of how they are promoted.
User Feedback and Availability in Other Countries
While it is talked about alot through various discussion boards, especially on body building type sites, there haven't been many guys that have come forward to say they have tried the product out.
We found this review on an external site:
"I used hgh factor for about a month and saw absolutely no results from it.
I'm not saying it doesn't work, because it might works for someone else, but it definitely had no impact on me.
They said that it was supposed to grow your penis like 2 inches in a month or something, but i didn't even get hard off of it.
Waste of money if you ask me."
Jeff, Tenn.
This supplement is often touted on the internet to be combined with a product called xanogen, which is apparently a male enhancement product.
We could not find any information on men that have used this combination, or the source of this supposed miracle combination.
Hgh Factor does not appear to be sold in any brick and mortar stores such as GNC, Vitamin Shoppe, or local stores.
Moreover, it is not sold in any other countries like Australia, the UK, India, or other European countries, simply because these supplements are banned in certain countries.
Pro's
– 30 day money back guarantee
– Good Customer Support
– High Quality Ingredients
– Positive Testimonials From Customers on Their Site
Cons

– Very expensive ($100 for 1 month supply)
– Limited info available on third party sites
– No Clinical Studies of Physician Recommendations
Overall
The use of HGH Releasers is somewhat controversial, with one side arguing that the body simply cannot produce any more hgh after age 20 regardless of what you eat, and the other side saying it can.
Until further proof can be obtained in the form of medical research and hard facts, we are going to say that more needs to be learned before approving or dissaproving hgh factor.
The companies site is very informative, and they make a good case for their product, but there is simply not enough known about whether or not it truly works effectively for muscle growth and sexual enhancement.
My Top Choice For HGH Supplementation –

HyperGH 14X
Looking for an effective all natural HGH supplement that really works?
I recently had a chance to test out HyperGH 14X, and my results were pretty amazing.
This product uses high quality ingredients, and is specifically designed to help stack lean muscle, get bigger results from your workouts, and help you recover faster.
Learn how it works in my official review of HyperGH 14X.
How People Found This Review:
and hgh factor reviews, and hgh factor, and hgh factor review, and high factor, and high factor xanogen, and high factor reviews
Click here to submit your review.
---
Ripoff
I am a cancer colon survivor and the side effect of an ostomy is lower testosterone and HGH, I tried the sample and was charged 78.90 thinking I was getting 30 trial.

Wrong!!!!! The product did nothing that it claimed.
Was this review helpful to you?
2 out of 3 people found this review helpful.
---
User Questions and Answers
User Questions and Answers
---
Q: Can a man take Hgh Factor if they have a prostate problem? -doni
A:
It should be fine, but you'll want to check with your doctor just in case.
Was this question helpful to you?

---
Q: Do u take 3 pills a day and is it ok to take2100 milligrams -troy
A:
The recommended dose is 2 capsules in the morning with breakfast.
Was this question helpful to you?

---
Sign Up For Our FREE 41 Page Ebook
"How To Get Lean, Ripped, and Strong Quickly"
Includes Three
Free

Bonuses ($23 Value):
Free

"Big List Of Foods You Can Eat" Quick Reference Sheet

Free

Get Ripped Workout Log

Free

Sample Meal Plans

Sign Up For Our FREE 41 Page Ebook
"How To Get Lean, Ripped, and Strong Quickly"