Competition can be tough these days, and everybody wants an edge.

Whether you're in the gym, in the classroom, or in the boardroom, why not make sure you're operating at your very best? That's the whole point of supplements, but the trick is finding the effective ones – the ones that provide real, tangible benefits.

It's a process, and when it comes to supplements to help your brain function at a higher level, it can be an especially involved process.

That's why we've taken such an interest.

Effective brain boosting formulas exist, and we're on a quest to find them.
What is Brain Forza?
Brain Forza is a company specializing in formulas designed to improve your lifestyle with natural herbs and other ingredients.

They state as their mission:

In order to achieve that goal, Brain Forza uses what they call a "whole body approach".Their focus is not only on the brain, but on the entire body – understanding that what's happening in your gut or your immune system directly affects how well you focus, concentrate, and process information.

To that end, they offer several different products – to be used separately or together – each of which uses a formula designed to improve your thinking and your life.
Brain Forza provides several single-ingredient supplements, like Ginseng and Ashwagandha, but they've also created some flagship formulas designed to provide broader improvement.
Brain Forza Study Juice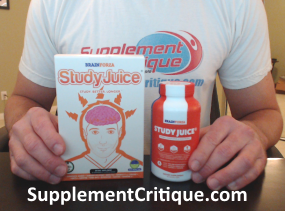 Study Juice is the cornerstone of the Brain Forza product line.

It provides smooth energy without jitters or crash, and improves focus and concentration.

Tons of college students use energy drinks to help them stay on task for the long hours it may take to prepare for an exam or complete a project.

But these just use caffeine and sugar to get you hyped up and manic for a few hours, possibly unable to concentrate, and definitely headed for a crash before too long.
Brain Forza Study Juice promises a better alternative than caffeine.

Contrary to its name, it comes in capsule form, and contains ingredients like Ashwagandha, Theacrine, Caffeine, and Theanine to get you to where you're alert and focused, yet calm and relaxed – perfect for staying on and completing the task.
Caffeine and Theanine are a great nootropic combination, caffeine for obvious reasons, and theanine because it takes the edge off the caffeine buzz.

You're still alert and awake, but you've got no jitters and you're calm and steady.
KSM-66 is a potent form of Ashwagandha, which helps your body respond more appropriately to stress.
Theacrine is similar to caffeine, but its effects last longer and it's been shown to improve motivation, focus, and mood.
Here's a snapshot of the ingredients label for the pills: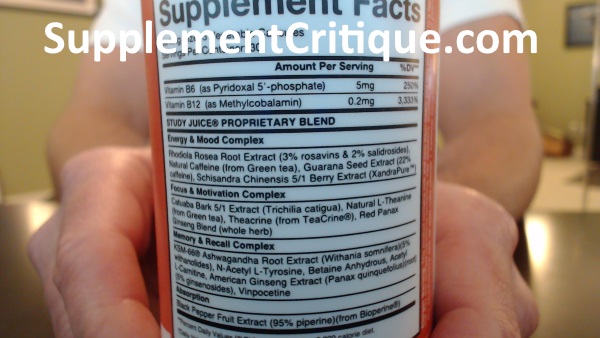 and here's a snapshot of the ingredients in the powder formula: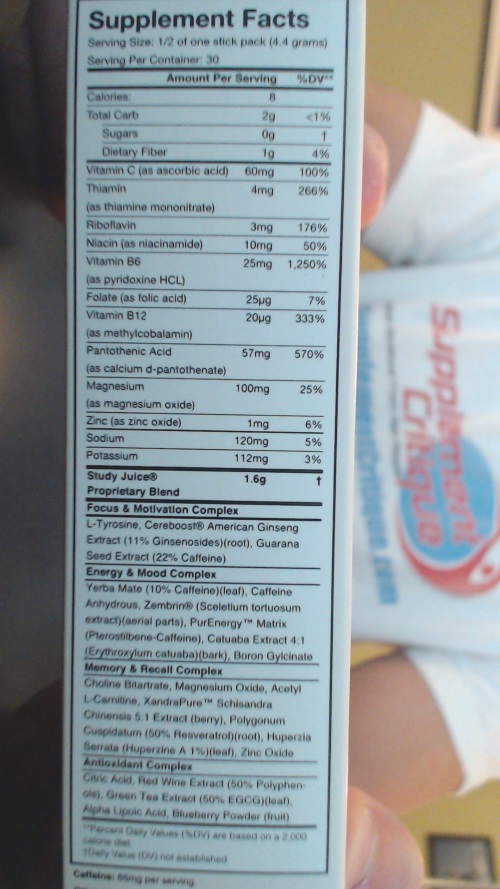 The Brain Forza Study Juice formula also contains several more herbs and vitamins, all while remaining gluten free and vegetarian.

The recommended dose is 3 capsules twice a day, or as needed (but not to exceed 6 capsules in a day).

You can stack it with Work Juice, which we'll discuss next, but I wouldn't recommend taking Study Juice within a few hours of bedtime, due to the caffeine content.
Brain Forza Work Juice
Brain Forza calls Work Juice an herbal adaptogen.

What that means is that it works with your body's natural processes to reduce stress and mitigate the effects of stress on your body and mind.

When your body is balanced and not fighting the condition of stress, it is better able to perform on all levels.
The Work Juice formula goes heavy on the Ashwagandha (800mg) which makes sense due to the fact that it's a well known herbal adaptagen. But it's not the only adaptagen as there is Rhodiola Rosea as well.
The added Indian Bacopa and Bulgarian Lemon Balm Leaf also add a calm relaxing effect, the idea being that if your mood is good, if you're handling stress appropriately, you can accomplish more and better things.
The recommended dose is 3 Work Juice capsules taken twice a day, or 5 taken all at once.

It contains no caffeine or other stimulants, which is what makes it a good pairing with Study Juice, or just plain coffee.
Brain Forza Reviews
We've just touched upon the two most popular Brain Forza products.

There are more, but again, they are generally single ingredient formulas, and don't require quite as much scrutiny.

So let's now switch gears a little and take a look at what some customers are saying about the Brain Forza products.



As you can see, all the reviews I found are positive, maybe even too positive if you know what I mean.

It's not uncommon for companies to only disclose the favorable reviews.

In some cases, they even hire people to post the favorable reviews.

It's a big deal over at Amazon.com.

You can read all about how to spot these fake reviews in this article. 
I'm not saying that's what's going on here, but it is something to think about while you search for and read online reviews.
My Personal Results
I got a chance to try out the study juice just last week, and I have to say I was quite impressed.  For my experiment I decided to skip my morning dose of coffee and mix up a study juice pack in a cold glass of water.
I could feel a wave of clarity wash over me after about 15 minutes, much more so than with my typical cup of coffee.
One thing I noticed was that it seemed to produce more of a physical energy than a mental one at first.  Instead of sitting down to do some research on supplements, I felt like going to the gym.
I pushed past that thought and decided to start revising an old review that needed some updating.
After about 45 min. I definitely felt more engaged in what I was working on, and felt like I was typing out words much faster than usual.
Keep in mind that I didn't take any of the pills (might try them some other time), and it basically completely eliminated my need for a cup of coffee.
Where to Buy
Brain Forza products are sold on the official Brain Forza website.A 90-count bottle of Study Juice currently costs $34.95. But you have to remember a daily dose is 6 capsules (3 capsules twice daily), so that 90-count bottle will only last you 15 days if used as directed.
A 150-count bottle of Work Juice costs $44.95 at this time.At the recommended daily dose of 5-6 capsules, the bottle should last close to a month.
Brain Forza products can also be found on other online retail sites, such as LuckyVitamin.
The Bottom Line
Brain Forza has all the pieces in place.

Their website is informative about their products, how they work, and how each of the ingredients in each of the formulas can contribute to your success.

Customer feedback is solidly positive, apart from a couple issues with product delivery that was handled accordingly.
From my personal experience with the study juice, this one's a clear winner.

If you're looking for something to replace your morning coffee, and give you an added mental boost to boot, than I HIGHLY recommend it.
I'll update this review in the future once I've gotten a chance to try out the pills, and I have no doubt they will likely be just as effective as the juice!
Have You Used Brain Forza?

Leave Your Review Below!
Top 3 NootropicsAffiliate Disclosure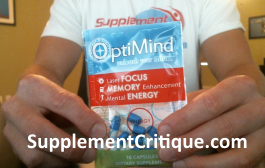 Optimind is the closest thing to Aderall that Ive tested, and Ive tested ALOT of Nootropics.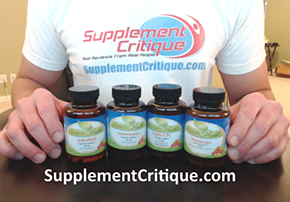 The Nootropics All Star Pack is a GREAT combo of supplements that will improve focus, concentration, and mood.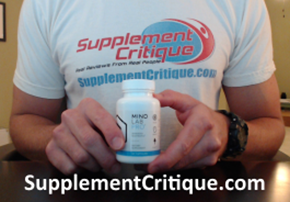 Mind Lab Pro takes a longer, but equally as effective, approach to increasing focus.
Want To See What Supplements
Work Like Adderall?

Click Here To Find Out!
Ask A Question
User Questions and Answers
No Questions Have Been Answered For This Article.