BrainSmart Ultra Review – Does It Work?
By:
Rob Miller
Fact Checked On: 3-23-2016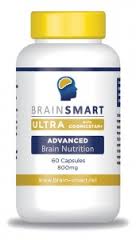 BrainSmart Ultra is the broadest and most powerful of the line of BrainSmart nootropic supplements.

It's designed mainly to improve memory and concentration.

Other products in the line are BrainSmart Focus for better concentration, BrainSmart Memory for improved memory, and BrainSmart Mood to improve your state of mind. BrainSmart Ultra is the one we'd call the comprehensive cognitive enhancement supplement of the group.
Most people don't develop Alzheimer's Disease, but most people do experience cognitive decline to some degree.

You can look at this as a natural occurrence in the aging process and leave it at that.

Or you can view it as a natural occurrence in the aging process and fight to stop and reverse it.

The explosion in the market for natural nootropic supplement indicates that more and more people are choosing to fight it.
BrainSmart Ultra Benefits
Of course, you don't have to wait for age-related decline to start using BrainSmart Ultra.

It's also used by tons of people who simply want to get ahead in their school work and/or their professional life. The competition is steep.

Having a secret weapon can be a very attractive option.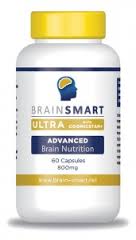 By using BrainSmart Ultra, according to their website, you'll improvements such as:
Increased mental drive.
Boosted cognitive performance.
Greater attention span.
Enhanced mental alertness.
Increased working memory speeds.
BrainSmart Ultra Ingredients
What exactly goes into BrainSmart Ultra for it to provide such benefits?

The answer is in their tightly guarded proprietary blend they call Cognicetam+.

We don't know the complete list, but here are the highlights:
Cordyceps Sinensis Extract which is known to increase mental energy and focus.

It came to international attention when it was discovered that 2 female Chinese runners each broke world records in 1993 and attributed their success to Cordyceps.
Coenzyme Q10 which functions as an antioxidant as well as a nootropic.

The antioxidant benefits are important for the brain which relies on individual cell health. On top of that, it provides cell energy that gets delivered all throughout the body.
Chlorella (from Green Algae) which is a great source of easily absorbable choline.

Choline is needed to produce Acetylcholine, one of the most important neurotransmitters for cognitive function.

BrainSmart Ultra claims there are studies supporting the idea that Chlorella may mean improvements to the attention span.
Omega-3 Extract which has long been know to be brain food.

It's used to treat ADHD as well as autism and inattentiveness in children. Its antioxidant properties also help maintain the health of your brain cells.
Niacin which is also known as Vitamin B3 and is essential for turning food into energy, especially in the brain.

It also protects brain cells from oxidative and age-related damage.
How To Use BrainSmart Ultra
The recommended dose is 2 BrainSmart Ultra capsules taken per day, ideally in the morning.

It's fast acting, and at the same time acts as a time release formula so the benefits come on quickly and last up to 8 hours.

With that knowledge, you can plan when is the best time for you to take it in any given day depending on your obligations.
BrainSmart Ultra Side Effects
BrainSmart Ultra does not cause any known side effects.

While it's impossible for any supplement to guarantee that it's side effect free, the ingredients in the formula are known to be generally safe.
Award Winning Supplements
In 2014, BrainSmart Supplements were awarded Best of Supplements Award in the Nootropics category from Better Nutrition.
Where to Buy
BrainSmart Ultra is only available online. They're a company headquartered in The UK, with international offices as well.

Through their website, you can purchase a single bottle (a one month supply) for $41.32. They're currently running a special where you can buy 2 bottles and get one free.
There is a money back guarantee, but the stipulations are fairly strict.You have to request a refund within 30 days from placing your order. You need to get an RMA number.

You need to send your bottle back, paying for shipping yourself.

And if your order did not include a shipping charge in the first place (which is the case for orders at this time), they'll charge you priority shipping and take it out of the amount they would have refunded you.

In the end, they make returning your BrainSmart Ultra bottle for a refund essentially pointless, especially if it's only one bottle.
BrainSmart Ultra Reviews
The BrainSmart Ultra webpage offers customer testimonials, but they go out of their way to mention that these are only "some" of the reviews they receive.

How much do you want to bet these are only the positive ones, leaving out any that aren't favorable?
Here are some examples:
Carol says: "What an exceptional product, I now have a dramatically improved mood and life feels worth living again, I'm ready to tackle my next set of exams."
Tom says: "I've found that only BrainSmart Ultra provides me with the boost that I need to consistently perform under any conditions."
Mrs Miller says:"BrainSmart Ultra is an amazingly powerful product, I don't know of a comparable brain supplement on the market that does exactly what it promises:
You get the basic idea.

These people really like their BrainSmart Ultra.
BrainSmart Ultra Pros and Cons
Advantages of BrainSmart Ultra
The formula is all natural.
There are no known side effects.
It's reasonably priced.
There are several positive reviews on the BrainSmart Ultra website.
Disadvantages of BrainSmart Ultra
The formula doesn't look that strong.

It's got some good components, but overall, I've seen better.
The money back guarantee is difficult to use.
Conclusion
BrainSmart Ultrais a safe choice if you're interested in trying out a nootropic supplement.

But I'm not sure how effective it actually is.

It's got some good ingredients, but they say on the one hand that they focus on acetylcholine, but the ingredients don't really support that statement.

In the end, BrainSmart Ultra isn't bad, but there are better choices out there.
Have You Used BrainSmart Ultra?

Leave Your Review Below!
Top 3 NootropicsAffiliate Disclosure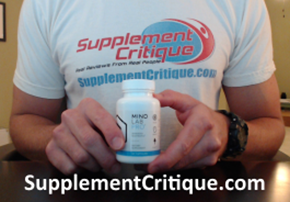 Mind Lab Pro is a VERY effective nootropic for focus, concentration, short / long term memory, and more.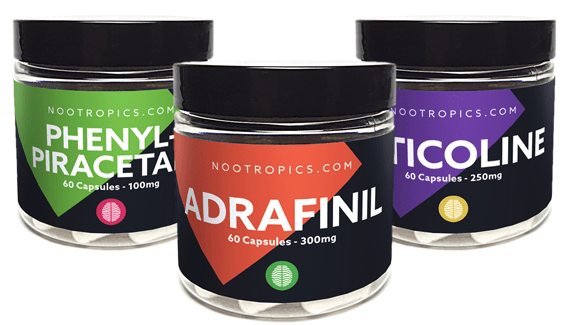 The Ultimate Nootropics Stack by Nootropics.com is one of the most effective stacks I've taken.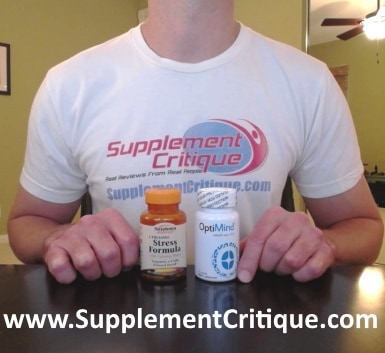 The combo of L-Theanine and Caffeine is a well known nootropic stack that really works.
Want To See What Supplements
Work Like Adderall?

Click Here To Find Out!
Ask A Question
User Questions and Answers
No Questions Have Been Answered For This Article.