Focus XT Review – Should You Use It?
By:
Rob Miller
Fact Checked On: 9-4-2016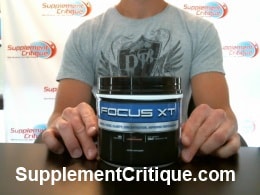 Note: The makers of Focus XT (Serious Nutrition Solutions) were so kind to send over a bottle of their pink lemonade flavor for testing, and I recently got a chance to try it out myself. I have a ton of info on the product below, but if you would like to just skip to my results than Click Here
Serious Nutrition Solutions is a workout and bodybuilding supplement company that tries to stand above the competition by providing quality products at reasonable prices, and combining it with great customer service. An old school model to be sure, but perhaps one that we wish we'd see more of these days.
One of their core products is Focus XT, a mental performance optimizer. Similar supplements are made and sold by other companies to provide an alternative to Adderall and other ADD/ADHD drugs. They boost your cognitive functioning while giving you a clean energy boost as well. With Focus XT, you'll find you have:
Improved concentration, clarity, and alertness
Better memory and cognitive functioning
More energy
Less stress
More athletic drive and endurance
A sense of well-being
Mind-muscle connection
More fat burning during exercise
Watch My Video Review Below
or Click Here
to read about my personal review of Focus XT
Focus XT Ingredients and How They Work
The product page on the SNS website claims that the Focus XT powder contains the precise amount necessary of each ingredient to make this a powerful formulation. Unfortunately, it's a proprietary blend, so that means that while we know what's in it, we don't know how much. What's in it is:
Choline Bitartrate improves memory and muscle control.
L-Tyrosine increasesalertness and energy.
Acetyl-L-Carnitine helps produce energy in the body.
DMAE (Dimethylaminoethanol Bitartrate improves memory, concentration, and intellectual function.
Vinpocetine may increase blood flow to the brain, thereby improving brain function. It requires further study, but some preliminary testing indicates that it may be helpful for improving thinking skills in patients with Alzheimer's disease.
Huperzine A is used for improving memory and enhancing learning as well as for Alzheimer's disease.
Caffeine for improved energy and mood.
You should combine 1 level scoop with 8 ounces of water to make a "shake" 10 to 30 minutes before you want the effects to begin, for example before a workout or before starting a project. If you want to use 2 servings in a day, you should space them out at least 6 to 8 hours apart.
Focus XT Pros and Cons
Advantages of Focus XT
Sugar Free
Increased energy and focus.
Taste was ok, no bitter after taste.
Cheap
There are several positive Focus XT reviews on bodybuilding discussion forums.
Disadvantages of Focus XT
Takes a bit of time to kick in, at least in my experience.
DMAE (a primary ingredient) is banned in Canada and Australia.
Not available in stores like GNC or Vitamin Shoppe from what I can tell
My Results With Focus XT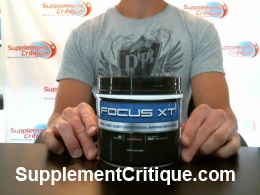 I've never been a huge fan of taking supplements that contain stimulants. Sure, they tend to work better than supplements that don't contain stimulants, but often there are a wide range of side effects that occur as a by-product. I approached Focus XT with a healthy bit of skepticism at first, and decided to give it a full 3 weeks of testing.
As mentioned earlier, the directions on the label state to take 1 scoop 10 – 30 minutes prior to your workout, and if you feel the need take 1 scoop about 6 – 8 hours later. Because of the potential for side effects, I decided to start with just half a scoop to assess my individual tolerance. As as the taste, I would say it was "OK". It didn't taste horrible, but it didn't taste like my grandmothers pink lemonade.
I felt it start to kick in about 15 min. after ingesting it, but it didn't come on extremely strong like some of the other pre workout supplements on the market. After about an hour of waiting for the full effect, I decided to hit the gym.
For the first couple of days, I didn't notice much. Sure, I felt a little bit of increased energy and focus, but figured that might just be a placebo effect. I decided to step up to a full level scoop on the 4th day, and I definitely noticed a more keen sense of focus and concentration both in the gym, and at work.
When it really hit me was the second week, right around the 10 day mark. I felt a huge surge in productivity, and my workouts felt less distracted and more intense. My concentration at work also improved fairly well, and I felt like I was getting twice the work done in half the time.
I did notice a few minor side effects like increased blood pressure, insomnia, and weird vivid dreams, but that's to be expected when taking a supplement containing DMAE and caffeine. Most of these subsided after about 2 weeks, but i still had the occasional sleepless night. To avoid this you should take it as early in the day as possible on a full stomach, or you could try combining it with their stress / anxiety reducing supplement called Phenibut XT.

Where to Buy
You can purchase Focus XTthrough the Serious Nutrition Solutions website or any of a number of online supplement retailers. The 30-serving tub comes in a number of flavors, including pina colada and blue raspberry. The tub costs about $20 – $25 retail on the website and a little less on several other sites.
Conclusion
All in all I think Focus XT is a solid product. While it took a week or so to really kick in, the overall amount of energy, focus, and concentration I got was amazing. I would suggest you speak with your doctor concerning Focus XT to make sure it's safe for you to take. When stacked up against some of the other nootropic/pre workout supplements, Focus XT would definitely make my Top 5.
Have You Used Focus XT? Leave Your Review Below!
Top 3 NootropicsAffiliate Disclosure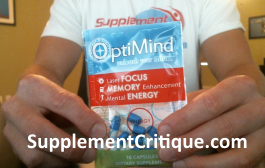 Optimind is the closest thing to Aderall that Ive tested, and Ive tested ALOT of Nootropics.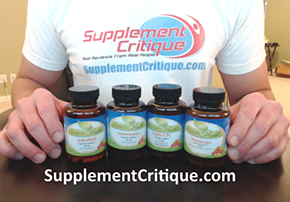 The Nootropics All Star Pack is a GREAT combo of supplements that will improve focus, concentration, and mood.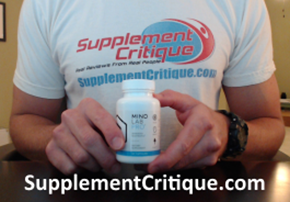 Mind Lab Pro takes a longer, but equally as effective, approach to increasing focus.
How People Found This Review:
and focus XT
Want To See What Supplements
Work Like Adderall?

Click Here To Find Out!
Ask A Question
User Questions and Answers
No Questions Have Been Answered For This Article.