Muscletech Anarchy Review – Does It Work
By:
Rob Miller
Fact Checked On: 4-21-2015
Muscletech Anarchy Overview
It's getting harder and harder every day to narrow down the pre-workout supplement choices to just a few contenders.

There are literally hundreds to choose from, and the field just keeps getting more and more crowded.

Today we're looking at Muscletech Anarchy. Muscletech is a well known company. Some guys love them. Some hate them.

We like to take supplements one by one instead of brushing an entire company with one broad stroke.

So let's dive into Muscletech Anarchy to see what it has to offer.
Muscletech Anarchy claims to be the most explosive pre workout you've ever seen. It gives you incredible energy and focus, and unbelievable, skin-tearing pumps.

On top of that, you've got clinically dosed muscle building ingredients as well.

The reviews are mostly pretty positive too, so our next step is to take a look at the formula for clues as to how this stuff works.
Muscletech Anarchy Ingredients and How They Work
The Muscletech Anarchyformula is pretty well rounded and includes:
Beta Alanine which decreases muscle fatigue by blocking the buildup of lactic acid. Each scoop contains 1.6 grams.

The clinical dose is 3.2 grams, so 2 scoops will get you there.
Nitrosigine which is a patented form of l-arginine that can increase nitric oxide for better muscle pumps.
HydroMax which supplies glycerol.
Caffeine for energy, intensity, and focus.

Each scoop contains 190 mg which is significant, but not too much.

A 2 scoop dose however has 380 mg.
Choline Bitartrate which burns fat.
Rhodiola Rosea which fights against fatigue.
Yohimbe Extract which is a stimulant for providing energy.
You should start with 1 scoop mixed with water to assess your tolerance.

After that, you can take 2 scoops, but no more than that in a 24 hour period.
Muscletech Anarchy Pros and Cons
Advantages of Muscletech Anarchy
Almost all the Muscletech Anarchy reviews I've seen are favorable, talking mainly about clean energy and pumps.
It comes in 3 flavors, and word is that the taste and mixability are very good.
The price is pretty average.
Disadvantages of Muscletech Anarchy
You have to take 2 scoops to get the effective amount of beta alanine, but that gives you 390 mg of caffeine, which is quite high.
It contains yohimbe which the FDA has recommended against because of its potential to cause dangerous changes in blood pressure.
Where to Buy
You can purchase Muscletech Anarchy online or at GNC.

The 30 serving tub sells for
around $35.
Conclusion
Judging by the customer reviews, Muscletech Anarchy is looking pretty good.My only recommendation is that you go slowly with upping your dose.

Stay at the one scoop level so you don't overload on caffeine and yohimbe.
Have You Used Muscletech Anarchy?

Leave Your Review Below!
Top 3 Pre WorkoutAffiliate Disclosure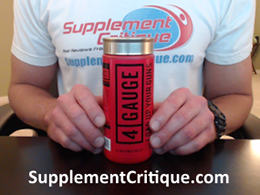 4 Gauge is a brand new pre workout that kicks in FAST and will rev up your workouts.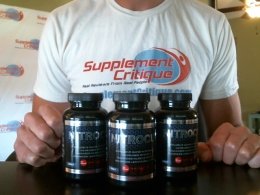 Nitrocut is a VERY effective pre workout supplement for a variety of reasons, see why here.
Want To Really Get Ripped?

Click Here To Download My FREE "Get Ripped" Ebook!
Ask A Question
User Questions and Answers
No Questions Have Been Answered For This Article.