Optimal Stack Reviews – Does It Really Work?
By:
Rob Miller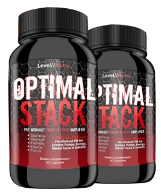 Pre-workout supplements come in a wide variety of forms, as well as effectiveness. It seems like a new one pops up nearly everyday, and one recent one I learned about is called Optimal Stack. Often paired with other products like Alpha Cut HD, Nitro Shred, and Alpha Fuel XT for maximum effectiveness, this formula promises a host of benefits. But do you really need to stack Optimal Stack with all of these other products for maximum results. We dive into the details of this product and get to the bottom of it.
What is Optimal Stack?
Optimal stack is labeled as a pre-workout energy and focus amplifier, which promises to increase your endurance, reduce post workout fatigue, and help you achieve a leaner, more muscular look. It is also said to help remove unwanted waste from your body, the type of waste that blocks the progression of muscle growth.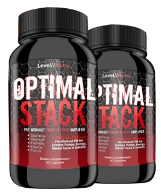 Finding out what the ingredients list in Optimal Stack is was nearly impossible, as it is not mentioned on the products official website and we couldn't find a label of it anywhere. We ordered a bottle of Optimal Stack today, but it probably won't be here for a week or so, so until then we can only speculate what the ingredients actually are. My guess is that it contains L-Arginine, which is a precursor to the production of Nitric Oxide. L-Arginine is used in several other types of supplements, and is used to help facilitate blood and oxygen flow through the body, helping to deliver nutrients more efficiently.
[tab le id=6 sc_id="sc1″]
I would also imagine, based on the claims made by the company that makes it, that it probably contains some sort of stimulant. Caffeine is probably likely, as well as ginseng and ginkgo biloba. Of course, were not completely sure, so it is best to try to find out what's in it before you take it.
Pro's of Optimal Stack
Apparently rave customer reviews
Ships Quickly
Con's of Optimal Stack
Not available in stores
Numerous complaints on RipOffReport.com and PissedConsumer.com
Only way to buy is via free trial
Where To Buy Optimal Stack
The only place you can buy optimal stack is on their official website, OptimalStack.com. It is also only available as a free trial, where you basically pay $4.59 for shipping and handling, and if you are satisfied with the product your credit card will be charged $87.47 at the end of the trial period. You are also enrolled in what is commonly known as an auto-rebill program, where a new supply of Optimal Stack will be sent to you every 30 days, and your credit card is charged $87.47 for this new supply until you cancel.
Recommendation
Based on our initial outlook, there is too little information about Optimal Stack to say with any confidence that it actually works. The official site is missing the most critical of details, especially the ingredients list. It's one thing to promise a host of benefits, but it's another thing to not properly label exactly what ingredients will produce those benefits. We suggest that if you choose to try optimal stack yourself, that you do so with extreme caution.
More than anything though, I do not think that it is worth taking things that you don't have full access to all of the necessary information to determine whether or not something is safe because when that is the case you are essentially taking a gamble with your health, and there is absolutely nothing more important than your health so I would say either skip it, or if you take it, closely monitor how you are feeling in the following hours.
Have You Used Optimal Stack? Leave You Review Below!
Top 3 Pre WorkoutAffiliate Disclosure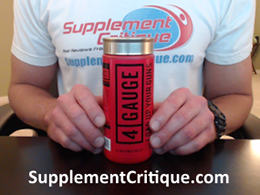 4 Gauge is a brand new pre workout that kicks in FAST and will rev up your workouts.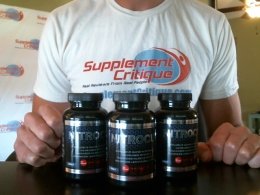 Nitrocut is a VERY effective pre workout supplement for a variety of reasons, see why here.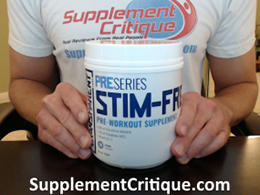 If you're looking for a stim-free pre workout, add Transparent stim-free to your list!
1 Star User Reviews

3.0 out of 5 Stars (2 Reviews)
Have you used this supplement?
Optimal Garbage
I saw an ad on Facebook regarding this product and decided to give it a try, I SHOULD have read the fine print before I ordered my supposedly FREE bottle. If you don't read the fine print they will continue to send you more product and if you're from Canada like me, you'll pay through the nose for it $150.00 CAD).

Anyhow, back to the review..............save yourself a lot of time and especially money and go to the drug store and by some caffine pills cause that's all that's in this product.I got screwed by the ad for over $150.00 CAD for garbage. This is just another example of lazy people with great marketing skills looking to make a buck on garbage. What a rip off. Anyone that thinks that a few pills is going to change their lives are sorely mistaken. If you eat right and get your required rest, you definately don't need these types of products. The MassPM and Alpha Jacked so called suppliments are garbage as well.
If your in your 50's like me, don't get taken in by this so called miracle pill, SAVE YOUR MONEY and go to the gym.

Was this review helpful to you?
8 out of 9 people found this review helpful.
---
Want To Really Get Ripped?

Click Here To Download My FREE
Ask A Question
User Questions and Answers
---

Can you please advice me how to use the Optimal Stack and Mass PM? I have obtained both the products and I am not sure how to use it at what time difference and what quantity at which time of the day! It would be very helpful if I could get these suggestions. Thanks -Sujan

Check the instructions on the labels. I don't have specific knowledge of how to take it, other than as directed.- Rob
Was this question helpful to you?

ASK A NEW QUESTION
---

I would like to cancel my subscription for optimal stack -Darryl paulson

SupplementCritique.com is a review website. We don't sell products. You'll need to get in touch with Optimind directly. You can Call or Text them from 10am-6pm CST: 888-784-9315. If you prefer email, their address is orders@getoptimind.com.- Rob
Was this question helpful to you?

ASK A NEW QUESTION
---

it can help me to lose weight -Abdul

If you use it in conjunction with a workout and diet plan designed to lose weight, Optimal Stack with definitely help. But if you want a more specific weight loss supplement or stack, let me know and I'll recommend something tailored more specifically to weight loss.- Rob
Was this question helpful to you?

ASK A NEW QUESTION