Testocore Advanced and NO2 Surge Overview
I swear it's getting to be a daily occurrence.

A new miracle supplement combo that all the celebrities are using to get lean, ripped, and cut.

It's almost to the point of comical.

They use the same fake "article" every time.

They just switch out yesterday's products and replace them with the flavor of the day.

What's today's flavor? Testocore Advanced and NO2 Surge.

And since we try to look at all the supplement options out there for you guys, we're diving into this one today.
What is Testocore Advanced and NO2 Surge?
If you believe the "advertorial" (a made up word meaning advertisement/editorial), Testocore Advanced and NO2 Surge is an amazing supplement stack with special powers to make you lean, cut, ripped, and strong.

They each do their part individually, but the total result is far greater than the sum of it's parts.
Testocore Advanced is the testosterone boosting part of the combination.

Its ingredients include:
Zinc which the body needs for the reaction that naturally produces testosterone in the body.
Tribulus Terrestris which signals the body to increase its testosterone production.
Vitamin B6 which is a precursor to testosterone.
D-Aspartic Acid which has been shown to increase testosterone levels.
These are decent ingredients for a natural testosterone boosting supplement.

The problem is that the formula is proprietary, which means that the ingredient amounts are not disclosed.

But judging from the total mg of the proprietary formula, we can tell that the individual ingredient levels must be far too low to be effective.
NO2 Surge is the pre workout part of the combination.

It's ingredients include:
Three kinds of L-Arginine which is a precursor to Nitric Oxide.

Nitric Oxide (NO) is a vasodilator which means that it widens blood vessels, allowing more blood to flow to your muscles, delivering more of the oxygen and nutrients your muscles need when you work out, so they can both work harder and recover faster.

L-Arginine may also contribute to an increase in Human Growth Hormone levels.
L-Citrulline which increases muscle energy an improves muscle recovery.
Why Should You Use Testocore Advanced and NO2 Surge?
Stacking a pre workout with a testosterone booster is actually a great technique.

You take the testosterone booster (Testocore Advanced) daily as directed, and you take the pre workout (NO2 Surge) before workouts or before a meal on non-workout days.

The increased testosterone and nitric oxide levels do indeed help you have better workouts, better recoveries, and better overall results.
Why Should You NOT Use Testocore Advanced and NO2 Surge?
Testocore Advanced and NO2 Surge are both on the right track in terms of what supplements you need to help build a better body.

But their product formulas are limited and their prices are insane.

Here's how it works… You sign up for a free trial of each, Testocore Advanced and NO2 Surge.

They each charge you a nominal shipping fee and send you out the product. 14 days after the initial orders, if you haven't called to cancel and shipped back the unused portion of product, they will each charge your credit card the ridiculous amount of $160 and $120 respectively.
Conclusion
Testocore Advanced and NO2 Surge are okay, but they are simply not worth this kind of money, or the hassle involved in (often unknowingly) being signed up for a trial you didn't intend to sign up for.Absolutely, think about using a testosterone booster/NO booster stack,but Testocore Advanced and NO2 Surge is not the one.
Have You Used Testocore Advanced and NO2 Surge?

Leave Your Review Below!
My Top Choice For Bodybuilding Supplements – Crazy Mass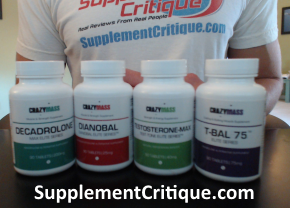 I've been researching bodybuilding supplements for years now, and recently came across a great stack of supplements called the Crazy Mass Bulking Stack.
The bulking stack is made up of 4 VERY powerful supplements which help to increase muscle mass AND strength, as well as work as an effective libido booster.
Click Here to read my full review of the Crazy Mass Bulking Stack.
How People Found This Review:
and Testocore, and testocore advanced, and testocore advanced and no2 surge, and no2 surge, and testocore pro, and testocore advanced & no2 surge
User Reviews
Nothing
Terrible, no effect after 3 Months

Was this review helpful to you?
4 out of 4 people found this review helpful.
---
Ask A Question
User Questions and Answers
---

Hi I have ordered testocore but how to take ? Actually I have Read on label on but I don't understand yet I have to take 2 tablets in each box the same time? -Juvensio

I haven't taken it myself. I believe the two are supposed to be taken as a stack, so you'd take 2 of each product each day, but you could take 1 (N02 Surge) in the morning and 1 (TestoCore Advanced)  in the evening.- Rob
Was this question helpful to you?
1

out of 1 people found this question helpful.
ASK A NEW QUESTION
---

Hi, the testocore & no2 surge work for me but like you said the amounts are too low. Is there anything you can recommend that is the same combination but gives better effects / higher dosage -MICHAEL

Great questions. Go with a stack of Testofuel and Nitrocut. It's a testosterone booster/pre workout stack that actually works.- Rob
Was this question helpful to you?

ASK A NEW QUESTION
---

How do you take it? -daniel

I haven't used them myself, but the instructions should be on the bottle. They are meant to be used as a stack, meaning you'll use them both simultaneously for best results.- Rob
Was this question helpful to you?

ASK A NEW QUESTION
---